| | |
| --- | --- |
| What's the line between "immersing in beauty" and exaltation? | |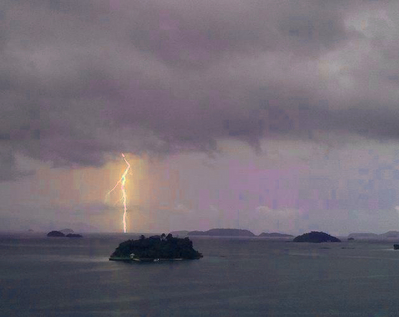 31 Mar 2010 @ 15:08, by Max Sandor

we're immersing a lot in pure aesthetics these days.. to the point of boredom..

fortunately, a bold lightning flashed up the skies over Angra dos Reis (Brazil) and I made my first foto of a lightning bolt (actually, I cheated, I had a video camera running and extracted a frame).

Perception is a Detection of Differentials, I wrote 10+ years ago (see [link] ) and peakstates of aesthetic perception are no different: no matter how beautiful, in the end there is the danger of becoming boring.

And, yet another point of attention these days: what is the line between the 'most beautiful feeling' and the sensation of 'exaltedness'?

Few philosophers dare to give an opinion about that, let's try Anastasius Nordenholz:

At the end of the chapter ' Total Afformality, A-Conscientiality, A-Worldliness) 'Scientologie', 1934 edition, Apologetik,III, part E, pg 107 re-print available at [link] ), after summarizing his Platonic/Bohmian world view, he wrote:

"Again we are faced with the contrasting of twofold Being, the World-Being and the As-such-Being. The communication between the two, this is task that the image of the Godness within the Consciousness acomplishes.'

Here, and in the following, and final, chapter in general, Nordenholz goes beyond the (compatible) concepts of Plato's word of shadows and David Bohm's 'implicite order' ( [link] ).

He does that by specifying the 'mechanism' of the connection of world-beyond and world-right-here-now using the triad of the 'Axioms of Scientologie' in the highest possible realm, that what was postulated in the Vedas as

atman - bodha - sattva

Going back to our initial question: we could define the marking line between exaltedness (Nordenholz/German: Erhabenheit) and 'pure aesthetics' a la Adorno as the 'awareness of the supreme triad in action while contemplating a worldly shadow'.

Amen.





Category: Philosophy

---
16 comments

1 Apr 2010 @ 00:30 by Ed Dawson @76.94.247.52 : on that triangle
atta-budha-satta triangle was noticed by myself recently and passed along. The opposing poles of the triangle are atta (MEST soul) and satta (the "Being" literally, as "sat" means existence), while consciousness (budha or bodha) is the life descended from volition to make it viable. This gives us yet another hindu triangle from ancient times.


---
1 Apr 2010 @ 00:32 by Ed Dawson @76.94.247.52 : a bit more...
You could say that this triangle is the anatomy of a thetan.


---
1 Apr 2010 @ 04:05 by @201.92.201.164 : super triad / thetan..
Ed, yes you were seeing this and passing a version along with budha/bodha as the mediator part. I took over your more correct 'bodha 'naming even though 'bodhi' is sloppily used by most Vedantists (sp:?) (if you want, I can post a link here to the complete drawing that contains it).

Note, that budha/bodha/bodhi/whatever is not so clear whatsoever. That's why I prefer to reference the mediation part as the 'sea of consciousness' like Frater Otto does, as it reflects the 'visionary' impression instead of a mental abstraction.

The most profound reflection I found on this subject is contained in Georg Grimm's book 'The teaching of the Buddho' ('Die Lehre des Buddho'). Grimm expanded on a thought of his very good friend Seidenstuecker, himself a close friend of Schopenhauer for many decades and crucial in the latter's development in 'Buddhist' thought: namely that 'consciousness' is a misnomer because it is 'static' but the link between transcendent Beingness and manifested Beingness is a *dynamic* process. Hence, he emphasized the Buddho's focus on 'bhaava', 'becoming'.

Compared with Nordenholz, we'll find a close parallel since the 'mediation' part is ALWAYS dynamic, an action, such as 'change' in the start-change-stop cycle, or 'communication' in the affinity-communication-reality triad.
In this light the triad would be better formuated as:

atman-bhaava-sattva

(from the absolute multitude of Beingnesses via the force of 'becoming' towards the individuation as a single 'Being').

This is the way Nordenholz sees it too and he created quite an ugly word to show this: 'Conscienzialitaet' (Conscientiality) in contrast to 'consciousness'.

(The more 'traditional' way remains though as indicated in Ed's drawing.)


---
1 Apr 2010 @ 17:57 by Ed Dawson @76.94.247.52 : mediation
"Mediator' is my older term for the leg of a triangle that brings the other two legs into cooperation. My subsequent research is indicating that in any triangle, there will be a leg which is of each of the shamanic three worlds. One leg will be of the middle world (physical universe) and the middle of the tone scale. Another leg will be of the lower world (okun or the Deep) and the bottom 1/3 of the tone scale. The so called "mediator" leg is of the higher world and the top 1/3 of the tone scale. (These are not numerical thirds. Top +400 to +100; middle +100 to -100; lower -100 to -400)

Since these worlds are also the locations of the higher, middle and lower selves, the implication is that budha/bodha is the higher self.


---
2 Apr 2010 @ 08:42 by @82.106.52.135 : will more
The process of exaltation, even if it was no referring only to aesthetics, placing a boost in wanting to go further (beyond), forcing the state , infinite space becomes a space defined. I wonder if the best feeling is an end point beyond which it becomes an state of altered ecstasy , not natural , that envelops in boredom. In the triad of universe if you push up also comes down Skywork showed that SHE knows very well about balance of things and Pleroma state and SHE will push up, push beyond. Strategy? Here we are very similar to the subject of the previous post Religion versus Philosophy .

While the state of pure essence and beauty remains in a state of balance (middle) where the differences have a very relative importance and everything is of all (no ego, a state very close to the condition no needs purpose, choice, game, no right and wrong, beyond the cycle of action and no action: sharing, contemplation of what is and is not.! the condition of pure beauty, aesthetics is really condition of abundance present only in heaven before ' Error! When e where is something for everyone ... .. make a choice and then highlight a particular leads to control space, and active the fear that your creation ,your talent or product was robbed. Being restrict the game or no shows his game and this becomes very boring at the end. Restriction of the game itself. pushing the need to do something to change or return to its original state. Restriction of the game lead Being to game alone and no share.

Into pure coexistence is not a necessary the choice , in exaltation is necessary to choose

Exaltation: leads to worship? A religious state which implies a becoming, desire something better than it was (always larger) and that has a linear direction (up or out) implies a movement that creates the field of Action with border. . Will, always want more, more, beyond !!!1


---
26 May 2010 @ 02:18 by @117.28.249.10 : shoe
vibram five fingers new arrival.vibram fivefingers are sold at lower price. try to place an order of vibram fingers shoes


---
4 Sep 2010 @ 07:30 by @125.78.242.120 : sd
In many year difficult development's processes, he realizes the enterprise, if does not have the shape Chen scope not to be able to base, so long as the enterprise the product does not have the brand without knowing where to begin to develop. Therefore, he registered officially at the end of 1991 belonged to myself brand "MONCLER".


---
6 Oct 2010 @ 02:21 by @121.204.53.80 : instyler rotating hot iron
I am not much into reading, but somehow I got to read nice information on your site. Simple to understand and helpful. We will look forward for your future updates. Thanks!


---
29 Apr 2016 @ 04:56 by @103.12.162.4 : brilliant! I would like to share this ar
Togel Online Singapore
Togel Online Hongkong
Bandar Togel Singapore
Bandar Togel
Togel Online Terpercaya
Bandar Togel Online Terpercaya
Togel Online
Agen Togel Online Terpercaya
Agen Togel Online


---
3 Sep 2016 @ 05:09 by @103.60.74.75 : cr
I www.mobogenieforpcc.com like www.snapchatforpcdownload.com all www.ucbrowserforpcc.com posts in www.xenderforpcapp.com very much


---
25 Sep 2016 @ 17:32 by @117.201.21.111 : xender
Very use full and Interesting Good blog
xender for pc


---
27 Sep 2016 @ 13:17 by Black Magic Specialist @115.252.120.218 : Black Magic Specialist
mast post


---
27 Sep 2016 @ 13:25 by Black Magic Specialist @115.252.120.218 : Black Magic Specialist
awesome post..


---
27 Sep 2016 @ 13:31 by Black Magic Specialist @115.252.120.218 : Black Magic Specialist
nice post


---
27 Sep 2016 @ 13:36 by Black Magic Specialist Baba Ji @115.252.120.218 : Black Magic Specialist Baba Ji
mast post


---
13 Dec 2016 @ 08:32 by @103.196.223.9 : Nice Post.
Really Nice Post..

www.vashikaranmantra.co.in

www.mantravashikaran.com

www.vinyasayogapeeth.com

www.vashikaranmantra.co.in

www.mantravashikaran.com


---
Other entries in Philosophy
17 Jun 2010 @ 06:07: Stereotypes are circular and non-scientific
29 May 2010 @ 18:00: StereoTypes are debased Concepts
26 Mar 2010 @ 14:47: Dialectical Analysis of Consciousness and Information
6 Mar 2010 @ 07:49: The word for World is Forest
17 Feb 2010 @ 15:55: Dialectical analysis of the Post-modern Epoch
10 Feb 2010 @ 18:50: Mindmap for Ifa for the 21st Century
19 Dec 2008 @ 09:42: Cosmic Egg, Cosmic Onion
4 Dec 2008 @ 03:58: Profound Metaphysical Questions to Ask Yourself
30 Nov 2008 @ 10:59: The Hard Problem of Conscious Experience
3 Nov 2008 @ 17:39: Perversion and Abuse of Systemic Concepts




---