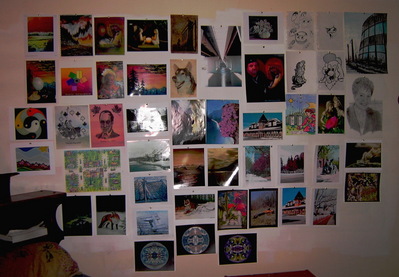 1 May 2006 @ 00:50, by swanny

April 30, 2006
Canada
Evening

The Great wall of art
plus a little tune

Link = [link]

enjoy

ed





Category: Music

---
4 comments

1 May 2006 @ 19:55 by : hi
Nice artwall is those ones on the bottom your designs? and what do you call them?


---
1 May 2006 @ 21:31 by swanny : Hi Spirit
..


---
4 May 2006 @ 10:39 by jmarc : hi ed
I like the art, what i can see of it. I'm also glad you put your name on this entry. I do always scan quickly through the confrerie in hopes of the entry being by you. Maybe you could re-start a pure swanny blog so's we can get you in the undiluted form. It would be nice to see some of that art in a more up close version. How's the weather in red deer? The sun's finally showed itself here in New Hampshire after a 2 day hiatus. Sunny in the 70's yeah!


---
29 Apr 2016 @ 09:16 by @103.12.162.4 : brilliant! I would like to share this ar
Togel Online Singapore
Togel Online Hongkong
Bandar Togel Singapore
Bandar Togel
Togel Online Terpercaya
Bandar Togel Online Terpercaya
Togel Online
Agen Togel Online Terpercaya
Agen Togel Online


---
Other entries in Music
9 Jun 2010 @ 09:10: Call It Canada
8 Jun 2010 @ 06:39: Different Tuning Systems Explained
6 Jan 2009 @ 04:50: Grandmas Kitchen
2 Nov 2008 @ 11:55: Sing Out The Vote
4 Aug 2008 @ 18:17: Zimbabwean Bluegrass
30 Apr 2008 @ 09:54: The Foothill Fanfairs
5 Apr 2008 @ 20:29: Fretless Perceptions
21 Mar 2008 @ 19:52: Love Thy Will be Done
28 Dec 2007 @ 16:03: Listening to the Be-do Project
21 Jul 2007 @ 11:21: The Great American Songbook




---