| | |
| --- | --- |
| Holistic Self Care Practice | |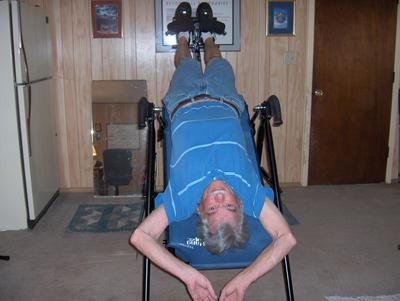 19 May 2005 @ 16:12, by Gerald Vest

In my previous log I introduced holistic health care practices that I teach in my classes for the US Army, for my university and for prisons and detention centers.

I find that by maintaining a daily health routine, my life, health, and relationships are more balanced. I developed a routine over several years of experimenting with lots of exercises and programs and have now narrowed it down to a few very effective activities.

I start my day with Master Level Exercise-Arica Psychocalisthenics by Oscar Ichazo. These 23 exercises are coordinated with the breath so I find that they balance the body, mind and emotions while also giving me the vitality to maintain high levels of fitness. I follow this practice with some yoga exercises and some movements that I learned from tai chi and quigong or specifically, The Kath State - The Energy of Inner Fire, also designed by Oscar Ichazo. Following these exercises, I sit in meditation for 30 minutes to calm and quiet my mind in the morning and evening.

I also receive a body massage and acupuncture treatments regularly and engage in a 15-Minute StressOut Program several times during the week. I enjoy lots of physical activity so I ride my bike, play golf and take walks with my dogs as well.

I have learned that by maintaining a routine of daily activities throughout the week, it helps build and maintain determination or willpower needed for living in a society that is so scattered and out-of-balance.

As a professional and teacher I have also found that our students appreciate and trust us when we practice what we teach.

Recently, while turning 70 years of age, I discovered that I have prostate cancer and arthritis, especially noticable in my 4th & 5th lower vertabrae. I have thoroughly appreciated the help and support from my family, Dave Chitick, our NewCiv community, especially the interaction with Richard(jassoLog) who shares my plight and experience with prostate cancer. I am in the process of receiving treatment for the prostate and plan to have a speedy recovery.

I am particularly interested in introducing a helpful tool for persons who have back problems in this article. I read in a journal that over 70% of our adult population have back problems. I've recently become part of this back pain group. It is even hard for me to believe that I have back problems with all of the health practices that I have been engaged in for over 40 years; however, some of it can be attributed to farm labor as a child, heavy lifting and some of my athletic activities that I have enjoyed throughout my life. Also, my mother, sister and three brothers inherited arthritis so I am not feeling alone with this pain.

The Inversion Table -- a spacy experience

Recently, I purchased an Inversion Table that has given me complete relief from the back pain and am now able to resume all of my activities, including golf. (I strongly recommend that anyone purchasing this "hang up" table that you follow the instructions given in the video which are included with top-of-the-line tables.) There are many Inversion Tables available on many websites. Honest, I am not a representative of any company--only my own.

Some of the benefits include elongating the spine, increasing the space between the vertebrae, which relieves the pressure on discs, ligaments and nerve roots. In the literature that came with my F5000 inversion table, it is noted that "...Your heart must work against gravity to pump blood up to your brain, which is the body's largest consumer of oxygen. Inversion is a simple way to improve circulation to the upper body." Furthermore, they show their honesty about this experience..."Sometimes there's an explanation for why inversin works and sometimes there isn't." [link] [link]

On a higher note, after hanging with our head down, totally relaxed, our body-mind feels totally free. I put some headphones on and listen to some great music--Enigma-Wispering Spirits.

You can adjust the table's level and balance by moving your arms up or down. I enjoy this experience of finding my equilibrium and harmony while reversing my energies.

Following this hanging or floating experience, I disconnect myself from the foot clamps, I lie down on my mat and observe my body-mind-emotions all evaporating into space. Anyway, I'm sure that you long time meditators and yoga practitioners will love the "table". Hey, even beginners could benefit as this is a very safe and pleasurable way to relax our skeletal and muscular systems.

I now have another addition to my daily health routine and love every moment with this new treasure. Anyone interested in joining an Inversion Table support group, do let me know. :)





Category: Medicine, Healthcare

---
21 comments

19 May 2005 @ 16:51 by : active healing
as usual, your vibrant energy is accompanying you on this particular phase of being. The inversion table looks great - hanging has always been a favourite activity and this looks like a supportive piece of equipment.

I wonder, does glucosamine ease symptoms of arthritis?

(best to you)
judih


---
19 May 2005 @ 18:29 by : Thank you Judih for contributing
to my weblog and for your generous spirit. I am not acquainted with glucosamine, but will surely look into it. So far the best thing I have found for my vertabrae is the inversion table and hope that it continues to be helpful. Pain is so distracting and finding relief from it is crucial for our life and relations. Best wishes, Jerry
*********************************
PS I forgot to mention how great it is to be hanging upside down, totally relaxed, while listening to some great music with my head phones on. After a few minutes, I float down to the floor and complete the experience by just letting go of everything without effort. Yummy.... In my early life I stood on my head a lot, but my neck and back didn't like it very much.

Much love,

Jerry


---
20 May 2005 @ 23:37 by jmarc : Judih
I have had some help with my lower back problems using glucosamine chondroitan(beef catrtilage and crab shell) The thing is though, it takes a while to notice any effect, which is cumulative. For me it was a good month before i noticed a difference. They are also huge pills, and I hate pills. They also aren't cheap, and some brands are better than others. Because of these drawbacks, i stopped using it.


---
21 May 2005 @ 03:53 by : re - glucosamine chondroitan
I'd heard so much about the stuff (google sends me daily updates everytime there's a new article posted), that I picked up a few bottles last summer when I was in Canada.

My partner has a miniscus thing going on in his knees from those early days of extreme volleyball. The stuff helps him. He hasn't had any problems with his knees since he began to take the stuff. The dosage is 2 a day - he takes one.

From what I've been reading, glucosamine helps in cases of joint problems, but I don't know about arthritis. Thanks, jmarc for your comment. (I picked up Swiss Formula, by the way)
______________________________________
Quoting from an online source:
"Glucosamine builds and maintains cartilage, tendons and other connective tissues in the body by acting as a building block for these materials and inhibiting enzymes that destroy cartilage. When the body does not have an adequate supply of glucosamine, arthritis – most commonly osteoarthritis – can develop. This debilitating condition that afflicts millions of people worldwide is characterized by a breakdown in the "shock absorbers" of the joints, particularly weight bearing ones such as the hip or knee. Glucosamine works by preventing the cartilage destruction, joint pain, swelling and loss of flexibility in a natural way and without the harmful side effects that are associated with NSAIDs or COX-2 drugs. Not to mention the fact that glucosamine is far cheaper (about a dollar a day) and derived from natural sources.

Glucosamine cannot cure your arthritis, but it will do wonders for your arthritis and joint pain. Because glucosamine works from within, bathing your joints in a proverbial warm and protective solution and working to heal your joints instead of merely cover up pain, results take a little bit longer than NSAIDs or COX-2 drugs. Once you have achieved relief, however, glucosamine works to protect your joints from further damage while continuing to stave off further damage. Contrasted to glucosamine, there is evidence that many of the NSAIDs can actually work against your arthritic joints, to cause your arthritis pain to become even worse by breaking down your joints.

If you need immediate pain relief, glucosamine can be taken with traditional NSAIDS (aspirin, ibuprofen, etc) if you need temporary pain relief while the glucosimine gets to work rebuilding your cartilage and reducing your pain. Note that most clinical trials tested 1,500 mg of glucosamine per day. Also, many people find Chondroitin Sulfate and MSM to be helpful for their arthritis pain, so consider a product that contains them as well, if possible. Be sure to explore the Glucosamine Product Guide for a fair comparison of the leading glucosamine products available today."
[link]


---
21 May 2005 @ 14:17 by : Thanks for these resources...
Judih and Jmark, I really appreciate these comments re: glucosamine. Arthritis is such a debilitating disease that I'm sure our aging population and others will appreciate learning about resources that can help them.


---
21 May 2005 @ 18:58 by : jerry
if you're managing to ease physical discomfort by the tactical use of gravity, then may the force be with you.


---
22 May 2005 @ 02:47 by : Many Benefits
I've been reading some benefits from this gravity machine and could be "just what the doctor ordered" for many of us having back problems. It is suggested that by reversing the flow of blood from the feet & hands to the head may even work to open varicose veins.

Anyway, I don't plan to be a zealot with this method, but do intend to enjoy the circulation process.


---
22 May 2005 @ 04:33 by : hon, could you fasten my necklace?
sure, no problem, Lou. Just stand on your head over here.


---
22 May 2005 @ 13:55 by : As Gump said to the President ...you are
very funny. Or, was it, I can't hold it any longer?


---
22 May 2005 @ 15:33 by : it was:
"I have to pee"

(that could also be applicable)
by the way, i was desperately searching for a copy of that movie today, wanting to show my grade 9's an overview of the 20th Century.
(couldn't find it, so went to plan B - Armageddon)

but Gump is where it's at and I shall re-locate him.


---
22 May 2005 @ 17:01 by : I have to pee
Yes, now I remember. I loved Forest Gump in this movie. His innocense and openness was so great and child like. I think we all have stories that can be told about our own kids and our grandchildren that keep us laughing for hours on end. What a joy!


---
16 Mar 2006 @ 12:13 by Terry Multerer @71.16.25.74 : my success with my inversion table
I'm a back pain sufferer for many years and have usually used Chiropractic for relief, but recently I wasn't getting the results. Years of self abuse in sports has taken a toll. So, I decided to get pro active myself and purchases a basic table. Within the first 3 days of use most of my pain went away and I feel much better. It just makes sense to try this and it's safe to use!Wish I tried it 20 years ago, by the way I'm a 59 year old male.


---
16 Mar 2006 @ 13:47 by : Thanks Terry for your comments on using
the Inversion Table to support your back. I'm really surprised that more people do not use this approach to relieve back pain. I now have over a year using the table on a daily basis and continue to be free from pain. Also, several friends and colleagues have discovered similar benefits.


---
17 Mar 2006 @ 18:04 by Terry @71.16.25.74 : better every day
I had to move around some new furniture Thursday night and some of the old familiar pain started to show up. As soon as I was done I went straight to the table for about 30 minutes of "therapy" while watching some TV. Guess what, again this morning NO PAIN! This really works and for under $200.00 how could you not want to try it! I recommend it highly to any back pain sufferer!!!


---
17 Mar 2006 @ 18:31 by : Yes, the proof is in the taste of
the pudding. I had to pay $325.00 for my table, but perhaps there is a greater supply and different versions. I know that I have saved several hundred $s of adjustments by my osteopath and chiropracter this past year as my table takes care of these back pains. Even after a game of golf, I get on the table and am not sore the next day. Hey, we should be getting a commission for all of our good stories about improved health.

Have you noticed that your body alignment has improved? Also, I think that I am improving my mental aspects as the blood supply to my brain gives a good massage as well.


---
31 Mar 2006 @ 18:00 by terry @71.16.25.74 : continued relief
My progress report is, it just keeps getting better! I think it's just two weeks since I started using my table and as of yesterday totally pain free! First time in months and lots of dollars to doctors and chiropractors. Best thing I've ever dome for my health. If i do get a little discomfort starting, a 10-15 minute visit to the table to play "bat" and I'm right as rain again!


---
31 Mar 2006 @ 18:12 by Terry @71.16.25.74 : Forgot to mention
I forgot to mention on my last post that I have also noticed how I feel less tense after a session too. It seems to effect my disposition as well. It just over all helps you physically and mentally. I think I'm getting taller too! [link]


---
5 Apr 2006 @ 11:52 by Terry @71.16.25.74 : Another week goes by
It's been another week since my last post. Last weekend was a super honeydo building aplanter box and replacing a fauct in the kitchen sink all contorted under the sink. By Sunday my back was hurting big time. So, back on to the table that night and again Monday and today being Wednesday I'm right as rain. If you have back problems these tables work if you use them regularly! Honest!


---
5 Apr 2006 @ 12:10 by : Terry, I know how you feel as I have had
my table for about a year and have the same positive results. After a game of golf, mowing the lawn, or riding my bike, I get on the table for a good stretching of the muscles and vertabra and find that I don't have the usual pain. Also, a golfing friend of mine found the same results as he and his wife now use the table on a regular basis. They have relieved themselves of their pain as well.

By the way, the "Link" you used in one of your messages did not open. Would you correct it? Thanks for sharing your experience.


---
13 May 2009 @ 16:25 by @193.227.170.13 : photoshop cs4 skachat' uroki
Greeting. We rarely think people have good sense unless they agree with us. Help me! Looking for sites on: photoshop cs4 skachat' uroki. I found only this - photoshop rus skachat' besplatno. It is updated daily by designers and for designers. Provides design, marketing, and related services. Best regards :cool:, Kanene from Britain.


---
17 Oct 2016 @ 17:47 by @103.12.162.3 : togel online hongkong
After read a couple of the articles on your website these few days, and I truly like your style of blogging. I tag it to my favorites internet site list and will be checking back soon. Please check out my web site also and let me know what you think.
praturan
[link]
home
[link]
daftar
[link]
cara main
[link]
hasil
[link]
buku mimpi
[link]


---
Other entries in Medicine, Healthcare
31 May 2010 @ 22:18: Our StressOut Mission and Activities
27 May 2008 @ 13:31: Another Critical Look at the DSM
4 May 2008 @ 02:25: Prototype Health Program for Wounded Warriors
21 Jan 2008 @ 20:58: What A Day Brings
16 Jan 2008 @ 14:31: Our Primary Concern is our Client ....
4 Jan 2008 @ 15:17: Study Finds, Drugs Offer No Benefit in Curbing Aggression
25 Nov 2007 @ 20:05: A Story about a Drug Representative of the Big Pharmas
14 Oct 2007 @ 14:27: Use of Touch & Integrative Methods
20 Jun 2007 @ 13:17: Alternatives for Mental Health Workers and their Clients
5 Jun 2007 @ 10:03: The US: One Big Drug Store




---