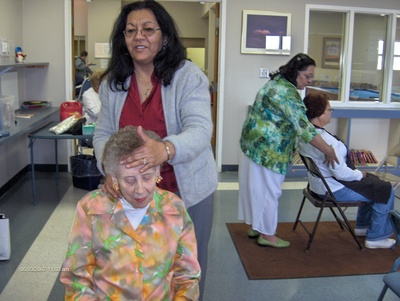 9 Aug 2007 @ 20:45, by Gerald Vest

So, to a significant extent, longevity and the quality of health are conditions that are within our control. That is the main conclusion of all studies devoted to the matter, to wit that our personal health must be our personal responsibility, and not something we leave to the physician. (Growing Young, Ashley Montagu)

Introduction

I designed this 'healthy touch' program, in collaboration with the Associated Students Organization - New Mexico State University (NMSU), Health Promotion Team, NMSU School of Social Work and the Family Preservation Institute, as one alternative for improving health and wellbeing in our university, society and beyond. After giving over 10,000 "stressouts" over a 10 year period, we learned that the 'stressout program' is safe to use with all populations. We use our skillful touch program with individuals, groups, couples, and families.

This program also introduces and teaches mindfulness as an intrinsic awareness program for givers and our receivers of touch and meets basic human needs for physical interaction. Earlier this year I posted an update describing our work with elders and our Global Touch Project as we want to use this intervention around the world to support the health and wellbeing of others, especially our elders who are often ignored, lonely and isolated.


Dear team members and friends,

This is a summer report on our stressouts in our health clinics for April, May, June and July. Earlier, I sent an update describing our work while giving over 3,800 stressouts in health clinics and other senior resources averaging about 150 chair type massages a week.

During the past four months, Elizabeth Frost, Ann Twohig and I gave 270 stressouts at Mesilla Park, Eastside and Munson diabetic clinics. Francesca and Imelda introduced our program and gave orientation/training programs with the staff at Village at Northrise and with the Herritage nursing homes. Do contact Francesca if you would like to have a training program in your area--her team is very experienced and knowledgeable about working with elders. Special thanks to Cher Gurerrero for maintaining our statististical reports and for her work with our team.

I know that others in our global network are also giving stressouts, so please let me know about your work in advancing the use of safe, skillful and nourishing touch with individuals, groups and communities. I would also like to include any comments, experiences and evaluations that you receive on our web site.

The Good Samaritan Terrace Times, Aug/2007, published a very excellent article describing the numerous StressOuts our NMSU, "Social Work Practice with Elders," class gave during our Spring term. I posted this article along with others on our website, so do visit us regularly and encourage others to join with us in improving the quality of lives, health and relationships with elders. 15-Minute StressOut Program [link]

We are preparing for Professor Linda Schaberg's nursing classes to begin their work with our elders during the Fall semester and we are eager to extend our work into all of the nursing facilities in our service area as an ongoing activity.

Thanks for staying-in-touch. Come and join with us and become part of our growing health program.

Best wishes,

Jerry

Note:

If you wish to be a volunteer, schedule an in-service training program in your agency or know of care-givers and others who may be interested in learning our safe, skillful and nourishing touch program for all populations, please let us know. We will help you develop your workshops and send you a free DVD and Power Point outline.