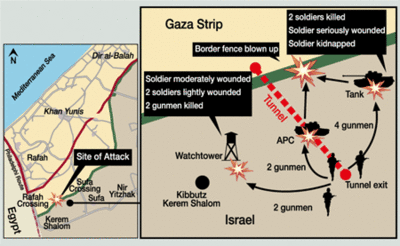 25 Jun 2006 @ 17:53, by Judih Haggai

[link] How it happened: Militants infiltrated post via 300m tunnel
By Haaretz Staff
The gunmen launched their attack at approximately 5:00 A.M. Eight militants infiltrated Israeli territory via a tunnel adjacent to the Kerem Shalom commercial crossing.



Upon emerging from the tunnel, the gunmen split up into three units, two of which blew up an unmanned armored personnel carrier which was entrenched in the ground. Four other terrorists fired anti-tank missiles, hand grenades and rocket-propelled grenades towards an Israel Defense Forces tank, killing two soldiers, wounding another, and kidnapping the fourth. The third cell, which was comprised of the two remaining terrorists, turned south and attacked a concrete post close to 150 meters from the northern fence of Kibbutz Kerem Shalom. The attack occurred at spot where once stood the "Africa" post, where four IDF soldiers were killed in an attack by Palestinian gunmen in January 2002. The two gunmen tried to ascend onto the post, but were shot and killed by IDF troops. However, the soldiers' gunfire ignited an explosive device which was apparently strapped to the body of one of the terrorists. Three other soldiers were injured by the impact of the explosion - one moderately hurt and two suffered light injuries. The remaining six gunmen fled back to Gaza, using an explosive device to puncture a hole into the security fence ringing the strip. An initial probe into the incident reveals that the gunmen emerged from a 300-meter long tunnel which stretched deep into Israel proper, catching nearby soldiers by surprise. IDF officials suspect the tunnel is booby-trapped.
_____________________________________________________________
This is the first major strike in this area in a while. While waiting for my refresher course in CPR to begin this morning, cellphones started ringing and reports came in from those glued to the news and the Net asking about the safety of those who live down here.

Members of the course started showing up. Those who live in kibbutzim and moshavim in the area surrounding Kerem Shalom (a kibbutz i first lived in when i came down to the Negev 13 years ago), were ordered to stay indoors until they were given the all-clear to come to School, with a military escort.

Then we heard the helicopters and gunshots. Our area is tiny and sound travels.

This is an unusual reality in our everyday reality of not knowing which Palestinian faction will want to exert muscle-power.

It's an impossible competition and one in which i find myself speechless. We want peace. Peace! Yet we are whispering into a maelstrom of factors over which we have no control.

It's not easy living here right now. Excuse my silence for so long. Life continues in a pastoral glow most of the time, with the staccato of war sounds permeating the landscape, but still life goes on.

(Kibbutz Nir Oz, by the way, is east of Khan Yunis)