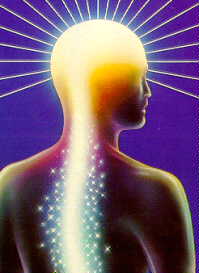 15 Feb 2003 @ 06:32, by Justin Now

breatharians
- i believe people who practice LOL raise their frequency levels and become less materialisticÂ… donÂ't you agree?

- as an aspiring breatharian you can during the "transition period" survive without eating conventional foods. learn how to absorb energies from SUN and AIR with better efficiency.

strengthen your energy field
- one way of strengthening your aura and boosting up energy level is a visualization exercises combined with:
a) cold shower – by taking that regularly it will strengthen your energy bubble which surrounds and protects your body against negative energies by converting them in to a positive ones, which you can absorb thereafter and use them to expand your energy body;
b) listen to uplifting sounds and chant mantras, by that you will adjust and/or harmonize your body frequencies to a surrounding ones.

helping tools
- yoga (kundalini yoga and traditional yoga)
- meditation (metta bhavana and dhyana)
- uplifting and harmonizing sounds
- chanting mantras
- visualization (programming and mind mastery)
- air (breathing exercises, pranayama yoga)
- sun (yoga exercises which helps to absorb energies from sun)
- ...