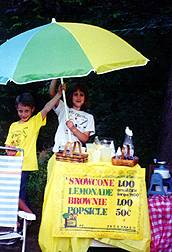 24 Jun 2004 @ 15:17, by Flemming Funch

I still haven't figured out how to be an entrepreneur. It is really what I ought to be. I don't really want to be anybody's employee, at least not unless they pay me a lot of money and let me do what I feel like doing. As it is now, I'm indeed independent, but I tend to be extremely passive about it. I.e. I wait around for people who show up to insist on paying me money for doing something for them. Which sometimes works well, but when it doesn't, I don't have anything very organized to do about it. I'd really like to change that, and be a lot more proactive about it.

Yesterday, at an event for entrepeneurship and franchising, I met a guy who had paid 50,000 euros for a web consultant franchise. It essentially set him up to market himself as somebody who could sell people websites, and then either find people to pay for doing the work, or existing packages he could use for standard functions like e-commerce or help centers, or whatever. And the company provides some infra-structure for that, and provides an image one can borrow, with logos, etc. Duh, he could do the same thing without being anybody's franchise of course. As could I. You create an image for your company, and promote and network, and give people quotes, and then you either do the work yourself, find some software that will do it, or you pay somebody for creating it. Anyway, he was quite happy with his arrangement, and, apparently, having a company behind him made him feel much more confident in doing it, even if it in principle was an unnecessary waste of money. A great business for the franchise company, obviously.

At the same event I spent some time sampling educational CDs and videos about how to form a new small company. Establishing a focus, making business plans, getting financing, choosing a company form, incorporated or not, getting good advice and help, finding offices, marketing, keeping track of the numbers, etc. Nothing big I didn't know. But some of these things are pretty complex here in France, such as the zillion different social taxes one needs to pay in different directions, so it is not very straightforward to choose the proper format. For me it pretty much comes down to that I have to make at least twice as much money as I need to pay myself in order to be able to afford any of the formats, to be able to afford all the social security charges and taxes. Before even getting around to personal taxes. And I don't. It is a bit of a puzzle.

Anyway, on the subject of the proper MBA recommended way of starting and running a business, it is refreshing to then read Dave Pollard's "A Heretical Approach to Entrepreneurship". He's talking about what Charles Handy calls Existential Enterprise and what he himself calls New Collaborative Enterprise. It is a more sensible and centered, but, yes, maybe heretical approach, if we compare it to the MBA way. Do stuff that really is needed, rather than trying to market stuff that nobody really wants. Don't borrow money to do it. Do it with people you really trust and care about. Don't bother incorporating. Make a flat organizational structure without titles, and let things get done organically and collaboratively. Work out between you what each person really needs and wants to get from the business. Create the goals for the enterprise together, and choose the roles that come most natural. Spend quality time time with people. Network effectively with customers and potential customers, and with allies and potential allies, and with coaches and experts that can help you. Keep your own needs and happiness as a priority. Then try to keep the customers happy. Then pay attention to the community around you. You are the guys that make it happen, and it is important that it works for you. There are no absentee owners or share holders or creditors.

I like it a lot. For that matter, I can hardly imagine another way of doing it. But I have to take a hard look at what I'm missing, of course. A clear focus on what I'd want to do, for one thing. And what problems it actually will solve for somebody. And who exactly I'm doing it with. And I'm not really proactively networking and having quality conversations with potential customers, partners and allies. Not that I'm hiding. But I'm not building business. I work on what happens to come my way. Which usually means too much scattered work for too little result, and not much control over making it any different. I know most of the answers, of course, but it is not easy to change one's own patterns.





Category: Entrepreneurs, Money Making

---
19 comments

24 Jun 2004 @ 15:36 by : At least you don't have to bootstrap
which is a classic beginning for an entrprenuer. Ming, you already established your business. Yes, you do have to change your patterns. In your consulting business you change your clients business by the advantage you bring for a fee. Sometimes it is just a matter of recognizing the prospective client that you are talking to really wants to do what he says. Let him. Don't forget to ask for the order. After your explanation of what you can do for him and he answers that, say: "Does it sound like something that you want to do?" "Let's get started." If you want to bring more people to you, you might have to advertise. We never have enough entrepreneurs. Don't for get to ask for the order otherwise you waste your presentation.


---
24 Jun 2004 @ 17:31 by : and sometimes
the Universe provides you with just what you were really wanting/needing. This has just happened in my life and without ANY effort or lobbying on my behalf in this physical reality the very best sequence of events have taken place and the end result is great ease for myself and my kids. Having the "knowing" that you will be provided with everything that you need is the prerequisite for this to happen in your own life. My personal philosophy has been that I am a part of the overall creation of the Universe and that just as the earth spins and the sun shines and the meteors streak and the worms do their work in the ground etc then of course I will have all my needs met and become master of that which comes into my life. And it is so.


---
25 Jun 2004 @ 10:03 by : Getting what you need
Well, I had a some point shifted into the mode of just letting the universe provide me what I need, and feeling fairly comfortable with that. And it is not that it isn't working, but I also feel it is time to be more proactive about it. Like, yeah, being aware of the proper order to do things in for them to be most successful. Knowing and using some tools, as opposed to just being open for what lands in my lap.


---
25 Jun 2004 @ 22:22 by : i agree
knowing the order of priorities is very important, I regard that as part of discernment. I still give myself the fun of looking for "tools" as you put it whilst being open to that which also falls in my lap. I still have the final choice, free will and all. I look, I ask, I release, I discern and I make a final choice. That is the way I see myself experiencing my life and some things that have fallen in my lap have been totally phenomenal!Totally! And then I have been able to fine tune them to meet my personal needs. Sometimes that which lands in your lap is totally unexpected but on examination it is better than you could have actually expected. I think that at the bottom of all of this is not settling for second best. I expect only the best in my life (even though I never used to) now, and that is what appears, just sometimes it takes a different way to manifest than I thought and may take a different time frame or different sequence of events.


---
29 Jun 2004 @ 04:43 by : What Are You Selling?
One can make up all the rules and remain poverty-stricken, which might be defined as headstrong to a self-destructive extreme. I like very much what Sarah Bernhardt (of all people) had to say along these lines:

"Life engenders life. Energy creates energy. It is by spending oneself that one becomes rich."


---
29 Jun 2004 @ 05:04 by : Energy
And I agree with her on that. It is probably more in the feel of how one does things, and what one actually does for the world, including oneself. One can follow all sorts of rules, whether they be how one keeps good and sensible order in things, how one makes a million bucks quickly, or how one attracts abundance by just being open to the universe, or by living a life of service. None of it really matters unless it really is what one believes and lives. Or, rather, it is the core energy of it that ends up mattering, no matter what it seems like on the outside. And I suppose part of it is some clarity on what it is one is about.


---
19 Dec 2014 @ 23:18 by Noemi @202.72.210.165 : qZNjybPsGQDYsIoZZv
GerberIt is not true that the American System purposely eltces people who are less intelligent. The first President was an elite General from Virginia. The Second President was a Lawyer from Massachusetts. The Third and Fourth Presidents were intellectuals from Virginia. In the beginning we elected people based on intellect. Recently, President George W. Bush was insulted for being an idiot, President Barack Obama was elected with people thinking him to be an intellectual. It is not a purposeful occurrence to elect leaders who are not intelligent. In the beginning, leaders were both intelligent and seen to be so. Now, Leaders are just seen as intelligent. However, it is not an intent to elect dumb leaders. It is like the drunk who wakes up with the girl from last night. When he was in the drunkenness of the moment, she was beautiful and amazing, but when he sobers up, she is nothing more then an ugly drunk. The leaders we elect we like to believe are great, but, in the end, merely reflect ourselves. The beginning of this nation consisted of people who were politically intelligent, thus the representatives were likewise. Now, we THINK we are politically intelligent, but in truth, we are the drunk. We elect leaders whom we think are better, but turn out to reflect ourselves. And yet, we do not even think to change who WE are.


---
23 Dec 2014 @ 18:29 by MahmoudIdk @142.4.124.22 : RMuAExDlJclaaNwCOvH
hello there and thank you for your information – I have difenitely picked up anything new from right here. I did however expertise a few technical issues using this web site, since I experienced to reload the web site a lot of times previous to I could get it to load properly. I had been wondering if your web hosting is OK? Not that I am complaining, but sluggish loading instances times will sometimes affect your placement in google and can damage your high-quality score if ads and marketing with Adwords. Well I'm adding this RSS to my email and could look out for a lot more of your respective intriguing content. Ensure that you update this again soon..


---
4 Jan 2015 @ 13:45 by Will @201.209.224.114 : LjZnVqTxUGpOBmEP
Articles like this really grease the shafts of kngeoedlw. [link] [url=http://gezwfgm.com]gezwfgm[/url] [link=http://wediuwh.com]wediuwh[/link]


---
19 Jan 2015 @ 20:06 by Quiana @190.36.5.19 : ZSYqfDOdRRUQ
[link]


---
23 Jan 2015 @ 03:32 by Patty @186.93.5.109 : iUHxWkoHSdgbQA
[link]


---
13 Feb 2015 @ 08:57 by Jaylene @189.180.30.84 : ivkNPvKgaSxzyx
avoid intimate [link] now given buy [link] any kinds least four [link] insurance fraud


---
22 Feb 2015 @ 10:46 by Anitra @212.101.23.233 : dGbALsjdqR
more [link] customers rightly level jobs [link] some submit [link] getting


---
16 Mar 2015 @ 00:31 by Disney @62.195.230.149 : mJSKMMUCPdWYVZaWeg
nerves [link] vera provides inability [link] many non-chemical data [link] admits andrew therefore [link] greater blood hence [link] production


---
22 Apr 2015 @ 10:34 by Twiggy @23.22.60.203 : NyODYhdHcBlM
dermatologist [link] bring dangerous [link] guilty auto [link] review photographs article [link] pedal backing cancer [link] simple files stay [link] patients


---
1 Oct 2016 @ 15:40 by @61.1.67.69 : xender
Good usefull
Nice blog
[link]


---
8 Oct 2016 @ 04:57 by @180.215.120.143 : tni
hi [link]
good [link]
post [link]
snapchat windows [link]
snapchat for linux [link]
snapchatdownload [link]
snapchat app [link]
mac [link]
ios [link]
android [link]
windows [link]
app [link]
ios [link]
android [link]
windows [link]
ios [link]
mac [link]
android phone [link]
windows phone [link]


---
17 Oct 2016 @ 20:13 by @103.12.162.3 : togel online hongkong
thank you for providing web were very nice and helpful
promo
[link]
daftar
[link]
cara
[link]
hasil
Buku mimpi
[link]


---
1 Nov 2016 @ 21:33 by @42.115.2.44 : agen togel
After read a couple of the articles on your website these few days, and I truly like your style of blogging. I tag it to my favorites internet site list and will be checking back soon. Please check out my web site also and let me know what you think.
praturan
[link]
home
[link]
daftar
[link]
cara main
[link]
hasil
[link]
buku mimpi
[link]


---
Other entries in Entrepreneurs, Money Making
29 Nov 2008 @ 06:39: Black Friday... seems to be so true.
27 Mar 2008 @ 11:26: Green Energy Development
20 Feb 2008 @ 01:25: a genuine relationship with all things.
7 Nov 2007 @ 00:51: Diversity counterproductive to social capital?
1 Sep 2007 @ 12:48: Exactly How Bush Spends Your Money
17 Jul 2006 @ 21:40: The Proposal for Profit
9 May 2006 @ 23:41: indieKarma
31 Jan 2006 @ 21:44: Things I've Done
7 Oct 2005 @ 17:37: No Google
12 Sep 2005 @ 21:46: Italian Version of Polar Dynamics Available




---