| | |
| --- | --- |
| Exactly How Bush Spends Your Money | |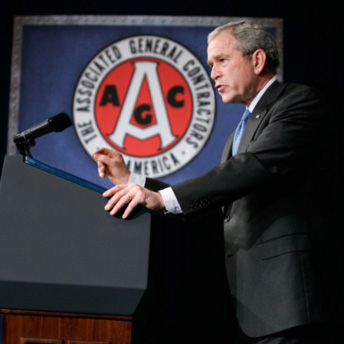 1 Sep 2007 @ 12:48, by Richard Carlson

As a man is, so he sees.

---William Blake

There is only one great adventure and that is inwards toward the self.

---Henry Miller

The bluebird carries the sky on his back.

---Henry David Thoreau

President Bush speaks at a meeting of the Associated General Contractors of America on May 2, 2007 in Washington, DC.
Photo: Wong/Getty

In America we believe in the marketplace, and we expect bang for our buck. The educated consumer is more highly valued than an educated voter. The wise shopper researches the available products before making a major purchase. Sometimes we complain we have too MANY product choices---like when you need to buy some cough syrup.

We detest socialism, and the mere mention of it can get you a punch in the nose. We think it's probably wasteful, and we can't stand being told what to do. Freedom means I choose the car I drive...and whether or not I throw trash out the window.

So how is it George Bush gets away with 7 years of no-bid contracts clearly to companies that support the Republican Party with lots of cash? What is a no-bid contract anyway and where did it come from? Does no one ask this? Is presidential war powers the answer to every inquiry?

I've spent the morning with 3 articles that have appeared online during the past week, and I feel the need to share them. The first is in the current issue of Rolling Stone (#1034) with How Bush's Cronies Swindled Billions blazing across the cover. May I repeat that word again, since so many seem to blank out at high numbers? BILLIONS. Its author is Matt Taibbi, to whom I referred you last April in a piece called Oil's Final Trickle [link] . If this journalist, still in his 30s, doesn't get a Pulitzer someday, I'll be surprised.

The next is Paul Krugman's commemorating the 2nd Anniversary last week of Hurricane Katrina's devastation of New Orleans. TruthOut kindly put up the premium column yesterday. And finally there's an essay by Nat Hentoff on CIA torture. Well, this is Labor Day weekend reading to get you stirred up admittedly. It did me, and probably will give me more to talk about at the picnic than sale prices at the big boxes.

We'll start with Matt Taibbi's research. It's long and contains strong language. Rightly so!

Rollingstone.com
The Great Iraq Swindle
How Bush Allowed an Army of For-Profit Contractors to Invade the U.S. Treasury
--From Issue 1034
Posted Aug 23, 2007 8:51 AM

How is it done? How do you screw the taxpayer for millions, get away with it and then ride off into the sunset with one middle finger extended, the other wrapped around a chilled martini? Ask Earnest O. Robbins -- he knows all about being a successful contractor in Iraq.
You start off as a well-connected bureaucrat: in this case, as an Air Force civil engineer, a post from which Robbins was responsible for overseeing 70,000 servicemen and contractors, with an annual budget of $8 billion. You serve with distinction for thirty-four years, becoming such a military all-star that the Air Force frequently sends you to the Hill to testify before Congress -- until one day in the summer of 2003, when you retire to take a job as an executive for Parsons, a private construction company looking to do work in Iraq.

Now you can finally move out of your dull government housing on Bolling Air Force Base and get your wife that dream home you've been promising her all these years. The place on Park Street in Dunn Loring, Virginia, looks pretty good -- four bedrooms, fireplace, garage, 2,900 square feet, a nice starter home in a high-end neighborhood full of spooks, think-tankers and ex-apparatchiks moved on to the nest-egg phase of their faceless careers. On October 20th, 2003, you close the deal for $775,000 and start living that private-sector good life.

A few months later, in March 2004, your company magically wins a contract from the Coalition Provisional Authority in Iraq to design and build the Baghdad Police College, a facility that's supposed to house and train at least 4,000 police recruits. But two years and $72 million later, you deliver not a functioning police academy but one of the great engineering clusterfucks of all time, a practically useless pile of rubble so badly constructed that its walls and ceilings are literally caked in shit and piss, a result of subpar plumbing in the upper floors.

You've done such a terrible job, in fact, that when auditors from the Special Inspector General for Iraq Reconstruction visit the college in the summer of 2006, their report sounds like something out of one of the Saw movies: "We witnessed a light fixture so full of diluted urine and feces that it would not operate," they write, adding that "the urine was so pervasive that it had permanently stained the ceiling tiles" and that "during our visit, a substance dripped from the ceiling onto an assessment team member's shirt." The final report helpfully includes a photo of a sloppy brown splotch on the outstretched arm of the unlucky auditor.

When Congress gets wind of the fias­co, a few members on the House Oversight Committee demand a hearing. To placate them, your company decides to send you to the Hill -- after all, you're a former Air Force major general who used to oversee this kind of contracting operation for the government. So you take your twenty-minute ride in from the suburbs, sit down before the learned gentlemen of the committee and promptly get asked by an irritatingly eager Maryland congressman named Chris Van Hollen how you managed to spend $72 million on a pile of shit.

You blink. Fuck if you know. "I have some conjecture, but that's all it would be" is your deadpan answer.

The room twitters in amazement. It's hard not to applaud the balls of a man who walks into Congress short $72 million in taxpayer money and offers to guess where it all might have gone.

Next thing you know, the congressman is asking you about your company's compensation. Touchy subject -- you've got a "cost-plus" contract, which means you're guaranteed a base-line profit of three percent of your total costs on the deal. The more you spend, the more you make -- and you certainly spent a hell of a lot. But before this milk-faced congressman can even think about suggesting that you give these millions back, you've got to cut him off. "So you won't voluntarily look at this," Van Hollen is mumbling, "and say, given what has happened in this project . . . "

"No, sir, I will not," you snap.

". . . 'We will return the profits.' . . ."

"No, sir, I will not," you repeat.

Your testimony over, you wait out the rest of the hearing, go home, take a bath in one of your four bathrooms, jump into bed with the little woman. . . . A year later, Iraq is still in flames, and your president's administration is safely focused on reclaiming $485 million in aid money from a bunch of toothless black survivors of Hurricane Katrina. But the house you bought for $775K is now ­assessed at $929,974, and you're sure as hell not giving it back to anyone.

"Yeah, I don't know what I expected him to say," Van Hollen says now about the way Robbins responded to being asked to give the money back. "It just shows the contempt they have for us, for the taxpayer, for everything."

Operation Iraqi Freedom, it turns out, was never a war against Saddam ­Hussein's Iraq. It was an invasion of the federal budget, and no occupying force in history has ever been this efficient. George W. Bush's war in the Mesopotamian desert was an experiment of sorts, a crude first take at his vision of a fully privatized American government. In Iraq the lines between essential government services and for-profit enterprises have been blurred to the point of absurdity -- to the point where wounded soldiers have to pay retail prices for fresh underwear, where modern-day chattel are imported from the Third World at slave wages to peel the potatoes we once assigned to grunts in KP, where private companies are guaranteed huge profits no matter how badly they fuck things up.

And just maybe, reviewing this appalling history of invoicing orgies and million-dollar boondoggles, it's not so far-fetched to think that this is the way someone up there would like things run all over -- not just in Iraq but in Iowa, too, with the state police working for Corrections Corporation of America, and DHL with the contract to deliver every Christmas card. And why not? What the Bush administration has created in Iraq is a sort of paradise of perverted capitalism, where revenues are forcibly extracted from the customer by the state, and obscene profits are handed out not by the market but by an unaccountable government bureauc­racy. This is the triumphant culmination of two centuries of flawed white-people thinking, a preposterous mix of authoritarian socialism and laissez-faire profit­eering, with all the worst aspects of both ideologies rolled up into one pointless, supremely idiotic military adventure -- American men and women dying by the thousands, so that Karl Marx and Adam Smith can blow each other in a Middle Eastern glory hole.

It was an awful idea, perhaps the worst America has ever tried on foreign soil. But if you were in on it, it was great work while it lasted. Since time immemorial, the distribution of government largesse had followed a staid, paper-laden procedure in which the federal government would post the details of a contract in periodicals like Commerce Business Daily or, more ­recently, on the FedBizOpps Web site. Competitive bids were solicited and contracts were awarded in accordance with the labyrinthine print of the U.S. Code, a straightforward system that worked well enough before the Bush years that, as one lawyer puts it, you could "count the number of cases of criminal fraud on the fingers of one hand."

There were exceptions to the rule, of course -- emergencies that required immediate awards, contracts where there was only one available source of materials or labor, classified deals that involved national security. What no one knew at the beginning of the war was that the Bush administration had essentially decided to treat the entire Iraqi theater as an exception to the rules. All you had to do was get to Iraq and the game was on.

But getting there wasn't easy. To travel to Iraq, would-be contractors needed permission from the Bush administration, which was far from blind in its appraisal of applicants. In a much-ballyhooed example of favoritism, the White House originally installed a clown named Jim O'Beirne at the relevant evaluation desk in the Department of Defense. O'Beirne proved to be a classic Bush villain, a moron's moron who judged applicants not on their Arabic skills or their relevant expertise but on their Republican bona fides; he sent a twenty-four-year-old who had never worked in finance to manage the reopening of the Iraqi stock exchange, and appointed a recent graduate of an evangelical university for home-schooled kids who had no accounting experience to manage Iraq's $13 billion budget. James K. Haveman, who had served as Michigan's community-health director under a GOP governor, was put in charge of rehabilitating Iraq's health-care system and decided that what this war-ravaged, malnourished, sanitation-deficient country most urgently needed was . . . an anti-smoking campaign.

Town-selectmen types like Haveman weren't the only people who got passes to enter Iraq in the first few years. The administration also greenlighted brash, modern-day forty-niners like Scott Custer and Mike Battles, a pair of ex-Army officers and bottom-rank Republican pols (Battles had run for Congress in Rhode Island and had been a Fox News commentator) who had decided to form a security company called Custer Battles and make it big in Iraq. "Battles knew some people from his congres­sional run, and that's how they got there," says Alan Grayson, an attorney who led a whistle-blower lawsuit against the pair for defrauding the government.

Before coming to Iraq, Custer Battles hadn't done even a million dollars in business. The company's own Web site brags that Battles had to borrow cab fare from Jordan to Iraq and arrived in Baghdad with less than $500 in his pocket. But he had good timing, arriving just as a security contract for Baghdad International Airport was being "put up" for bid. The company site raves that Custer spent "three sleepless nights" penning an offer that impressed the CPA enough to hand the partners $2 million in cash, which Battles promptly stuffed into a duffel bag and drove to deposit in a Lebanese bank.

Custer Battles had lucked into a sort of Willy Wonka's paradise for contractors, where a small pool of Republican-friendly businessmen would basically hang around the Green Zone waiting for a contracting agency to come up with a work order. In the early days of the war, the idea of "competition" was a farce, with deals handed out so quickly that there was no possibility of making rational or fairly priced estimates. According to those familiar with the process, contracting agencies would request phony "bids" from several contractors, even though the winner had been picked in advance. "The losers would play ball because they knew that eventually it would be their turn to be the winner," says Grayson.

To make such deals legal, someone in the military would simply sign a piece of paper invoking an exception. "I know one guy whose business was buying ­weapons on the black market for contractors," says Pratap Chatterjee, a writer who has spent months in the Mideast researching a forthcoming book on Iraq contracts. "It's illegal -- but he got military people to sign papers allowing him to do it."

The system not only had the advantage of eliminating red tape in a war zone, it also encouraged the "entrepreneurship" of patriots like Custer and Battles, who went from bumming cab fare to doing $100 million in government contracts practically overnight. And what business they did! The bid that Custer claimed to have spent "three sleepless nights" putting together was later described by Col. Richard Ballard, then the inspector general of the Army, as looking "like something that you and I would write over a bottle of vodka, complete with all the spelling and syntax errors and annexes to be filled in later." The two simply "presented it the next day and then got awarded about a $15 million contract."

The deal charged Custer Battles with the responsibility to perform airport ­security for civilian flights. But there were never any civilian flights into Baghdad's airport during the life of their contract, so the CPA gave them a job managing an airport checkpoint, which they failed miserably. They were also given scads of money to buy expensive X-ray equipment and set up an advanced canine bomb-sniffing system, but they never bought the equipment. As for the dog, Ballard reported, "I eventually saw one dog. The dog did not appear to be a certified, trained dog." When the dog was brought to the checkpoint, he added, it would lie down and "refuse to sniff the vehicles" -- as outstanding a metaphor for U.S. contractor performance in Iraq as has yet been produced.

Like most contractors, Custer Battles was on a cost-plus arrangement, which means its profits were guaranteed to rise with its spending. But according to testimony by officials and former employees, the partners also charged the government millions by making out phony invoices to shell companies they controlled. In another stroke of genius, they found a bunch of abandoned Iraqi Airways forklifts on airport property, repainted them to disguise the company markings and billed them to U.S. tax­payers as new equipment. Every time they scratched their asses, they earned; there was so much money around for contractors, officials literally used $100,000 wads of cash as toys. "Yes -- $100 bills in plastic wrap," Frank Willis, a former CPA official, acknowledged in Senate testimony about Custer Battles. "We played football with the plastic-wrapped bricks for a little while."

The Custer Battles show only ended when the pair left a spreadsheet behind after a meeting with CPA officials -- a spreadsheet that scrupulously detailed the pair's phony invoicing. "It was the worst case of fraud I've ever seen, hands down," says Grayson. "But it's also got to be the first instance in history of a defendant leaving behind a spreadsheet full of evidence of the crime."

But even being the clumsiest war profit­eers of all time was not enough to bring swift justice upon the heads of Mr. Custer and Mr. Battles -- and this is where the story of America's reconstruction effort gets really interesting. The Bush administration not only refused to prosecute the pair -- it actually tried to stop a lawsuit filed against the contractors by whistle-blowers hoping to recover the stolen money. The administration argued that Custer Battles could not be found guilty of defrauding the U.S. government because the CPA was not part of the U.S. government. When the lawsuit went forward despite the administration's objections, Custer and Battles mounted a defense that recalled Nuremberg and Lt. Calley, arguing that they could not be guilty of theft since it was done with the government's approval.

The jury disagreed, finding Custer Battles guilty of ripping off taxpayers. But the verdict was set aside by T.S. Ellis III, a federal judge who cited the administration's "the CPA is not us" argument. The very fact that private contractors, aided by the government itself, could evade conviction for what even Ellis, a Reagan-appointed judge, called "significant" evidence of fraud, says everything you need to know about the true nature of the war we are fighting in Iraq. Is it ­really possible to bilk American taxpayers for repainted forklifts stolen from Iraqi Airways and claim that you were just following orders? It is, when your commander in chief is George W. Bush. font size="3">There isn't a brazen, two-bit, purse-snatching money caper you can think of that didn't happen at least 10,000 times with your tax dollars in Iraq. At the very outset of the occupation, when L. Paul Bremer was installed as head of the CPA, one of his first brilliant ideas for managing the country was to have $12 billion in cash flown into Baghdad on huge wooden pallets and stored in palaces and government buildings. To pay contractors, he'd have agents go to the various stashes -- a pile of $200 million in one of Saddam's former palaces was watched by a single soldier, who left the key to the vault in a backpack on his desk when he went out to lunch -- withdraw the money, then crisscross the country to pay the bills. When desperate auditors later tried to trace the paths of the money, one agent could account for only $6,306,836 of some $23 million he'd withdrawn. Bremer's office "acknowledged not having any supporting documentation" for $25 million given to a different agent. A ministry that claimed to have paid 8,206 guards was able to document payouts to only 602. An agent who was told by auditors that he still owed $1,878,870 magically produced exactly that amount, which, as the auditors dryly noted, "suggests that the agent had a reserve of cash."

In short, some $8.8 billion of the $12 billion proved impossible to find. "Who in their right mind would send 360 tons of cash into a war zone?" asked Rep. Henry Waxman, chairman of the House Oversight Committee. "But that's exactly what our government did."

Because contractors were paid on cost-plus arrangements, they had a powerful incentive to spend to the hilt. The undisputed master of milking the system is KBR, the former Halliburton subsidiary so ubiquitous in Iraq that soldiers even encounter its customer-survey sheets in outhouses. The company has been exposed by whistle-blowers in numerous Senate hearings for everything from double-charging taxpayers for $617,000 worth of sodas to overcharging the government 600 percent for fuel shipments. When things went wrong, KBR simply scrapped expensive gear: The company dumped 50,000 pounds of nails in the desert because they were too short, and left the Army no choice but to set fire to a supply truck that had a flat tire. "They did not have the proper wrench to change the tire," an Iraq vet named Richard Murphy told investigators, "so the decision was made to torch the truck."

In perhaps the ultimate example of military capitalism, KBR reportedly ran convoys of empty trucks back and forth across the insurgent-laden desert, pointlessly risking the lives of soldiers and drivers so the company could charge the taxpayer for its phantom deliveries. Truckers for KBR, knowing full well that the trips were bullshit, derisively referred to their cargo as "sailboat fuel."

In Fallujah, where the company was paid based on how many soldiers used the base rec center, KBR supervisors ordered employees to juke the head count by taking an hourly tally of every soldier in the facility. "They were counting the same soldier five, six, seven times," says Linda Warren, a former postal worker who was employed by KBR in Fallujah. "I was even directed to count every empty bottle of water left behind in the facility as though they were troops who had been there."

Yet for all the money KBR charged taxpayers for the rec center, it didn't provide much in the way of services to the soldiers engaged in the heaviest fighting of the war. When Warren ordered a karaoke machine, the company gave her a cardboard box stuffed with jumbled-up electronic components. "We had to borrow laptops from the troops to set up a music night," says Warren, who had a son serving in Fallujah at the time. "These boys needed R&R more than anything, but the company wouldn't spend a dime." (KBR refused requests for an interview, but has denied that it inflated troop counts or committed other wrongdoing in Iraq.)

One of the most dependable methods for burning taxpayer funds was simply to do nothing. After securing a contract in Iraq, companies would mobilize their teams, rush them into the war zone and then wait, citing the security situation or delayed paperwork -- all the while charging the government for housing, meals and other expenses. Last year, a government audit of twelve major contracts awarded to KBR, Parsons and other companies found that idle time often accounted for more than half of a contract's total costs. In one deal awarded to KBR, the company's "indirect" administrative costs were $52.7 million, and its direct costs -- the costs associated with the ­actual job -- were only $13.4 million.

Companies jacked up the costs even higher by hiring out layers of subcontractors to do their work for them. In some cases, each subcontractor had its own cost-plus arrangement. "We called those 'cascading contracts,' " says Rep. Van Hollen. "Each subcontractor piles on a lot of costs, and eventually they would snowball into a huge payout. It was a green light for waste."

In March 2004, Parsons -- the firm represented by Earnest O. Robbins -- was given nearly $1 million to build a fire station in Ainkawa, a small Christian community in one of the safest parts of Iraq. Parsons subcontracted the design to a British company called TPS Consult and the construction to a California firm called Innovative Technical Solutions Inc. ITSI, in turn, hired an Iraqi outfit called Zozik to do the actual labor.

A year and a half later, government ­auditors visited the site and found that the fire station was less than half finished. What little had been built was marred by serious design flaws, including concrete columns so shoddily constructed that they were riddled with holes that looked like "honeycombing." But getting the fuck-ups fixed proved problematic. The auditors "made a request that was sent to the Army Corps, which delivered it to Parsons, who then asked ITSI, which asked TPS Consult to check on the work done by Zozik," writes Chatterjee, who describes the mess in his forthcoming book, Baghdad Bonanza. The multiple layers of subcontractors made it almost impossible to resolve the issue -- and every day the delays dragged on meant more money for the companies.

Sometimes the government simply handed out money to companies it made up out of thin air. In 2006, the Army Corps of Engineers found itself unable to award contracts by the September deadline imposed by Congress, meaning it would have to "de-obligate" the money and return it to the government. Rather than suffer that awful fate, the corps obligated $362 million -- spread out over ninety-six different contracts -- to "Dummy Vendor." In their report on the mess, auditors noted that money to nobody "does not constitute proper obligations."

But even obligating money to no one was better than what sometimes happened in Iraq: handing out U.S. funds to the enemy. Since the beginning of the war, rumors have abounded about contractors paying protection money to insurgents to avoid attacks. No less an authority than Ahmed Chalabi, the head of the Iraqi National Congress, claimed that such payoffs are a "significant source" of income for Al Qaeda. Moreover, when things go missing in Iraq -- like bricks of $100 bills, or weapons, or trucks -- it is a fair assumption that some of the wayward booty ends up in the wrong hands. In July, a federal audit found that 190,000 weapons are missing in Iraq -- nearly one out of every three arms supplied by the United States. "These weapons almost certainly ended up on the black market, where they are repurchased by insurgents," says Chatterjee. font size="3">For all the creative ways that contractors came up with to waste, mismanage and steal public money in Iraq, the standard remained good old-fashioned fucking up. Take the case of the Basra Children's Hospital, a much-ballyhooed "do-gooder" project championed by Laura Bush and Condi Rice. This was exactly the sort of grandstanding, self-serving, indulgent and ultimately useless project that tended to get the go-ahead under reconstruction. Like the expensive telephone-based disease-notification database approved for use in hospitals without telephones, or the natural-gas-powered electricity turbines green­lighted for installation in a country without ready sources of natural gas, the Basra Children's Hospital was a state-of-the-art medical facility set to be built in a town without safe drinking water. "Why build a hospital for kids, when the kids have no clean water?" said Rep. Jim Kolbe, a Republican from Arizona.

Bechtel was given $50 million to build the hospital -- but a year later, with the price tag soaring to $169 million, the company was pulled off the project without a single bed being ready for use. The government was unfazed: Bechtel, explained USAID spokesman David Snider, was "under a 'term contract,' which means their job is over when their money ends."

Their job is over when their money ends. When I call Snider to clarify this amazing statement, he declines to discuss the matter further. But if you look over the history of the Iraqi reconstruction ­effort, you will find versions of this excuse every­where. When Custer Battles was caught delivering broken trucks to the Army, a military official says the company told him, "We were only told we had to deliver the trucks. The contract doesn't say they had to work."

Such excuses speak to a monstrous vacuum of patriotism; it would be hard to imagine contractors being so blithely disinterested in results during World War II, where every wasted dollar might mean another American boy dead from gangrene in the Ardennes. But the rampant waste of money and resources also suggests a widespread contempt for the ostensible "purpose" of our presence in Iraq. Asked to cast a vote for the war effort, contractors responded by swiping everything they could get their hands on -- and the administration's acquiescence in their thievery suggests that it, too, saw making a buck as the true mission of the war. Two witnesses scheduled to testify before Congress against Custer Battles ultimately declined not only because they had received death threats but because they, too, were contractors and feared that they would be shut out of future government deals. To repeat: Witnesses were afraid to testify in an effort to ­recover government funds because they feared reprisal from the government.

The Bush administration's lack of interest in recovering stolen funds is one of the great scandals of the war. The White House has failed to litigate a single case against a contractor under the False Claims Act and has not sued anybody for breach of contract. It even declined to join in a lawsuit filed by whistle-blowers who are accusing KBR of improper invoicing in Fallujah. "For all the Bush administration claims to do in the war against terrorism," Grayson said in congressional testimony, "it is a no-show in the war against war profiteers." In nearly five years of some of the worst graft and looting in American history, the administration has recovered less than $6 million.

What's more, when anyone in the government tried to question what contractors were up to with taxpayer money, they were immediately blackballed and treated like an enemy. Take the case of Bunnatine "Bunny" Greenhouse, an outspoken and energetic woman of sixty-three who served as the chief procurement executive for the Army Corps of Engineers. In her position, Greenhouse was responsible for signing off on sole-source contracts -- those awarded without competitive bids and thus most prone to corruption. Long before Iraq, she had begun to notice favoritism in the awarding of contracts to KBR, which was careful to recruit executives who had served in the military. "That was why I joined the corps: to stop this kind of clubby contracting," she says.

A few weeks before the Iraq War ­started, Greenhouse was asked to sign off on the contract to restore Iraqi oil. The deal, she noticed, was suspicious on a number of fronts. For one thing, the company that had designed the project, KBR, was the same company that was being awarded the contract -- a highly unusual and improper situation. For another, the corps wanted to award a massive "emergency" contract to KBR with no competition for up to five years, which Greenhouse thought was crazy. Who ever heard of a five-year emergency? After auditing the deal, the Pentagon found that KBR had overcharged the government $61 million for fuel. "The abuse related to contracts awarded to KBR," Greenhouse testified before the Senate, "represents the most blatant and improper contract abuse I have witnessed during the course of my professional career."

And how did her superiors in the Pentagon respond to the wrongdoing highlighted by their own chief procurement officer? First they gave KBR a waiver for the overbilling, blaming the problem on an Iraqi subcontractor. Then they dealt with Greenhouse by demoting her and cutting her salary, citing a negative performance review. The retaliation sent a clear message to any would-be whistle-blowers. "It puts a chill on you," Greenhouse says. "People are scared stiff."

They were scared stiff in Iraq, too, and for good reason. When civilian employees complained about looting or other improprieties, contractors sometimes threatened to throw them outside the gates of their bases -- a life-threatening situation for any American. Robert Isakson, a former FBI agent who worked for Custer Battles, says that when he refused to go along with one scam involving a dummy company in Lebanon, he was detained by company security guards, who seized his ID badge and barred him from the base in Baghdad. He eventually had to make a hazardous, Papillon-esque journey across hostile Iraq to Jordan just to survive. (Custer Battles denies the charge.)

James Garrison, who worked at a KBR ice plant in Al Asad, recalls an incident when Indian employees threatened to go on strike: "They pulled a bus up, got them in there and said, 'We'll ship you outside the front gate if you want to go on strike.' " Not surprisingly, the workers changed their mind about a work stoppage.

You know the old adage: You don't pay a hooker to spend the night, you pay her to leave in the morning. That maxim also applies to civilian workers in Iraq. A soldier is a citizen with rights, a man to be treated with honor and respect as a protector of us all; if one loses a limb, you've got to take care of him, in theory for his whole life. But a mercenary is just another piece of equipment you can bill to the taxpayer: If one is hurt on the job, you can just throw it away and buy another one. Today there are more civilians working for private contractors in Iraq than there are troops on the ground. The totality of the thievery in Iraq is such that even the honor of patriotic service has been stolen -- we've replaced soldiers and heroes with disposable commodities, men we ­expected to give us a big bang for a buck and to never call us again.

Russell Skoug, who worked as a refrigeration technician for a contractor called Wolfpack, found that out the hard way. These days Skoug is back home in Diboll, Texas, and he doesn't move around much; he considers it a big accomplishment if he can make it to his mailbox and back once a day. "I'm doing a lot if I can do that much," he says, laughing a little.

A year ago, on September 11th, Skoug was working for Wolfpack at a base in Heet, Iraq. It was a convoy day -- trucks braved the trip in and out of the base every third day -- and Skoug had a generator he needed to fix. So he agreed to make a run to Al Asad. "If I would've realized that it was September 11th, I never would've went out," he says. It would turn out to be the last run he would ever make in Iraq.

An Air Force vet, Skoug had come to Iraq as a civilian to repair refrigeration units and air conditioners for a KBR subcontractor called LSI. But when he arrived, he discovered that LSI had hired him to fix Humvees. "I didn't know jack-squat about Humvees," he says. "I could maybe change the oil, that was it." (Asked about Skoug's additional assignment, KBR boasted: "Part of the reason for our success is our ability to employ individuals with multiple capabilities.")

Working with him on his crew were two other refrigeration technicians, neither of whom knew anything about fixing Humvees. Since Skoug and most of his co-workers had worked for KBR in Afghanistan, they were familiar with cost-plus contracting. The buzz around the base was that cost-plus was the reason LSI was hiring air-conditioning guys to work on unfamiliar military equipment at a cost to the taxpayer of $80,000 a year. "They was doing the same thing as KBR: just filling the body count," says Skoug.

Thanks to low troop ­levels, all the military repair guys had been pressed into service to fight the war, so Skoug was forced to sit in the military storeroom on the base and study vehicle manuals that, as a civilian, he wasn't allowed to check out of the building. That was how America fought terrorism in Iraq: It hired civilian air-conditioning techs to fix Humvees using the instruction manual while the real Humvee repairmen, earning a third of what the helpless civilians were paid, drove around in circles outside the wire waiting to get blown up by insurgents.

After much pleading and cajoling, Skoug managed to convince LSI to let him repair some refrigeration units. But it turned out that the company didn't have any tools for the job. "They gave me a screwdriver and a Leatherman, and that's it," he recalls. "We didn't even have freon gauges." When Skoug managed to scrounge and cannibalize parts to get the job done, he impressed the executives at Wolfpack enough to hire him away from LSI for $10,000 a month. The job required Skoug, who had been given no formal security training, to travel regularly on dangerous convoys between bases. Wolfpack issued him an armored vehicle, a Yugoslav-made AK-47 and a handgun, and wished him luck.

For nearly a year, Skoug did the job, trying at each stop to overcome the hostility that many troops felt for civilian contractors who surfed the Internet and played pool and watched movies all day for big dollars while soldiers carrying seventy-pound packs of gear labored in huts with broken air conditioning the civilian techs couldn't be bothered to repair. "They'd have the easiest thing to fix, and they wouldn't do it," Skoug says. "They'd write that they'd fixed it or that they just needed a part and then just leave it." At Haditha Dam, Skoug witnessed a near-brawl after some Marines, trying to get some sleep after returning from patrol, couldn't get a group of "KBR dudes" to turn down the television in a common area late at night.

Toward the end of Skoug's stay, insurgent activity in his area increased to the point where the soldiers leading his convoys would often drive only at night and without lights. Skoug and his co-workers asked Wolfpack to provide them with night-vision goggles that cost as little as $1,000 a pair, but the company refused. "Their attitude was, we don't need 'em and we're not buying 'em," says Thomas Lane, a Wolfpack employee who served as Skoug's security man on the night of September 11th.

On that evening, the soldiers leading the convoy refused to let Skoug drive his own vehicle back to Heet without night-vision goggles. So a soldier took Skoug's car, and Skoug was forced to be a passenger in a military vehicle. "We start out the front gate, and I find out that the truck that I was in was the frickin' lead truck," he recalls. "And I'm going, 'Oh, great.' "

The bomb went off about a half-hour later, ripping through the truck floor and destroying four inches of Skoug's left femur. "The windshield looked like there was a film on it," he says. "I find out later it was a film -- it was blood and meat and stuff all over the windshield on the inside." Skoug was loaded into the back of a Humvee, his legs hanging out, and evacuated to an Army hospital in Germany before being airlifted back to the States.

When Skoug arrived, it was his wife, Linda, who had to handle all his affairs. She was the one who arranged for an air ambulance to take him to Houston, where she had persuaded an orthopedic hospital to admit him as a patient. She had to do this because almost right from the start, Wolfpack washed its hands of Russell Skoug. The insurance policy he had been given turned out to be useless -- the company denied all coverage, beginning with a $72,597 bill for his stay in the German hospital. Despite assurances from Wolfpack chief Mark Atwood that he would cover all Skoug's expenses, neither he nor the insurance company would pay for the $16,000 trip in the air ambulance. Nobody paid for the operations Skoug had in Houston -- as many as three a day, every day for a month. And nobody paid for his subsequent rehab stint in another Houston hospital -- despite the fact that military law requires every company contracting with the government to fully insure all of its employees in the war zone.

Now that he's out, sitting at home on his couch with only partial use of his left hand and left leg, Skoug has a stack of unpaid medical bills almost three inches tall. As he speaks, he keeps fidgeting. He apologizes, explaining that he can't sit still for very long. Why? Because Skoug can no longer afford pain medication. "I take ibuprofen sometimes," he says, "but basically I just grin and bear it."

And here's where this story turns into something perfectly symbolic of everything that the war in Iraq stands for, a window into the soul of for-profit contractors who not only left behind a breathtaking legacy of fraud, waste and corruption but, through their calculating, greed-fueled hijacking of this generation's broadest and most far-reaching foreign-policy initiative, pushed America into previously unknown realms of moral insanity. When I contact Mark Atwood and ask him to explain how he could watch one of his best employees get blown up and crippled for life, and then cut him loose with debts totaling well over half a million dollars, Atwood, safe in his office in Kuwait City and contentedly suckling at the taxpayer teat, decides that answering this one question is just too much to ask of poor old him.

"Right now," Atwood says, "I just want some peace."

When Linda Skoug petitioned Atwood for help, he refused, pointing out that he had kept his now-useless employee on the payroll for four whole months before firing him. "After I have put forth to help you all out," he wrote in an e-mail, "you are going to get on me for your husband not having insurance." He even implied that Skoug had brought the accident upon himself by allowing the Army to place him at the head of the convoy: "He was not even suppose [sic] to be in the lead vehicle to begin with."

And that, ladies and gentlemen, is the story of the Iraq War in a nutshell. In the history of balls, the world has never seen anything like the private contractors George W. Bush summoned to serve in Operation Iraqi Freedom. Collectively, they are the final, polished result of 231 years of natural selection in the crucible of American capitalism: a bureaucrat class capable of stealing the same dollar twice -- once from the taxpayer and once from a veteran in a wheelchair.

The explanations that contractors offer for all the missing dollars, all the myriad ways they looted the treasury and screwed guys like Russell Skoug, rank among the most diabolical, shameless, tongue-twisting bullshit in history. Going back over the various congres­sional hearings and trying to decipher the corporate responses to the mountains of thefts and fuck-ups is a thrilling intellectual journey, not unlike tackling the Pharaonic hieroglyphs or the mating chatter of colobus monkeys. Standing before Congress, contractors and the officials who are supposed to monitor them say things like "As long as we have the undefinitized contract issue that we have . . . we will continue to see the same kinds of sustension rates" (translation: We can't get back any of the fucking money) and "The need for to-fitnessization was viewed as voluntary, and that was inaccurate as the general counsel to the Army observed in a June opinion" (translation: The contractor wasn't aware that he was required to keep costs down) and "If we don't know where we're trying to go and don't have measures, then we won't know how much longer it's going to take us to get there" (translation: There never was a plan in place, other than to let contractors rip off every dollar they could).

According to the most reliable ­estimates, we have doled out more than $500 billion for the war, as well as $44 billion for the Iraqi reconstruction effort. And what did America's contractors give us for that money? They built big steaming shit piles, set brand-new trucks on fire, drove back and forth across the desert for no reason at all and dumped bags of nails in ditches. For the most part, nobody at home cared, because war on some level is always a waste. But what happened in Iraq went beyond inefficiency, beyond fraud even. This was about the business of government being corrupted by the profit motive to such an extraordinary degree that now we all have to wonder how we will ever be able to depend on the state to do its job in the future. If catastrophic failure is worth billions, where's the incentive to deliver success? There's no profit in patriotism, no cost-plus angle on common decency. Sixty years after America liberated Europe, those are just words, and words don't pay the bills.

URL: [link]

Coincidentally, yesterday's New York Times contained a story entitled U.S. Says Company Bribed Officers for Work in Iraq.
WASHINGTON, Aug. 30 — An American-owned company operating from Kuwait paid hundreds of thousands of dollars in bribes to American contracting officers in efforts to win more than $11 million in contracts, the government says in court documents...
One of the officers, Maj. Gloria D. Davis, a contracting official in Kuwait, shot and killed herself in Baghdad in December 2006. Government officials say the suicide occurred a day after she admitted to an Army investigator that she had accepted at least $225,000 in bribes from the company. The United States has begun proceedings to seize Major Davis's assets, a move her heirs are contesting.
[link]
Makes you wonder just what it takes to bring something like this to light, eh?

Here's Paul Krugman on more of the economics involved in cleaning up New Orleans~~~

Katrina All the Time
By Paul Krugman
The New York Times
Friday 31 August 2007

Two years ago today, Americans watched in horror as a great city drowned, and wondered what had happened to their country. Where was FEMA? Where was the National Guard? Why wasn't the government of the world's richest, most powerful nation coming to the aid of its own citizens?

What we mostly saw on TV was the nightmarish scene at the Superdome, but things were even worse at the New Orleans convention center, where thousands were stranded without food or water. The levees were breached Monday morning - but as late as Thursday evening, The Washington Post reported, the convention center "still had no visible government presence," while "corpses lay out in the open among wailing babies and other refugees."

Meanwhile, federal officials were oblivious. "We are extremely pleased with the response that every element of the federal government, all of our federal partners, have made to this terrible tragedy," declared Michael Chertoff, the secretary for Homeland Security, on Wednesday. When asked the next day about the situation at the convention center, he dismissed the reports as "a rumor" or "someone's anecdotal version."

Today, much of the Gulf Coast remains in ruins. Less than half the federal money set aside for rebuilding, as opposed to emergency relief, has actually been spent, in part because the Bush administration refused to waive the requirement that local governments put up matching funds for recovery projects - an impossible burden for communities whose tax bases have literally been washed away.

On the other hand, generous investment tax breaks, supposedly designed to spur recovery in the disaster area, have been used to build luxury condominiums near the University of Alabama's football stadium in Tuscaloosa, 200 miles inland.

But why should we be surprised by any of this? The Bush administration's response to Hurricane Katrina - the mixture of neglect of those in need, obliviousness to their plight, and self-congratulation in the face of abject failure - has become standard operating procedure. These days, it's Katrina all the time.

Consider the White House reaction to new Census data on income, poverty and health insurance. By any normal standard, this week's report was a devastating indictment of the administration's policies. After all, last year the administration insisted that the economy was booming - and whined that it wasn't getting enough credit. What the data show, however, is that 2006, while a good year for the wealthy, brought only a slight decline in the poverty rate and a modest rise in median income, with most Americans still considerably worse off than they were before President Bush took office.

Most disturbing of all, the number of Americans without health insurance jumped. At this point, there are 47 million uninsured people in this country, 8.5 million more than there were in 2000. Mr. Bush may think that being uninsured is no big deal - "you just go to an emergency room" - but the reality is that if you're uninsured every illness is a catastrophe, your own private Katrina.

Yet the White House press release on the report declared that President Bush was "pleased" with the new numbers. Heckuva job, economy!

Mr. Bush's only concession that something might be amiss was to say that "challenges remain in reducing the number of uninsured Americans" - a statement reminiscent of Emperor Hirohito's famous admission, in his surrender broadcast, that "the war situation has developed not necessarily to Japan's advantage." And Mr. Bush's solution - more tax cuts, of course - has about as much relevance to the real needs of the uninsured as subsidies for luxury condos in Tuscaloosa have to the needs of New Orleans's Ninth Ward.

The question is whether any of this will change when Mr. Bush leaves office.

There's a powerful political faction in this country that's determined to draw exactly the wrong lesson from the Katrina debacle - namely, that the government always fails when it attempts to help people in need, so it shouldn't even try. "I don't want the people who ran the Katrina cleanup to manage our health care system," says Mitt Romney, as if the Bush administration's practice of appointing incompetent cronies to key positions and refusing to hold them accountable no matter how badly they perform - did I mention that Mr. Chertoff still has his job? - were the way government always works.

And I'm not sure that faction is losing the argument. The thing about conservative governance is that it can succeed by failing: when conservative politicians mess up, they foster a cynicism about government that may actually help their cause.

Future historians will, without doubt, see Katrina as a turning point. The question is whether it will be seen as the moment when America remembered the importance of good government, or the moment when neglect and obliviousness to the needs of others became the new American way.

[link]

Katrina, Iraq, and finally Torture---the 3 pillars of the Bush legacy...and if We the People don't wise up, they could amount to the epitaph of this democratic republic. Nat Hentoff still writes about jazz and justice, bless him~~~

The Village Voice
Nat Hentoff
History Will Not Absolve Us
Leaked Red Cross report sets up Bush team for international war-crimes trial
by Nat Hentoff
August 28th, 2007 6:30 PM

If and when there's the equivalent of an international Nuremberg trial for the American perpetrators of crimes against humanity in Guantánamo, Iraq, Afghanistan, and the CIA's secret prisons, there will be mounds of evidence available from documented international reports by human-rights organizations, including an arm of the European parliament—as well as such deeply footnoted books as Stephen Grey's Ghost Plane: The True Story of the CIA Torture Program (St. Martin's Press) and Charlie Savage's just-published Takeover: The Return of the Imperial Presidency and the Subversion of American Democracy (Little, Brown).
While the Democratic Congress has yet to begin a serious investigation into what many European legislators already know about American war crimes, a particularly telling report by the International Committee of the Red Cross has been leaked that would surely figure prominently in such a potential Nuremberg trial. The Red Cross itself is bound to public silence concerning the results of its human-rights probes of prisons around the world—or else governments wouldn't let them in.

But The New Yorker's Jane Mayer has sources who have seen accounts of the Red Cross interviews with inmates formerly held in CIA secret prisons. In "The Black Sites" (August 13, The New Yorker), Mayer also reveals the effect on our torturers of what they do—on the orders of the president—to "protect American values."

She quotes a former CIA officer: "When you cross over that line of darkness, it's hard to come back. You lose your soul. You can do your best to justify it, but . . . you can't go back to that dark a place without it changing you."

Few average Americans have been changed, however, by what the CIA does in our name. Blame that on the tight official secrecy that continues over how the CIA extracts information. On July 20, the Bush administration issued a new executive order authorizing the CIA to continue using these techniques—without disclosing anything about them.

If we, the people, are ultimately condemned by a world court for our complicity and silence in these war crimes, we can always try to echo those Germans who claimed not to know what Hitler and his enforcers were doing. But in Nazi Germany, people had no way of insisting on finding out what happened to their disappeared neighbors.

We, however, have the right and the power to insist that Congress discover and reveal the details of the torture and other brutalities that the CIA has been inflicting in our name on terrorism suspects.

Only one congressman, Oregon's Democratic senator Ron Wyden, has insisted on probing the legality of the CIA's techniques—so much so that Wyden has blocked the appointment of Bush's nominee, John Rizzo, from becoming the CIA's top lawyer. Rizzo, a CIA official since 2002, has said publicly that he didn't object to the Justice Department's 2002 "torture" memos, which allowed the infliction of pain unless it caused such injuries as "organ failure . . . or even death." (Any infliction of pain up to that point was deemed not un-American.) Mr. Rizzo would make a key witness in any future Nuremberg trial.

As Jane Mayer told National Public Radio on August 6, what she found in the leaked Red Cross report, and through her own extensive research on our interrogators (who are cheered on by the commander in chief), is "a top-down-controlled, mechanistic, regimented program of abuse that was signed off on—at the White House, really—and then implemented at the CIA from the top levels all the way down. . . . They would put people naked for up to 40 days in cells where they were deprived of any kind of light. They would cut them off from any sense of what time it was or . . . anything that would give them a sense of where they were."

She also told of the CIA interrogation of Abu Zubaydah, who was not only waterboarded (a technique in which he was made to feel that he was about to be drowned) but also "kept in . . . a small cage, about one meter [39.7 inches] by one meter, in which he couldn't stand up for a long period of time. [The CIA] called it the dog box."

Whether or not there is another Nuremberg trial—and Congress continues to stay asleep—future historians of the Bush administration will surely also refer to Leave No Marks: Enhanced Interrogation Techniques and the Risk of Criminality, the July report by Human Rights First and Physicians for Social Responsibility.

The report emphasizes that the president's July executive order on CIA interrogations—which, though it is classified, was widely hailed as banning "torture and cruel and inhuman treatment"—"fails explicitly to rule out the use of the 'enhanced' techniques that the CIA authorized in March, 2002, "with the president's approval (emphasis added).

In 2002, then–Secretary of State Colin Powell denounced the "torture" memos and other interrogation techniques in internal reports that reached the White House. It's a pity he didn't also tell us. But Powell's objections should keep him out of the defendants' dock in any future international trial.

From the Leave No Marks report, here are some of the American statutes that the CIA, the Defense Department, and the Justice Department have utterly violated:

In the 1994 Torture Convention Implementation Act, we put into U.S. law what we had signed in Article 5 of the UN Convention Against Torture, which is defined as "an act 'committed by an [officially authorized] person' . . . specifically intended to inflict severe physical or mental pain or suffering . . . upon another person within his custody or physical control."

The 1997 U.S. War Crimes Act "criminalizes . . . specifically enumerated war crimes that the legislation refers to as 'grave breaches' of Common Article 3 [of the Geneva Conventions], including the war crimes of torture and 'cruel or inhuman treatment.'"

The Leave No Marks report very valuably brings the Supreme Court— before Chief Justice John Roberts took over—into the war-crimes record of this administration. I strongly suggest that Human Rights First and Physicians for Social Responsibility send their report—with the following section underlined—to every current member of the Supreme Court and Congress:

"The Supreme Court has long considered prisoner treatment to violate substantive due process if the treatment 'shocks the conscience,' is bound to offend even hardened sensibilities, or offends 'a principle of justice so rooted in the traditions and conscience of our people as to be ranked as fundamental.'"

Among those fundamental rights cited by past Supreme Courts, the report continues, are "the rights to bodily integrity [and] the right to have [one's] basic needs met; and the right to basic human dignity" (emphasis added).

If the conscience of a majority on the Roberts Court isn't shocked by what we've done to our prisoners, then it will be up to the next president and the next Congress—and, therefore, up to us—to alter, in some respects, how history will judge us. But do you see any considerable signs, among average Americans, of the conscience being shocked? How about the presidential candidates of both parties?

[link]





Category: Entrepreneurs, Money Making

---
30 comments

1 Sep 2007 @ 15:45 by : Thanks for posting these articles about
the corrupt no-bid contrators. I hope that there are some serious investigations and these greedy "R's" will go to jail. I'm assuming that most are "R's" as this administration, justice department and congress have consistenly overlooked their responsibility to investigate corporate criminal activity. I think that the adage, "follow the money trail," may prove to uncover many of these rats. Nice going, I hope that your log reaches many of our citizens so that they can see where our money goes when no one is looking and no one cares.


---
1 Sep 2007 @ 16:03 by : Ha!
There is NO money but that will probably go over your head like so many other 'things.' Maybe you should examine 'your' senate for deeper issues? Like handsignals under bathroom (toilet) stalls then figure out how much 'THAT' costs you. FRNs are 'debt instruments' not ''money!'' Know the difference?

NEWS RELEASE
HEADQUARTERS UNITED STATES CENTRAL COMMAND
7115 South Boundary Boulevard
MacDill AFB, Fla. 33621-5101
Phone: (813) 827-5894; FAX: (813) 827-2211; DSN 651-5894




Title: C-130 CONDUCTS EVASIVE MANEUVERS WITH CONGRESSIONAL DELEGATION ON BOARD

Release Date: 8/31/2007

Release Number: 07-01-03P

Description: BAGHDAD, Iraq – A U.S. Air Force C-130 aircraft transporting visiting members of congress observed surface to air fire upon departure from Baghdad International Airport on Thursday.

The aircrew dispensed flares as a defensive countermeasure and conducted standard evasive maneuvers.

The aircraft, crew and passengers safely completed their flight.

FOR MORE INFORMATION, PLEASE CONTACT THE MNF-I PRESS DESK AT: MNFIPRESSDESK@IRAQ.CENTCOM.MIL.
FOR THIS PRESS RELEASE AND OTHERS VISIT WWW.MNF-IRAQ.COM.
-30-


---
1 Sep 2007 @ 21:28 by : PS:
There is no such thing as a "Democratic Republic!" As to how Bush, et al, get away with the rape and pillage of America? Ask yourselves the question: "Who am I?" There are two classes of citizens in America. There are two Americas. Here is a link that will answer some, not all, of your and the above questions:

http://www.1215.org/lawnotes/lawnotes/index.html

And here is something you may have forgotten. Something a little more than the definition between a Res Publica (Republic) and a Democracy (Mob rule.)

On Thursday, May 27, 1999, Darrell Scott, the father of Rachel Scott, a victim of the Columbine High School Shootings in Littleton, Colorado, was invited to address the House Judiciary Committee's subcommittee. What he said to our national leaders during this special session of Congress needs to be heard by every parent, every teacher, every politician, every sociologist, every psychologist, and every so-called expert! The following is a portion of the transcript:

Columbine High School
Victim's Commentary

We all contain the seeds of kindness or the seeds of violence. The death of my wonderful daughter, Rachel Joy Scott, and the deaths of that heroic teacher, and the other eleven children who died must not be in vain. Their blood cries out for answers. The first recorded act of violence was when Cain slew his brother Abel out in the field. The villain was not the club he used. Neither was it the NCA, the National Club Association. The true killer was Cain, and the reason for the murder could only be found in Cain's heart.

In the days that followed the Columbine tragedy, I was amazed at how quickly fingers began to be pointed at groups such as the NRA. I am not a member of the NRA. I am not a hunter. I do not even own a gun. I am not here to represent or defend the NRA because I don't believe that they are responsible for my daughter's death. Therefore I do not believe that they need to be defended. If I believed they had anything to do with Rachel's murder I would be their strongest opponent. I am here today to declare that Columbine was not just a tragedy -- it was a spiritual event that should be forcing us to look at where the real blame lies! Much of the blame lies here in this room. Much of the blame lies behind the pointing fingers of the accusers themselves.

I wrote a poem just four nights ago that expresses my feelings best. This was written before I knew I would be speaking here today.

Your laws ignore our deepest needs.
Your words are empty air.
You've stripped away our heritage
You've outlawed simple prayer

Now gunshots fill our classrooms
And precious children die
You seek for answers everywhere
And ask the question "Why"

You regulate restrictive laws
Through legislative creed
And yet you fail to understand
That God is what we need!

Men and women are three-part beings. We all consist of body, soul, and spirit. When we refuse to acknowledge a third part of our make-up, we create a void that allows evil, prejudice, and hatred to rush in and reek havoc. Spiritual influences were present within our educational systems for most of our nation's history. Many of our major colleges began as theological seminaries. This is a historical fact. What has happened to us as a nation? We have refused to honor God, and in doing so, we open the doors to hatred and violence. And when something as terrible as Columbine's tragedy occurs politicians immediately look for a scapegoat such as the NRA. They immediately seek to pass more restrictive laws that contribute to erode away our personal and private liberties. We do not need more restrictive laws.

"Eric and Dylan would not have been stopped by metal detectors. No amount of gun laws can stop someone who spends months planning this type of massacre. The real villain lies within our own hearts. Political posturing and restrictive legislation are not the answers. The young people of our nation hold the key. There is a spiritual awakening taking place that will not be squelched!

We do not need more religion. We do not need more gaudy television evangelists spewing out verbal religious garbage. We do not need more million dollar church buildings built while people with basic needs are being ignored. We do need a change of heart and a humble acknowledgment that this nation was founded on the principle of simple trust in God! As my son Craig lay under that table in the school library and saw his two friends murdered before his very eyes. He did not hesitate to pray in school. I defy any law or politician to deny him that right!

I challenge every young person in America, and around the world, to realize that on April 20, 1999, at Columbine High School - prayer was brought back to our schools. Do not let the many prayers offered by those students be in vain. Dare to move into the new millennium with a sacred disregard for legislation that violates your God - given right to communicate with Him. To those of you who would point your finger at the NRA - I give to you a sincere challenge. Dare to examine your own heart before casting the first stone! My daughter's death will not be in vain! The young people of this country will not allow that to happen!"


http://www.1215.org/lawnotes/lawnotes/columbine.htm

===

The Future of America?

If you will not fight for the right when you can
easily win without bloodshed, if you will not
fight when your victory will be sure and not so
costly, you may come to the moment when
you will have to fight with all the odds against
you and only a precarious chance for survival.
There may be a worse case. You may have to
fight when there is no chance of victory,
because it is better to perish than to live as
slaves. -- Winston Churchill

Have you done your part to assure good government?

http://www.1215.org/lawnotes/lawnotes/elian.jpg

When U.S. President William Jefferson Clinton and Attorney General Janet Reno became impatient with
the court process, they resorted to self help by sending in storm troopers against unarmed civilians, thus
fulfilling Cuban Commmunist dictator Fidel Castro's demand.


---
2 Sep 2007 @ 02:35 by a-d : can somebody
give me an INTELLIGENT/"so it makes sense"-explanation of what exactly this statement means: "As a man is, so he sees."


---
2 Sep 2007 @ 08:47 by : Poet Seers
Perhaps the intelligence sought is on this webpage~~~

http://www.poetseers.org/the_poetseers/blake/the_works_of_william_blake/blake_sees

Here Blake sketches a man wrestling with his vision of what he is~~~

http://www.mysticmissal.org/abe642a0.jpg


---
2 Sep 2007 @ 14:47 by : Aha!
"There is only one great adventure and that is outwards toward the self." -- oss ra

"Is this a holy thing to see
In a rich and fruitful land,
Babes reduced to misery,
Fed with cold and usurous hand?" -- Blake on prostitutes

"love seeketh not Itself to please,
Nor for itself hath any care,
But for another gives its ease,
And Builds a Heaven in Hell's despair." -- Blake on prostitutes

America A Prophecy

PRELUDIUM

The shadowy daughter of Urthona stood before red Orc.
When fourteen suns had faintly journey'd o'er his dark abode;
His food she brought in iron baskets, his drink in cups of iron;
Crown'd with a helmet & dark hair the nameless female stood;
A quiver with its burning stores, a bow like that of night,
When pestilence is shot from heaven; no other arms she need:
Invulnerable tho' naked, save where clouds roll round her loins,
Their awful folds in the dark air; silent she stood as night;
For never from her iron tongue could voice or sound arise;
But dumb till that dread day when Orc assay'd his fierce embrace.



Dark virgin; said the hairy youth, thy father stern abhorr'd;
Rivets my tenfold chains while still on high my spirit soars;
Sometimes an eagle screaming in the sky, sometimes a lion,
Stalking upon the mountains, & sometimes a whale I lash
The raging fathomless abyss, anon a serpent folding


Around the pillars of Urthona, and round thy dark limbs,
On the Canadian wilds I fold, feeble my spirit folds.
For chaind beneath I rend these caverns; when thou bringest food
I howl my joy! and my red eyes seek to behold thy face
In vain! these clouds roll to & fro, & hide thee from my sight.



Silent as despairing love, and strong as jealousy,
The hairy shoulders rend the links, free are the wrists of fire;
Round the terrific loins he siez'd the panting struggling womb;
It joy'd: she put aside her clouds & smiled her first-born smile;
As when a black cloud shews its light'nings to the silent deep.



Soon as she saw the terrible boy then burst the virgin cry.



I know thee, I have found thee, & I will not let thee go;
Thou art the image of God who dwells in darkness of Africa;
And thou art fall'n to give me life in regions of dark death.
On my American plains I feel the struggling afflictions
Endur'd by roots that writhe their arms into the nether deep:
I see a serpent in Canada, who courts me to his love;
In Mexico an Eagle, and a Lion in Peru;
I see a Whale in the South-sea, drinking my soul away.
O what limb rending pains I feel. thy fire & my frost
Mingle in howling pains, in furrows by thy lightnings rent;
This is eternal death; and this the torment long foretold.



[The stern Bard ceas'd, asham'd of his own song; enrag'd he swung]
[His harp aloft sounding, then dash'd its shining frame against]
[A ruin'd pillar in glittring fragments; silent he turn'd away,]
[And wander'd down the vales of Kent in sick & drear lamentings. ]



A PROPHECY



The Guardian Prince of Albion burns in his nightly tent,
Sullen fires across the Atlantic glow to America's shore:
Piercing the souls of warlike men, who rise in silent night,
Washington, Franklin, Paine & Warren, Gates, Hancock & Green;
Meet on the coast glowing with blood from Albions fiery Prince.



Washington spoke; Friends of America look over the Atlantic sea;
A bended bow is lifted in heaven, & a heavy iron chain
Descends link by link from Albions cliffs across the sea to bind
Brothers & sons of America, till our faces pale and yellow;
Heads deprest, voices weak, eyes downcast, hands work-bruis'd,
Feet bleeding on the sultry sands, and the furrows of the whip
Descend to generations that in future times forget.----



The strong voice ceas'd; for a terrible blast swept over the heaving sea;
The eastern cloud rent; on his cliffs stood Albions wrathful Prince
A dragon form clashing his scales at midnight he arose,
And flam'd red meteors round the land of Albion beneath.
His voice, his locks, his awful shoulders, and his glowing eyes,



Appear to the Americans upon the cloudy night.



Solemn heave the Atlantic waves between the gloomy nations,
Swelling, belching from its deeps red clouds & raging Fires!
Albion is sick. America faints! enrag'd the Zenith grew.
As human blood shooting its veins all round the orbed heaven
Red rose the clouds from the Atlantic in vast wheels of blood
And in the red clouds rose a Wonder o'er the Atlantic sea;
Intense! naked! a Human fire fierce glowing, as the wedge
Of iron heated in the furnace; his terrible limbs were fire
With myriads of cloudy terrors banners dark & towers
Surrounded; heat but not light went thro' the murky atmosphere



The King of England looking westward trembles at the vision



Albions Angel stood beside the Stone of night, and saw
The terror like a comet, or more like the planet red
That once inclos'd the terrible wandering comets in its sphere.
Then Mars thou wast our center, & the planets three flew round
Thy crimson disk; so e'er the Sun was rent from thy red sphere;
The Spectre glowd his horrid length staining the temple long
With beams of blood; & thus a voice came forth, and shook the temple



The morning comes, the night decays, the watchmen leave their stations;
The grave is burst, the spices shed, the linen wrapped up;
The bones of death, the cov'ring clay, the sinews shrunk & dry'd.
Reviving shake, inspiring move, breathing! awakening!
Spring like redeemed captives when their bonds & bars are burst;



Let the slave grinding at the mill, run out into the field:
Let him look up into the heavens & laugh in the bright air;
Let the inchained soul shut up in darkness and in sighing,
Whose face has never seen a smile in thirty weary years;
Rise and look out, his chains are loose, his dungeon doors are open.
And let his wife and children return from the opressors scourge;
They look behind at every step & believe it is a dream.
Singing. The Sun has left his blackness, & has found a fresher morning
And the fair Moon rejoices in the clear & cloudless night;
For Empire is no more, and now the Lion & Wolf shall cease.

===

A song of the rolling earth, and of words according,
Were you thinking that those were the words, those upright lines?
those curves, angles, dots?
No, those are not the words, the substantial words are in the ground
and sea,
They are in the air, they are in you.

http://www.poetseers.org/early_american_poets/walt_whitman/whitmans_poetry/song_of_the_rolling_earth

===

Tears


Tears! tears! tears!
In the night, in solitude, tears,
On the white shore dripping, dripping, suck'd in by the sand,
Tears, not a star shining, all dark and desolate,
Moist tears from the eyes of a muffled head;
O who is that ghost? that form in the dark, with tears?
What shapeless lump is that, bent, crouch'd there on the sand?
Streaming tears, sobbing tears, throes, choked with wild cries;
O storm, embodied, rising, careering with swift steps along the
beach!
O wild and dismal night storm, with wind-O belching and desperate!
O shade so sedate and decorous by day, with calm countenance and
regulated pace,
But away at night as you fly, none looking-O then the unloosen'd
ocean,
Of tears! tears! tears!

http://www.poetseers.org/early_american_poets/walt_whitman/whitmans_poetry/tears

===

`` I AM can be spoken by no creature,
but by God alone.
I must become God and
God must become me, so completely that
we share the same "I" eternally.
Our truest "I" is God." Meister E.

=

I Bet God

I BET GOD



If He
let go of my hand, I would
weep so loudly,

I would petition with all my might, I would cause
so much trouble

that I bet God would come to His senses
and never do that
again. -- ibid. above


---
2 Sep 2007 @ 20:56 by Loopy @66.215.83.25 : Love
A nation is only as evolved as it's poorest citizens. The US of A is piteful at this time. ALL politicians are guilty in this area. Democracy is corrupt and bought and sold for the highest price in America. So while all of you can spend all your time pointing this out, none of it changes until love enters. At the moment love has left our nation and money rules. So spin your wheels, cry out in anger and point your fingers until you die. Nothing will change without love for all of humanity. Some humans believe like I do and maybe someday those that spew hate and violence will finally understand.

love@world.com

ps. Tears solve nothing. Pointing solves nothing. Jew hating solves nothing.
Expanding love solves all.

Imagine there's no Heaven
It's easy if you try
No hell below us
Above us only sky
Imagine all the people
Living for today

Imagine there's no countries
It isn't hard to do
Nothing to kill or die for
And no religion too
Imagine all the people
Living life in peace

You may say that I'm a dreamer
But I'm not the only one
I hope someday you'll join us
And the world will be as one

Imagine no possessions
I wonder if you can
No need for greed or hunger
A brotherhood of man
Imagine all the people
Sharing all the world

You may say that I'm a dreamer
But I'm not the only one
I hope someday you'll join us
And the world will live as one

John Lennon


---
2 Sep 2007 @ 21:17 by : The team...
Of love and hate always come together. They cannot live without one another. All dichotes are...dichotomous. Higamous, hogamous... (Higgamous, hoggamous)


---
2 Sep 2007 @ 21:57 by Loopy @66.215.83.25 : Love and hate
Only if you believe that Vaxxy. I don't. While we hold all energies inside our soul it is free will as to those we choose to use. If one loves, one does not have to hate. Love does not strengthen hate but shrinks it instead. If one hates, one blinds themselves to the beauty of the world. What one BELIEVES is what you bring into this world. So if you hate that is what you create. Is that what you want?
Only through love can humanity rise above the disfunction. Hate only feeds the disfunction.
Love is not blind. Love is pure energy of the highest vibration. Hate is the lowest vibration of energy. But of course you know all this VV. I just need to remind you of it sometimes. You forget as do those that continue to whine, cry, hate, point fingers etc. at humanity.

Let the beauty we love be what we do.
~Rumi ~

A soul that sees beauty may sometimes walk alone.
~Johann von Goeth ~

Beauty is truth, truth beauty,—that is all
Ye know on earth, and all ye need to know.'
-Keats-


---
2 Sep 2007 @ 23:37 by Loopy @66.215.83.25 : copying above comment by VV
2 Sep 2007 @ 21:17 by vaxen : The team...
Of love and hate always come together. They cannot live without one another. All dichotes are...dichotomous. Higamous, hogamous... (Higgamous, hoggamous)

Just thought I would copy your above comment VV in case you decide to remove it and the readers might not understand my love and hate reply. Cheers...off to spread more LOVE...LOL

Sorry Jazzy, realize I've gone a bit off track on your log but it's all connected anyway....hahaha


---
2 Sep 2007 @ 23:57 by @76.173.37.120 : love & hate
hmmmm love and hate are not opposites. Love and fear, are. I like your posts, Ms. Loopy :-)


---
3 Sep 2007 @ 09:44 by : Loopy & Vibe Back In The Fray
Nice to have a holiday visit from these 2 California ladies, and contributors to NCN excitement back in the day. But on this Labor Day in the States, wouldn't it be great if the working man and woman figured out their votes for Reagan and the Bushes have worked against their economic interests bigtime...never mind those supposedly cheap prices at Wal-Mart?

A number of sources seem to have gotten their hands on a preliminary draft of a report to Congress on how things are going with the Iraqi "democracy." The Nation's David Corn says it's all corruption all the time over there. http://www.thenation.com/blogs/capitalgames?pid=228339 George wants 50 billion dollars more from those of us who pay taxes to his private contractors.

And speaking of those helpful agents to our government, Mother Jones has a timeline of September in New Orleans 2 years ago. Who says you get what you pay for? http://www.motherjones.com/news/featurex/2007/08/katrina-timeline.html




---
3 Sep 2007 @ 10:31 by @76.173.37.120 : hi
Hi Jazz. I have never felt love for someone and hate for them at the same time, have you? Cancels out....

Anyway, when I wrote to Feinstein about the plague of income taxes, she actually wrote back to me calling taxes CONTRIBUTIONS! As if they are donations that I choose to give! Here's a portion of what she wrote (and condescendingly, I might add):
"I am more than happy to explain to you how your tax contributions are spent. Your contributions are used to pay for a myriad of services that make your life, and the lives of others, better. You might not realize it, but roads, schools, law enforcement, public libraries, and such are supported by the taxes that you pay. With the taxes that are collected we also address the priorities of our nation such as funding for education, healthcare, environment and national defense. The taxes that all Americans pay allow us to continue to pay down the national debt.

"I realize that you wish to see a tax system that promotes future financial stability for you and your family. Please know that I strongly support tax reforms that are fair to California's taxpayers, but at the same time, do not weaken the economy or our ability to run budget surpluses and pay down the national debt. It is my hope that Congress can have a constructive debate on tax policy that truly benefits workers, small business owners, and the economy."

I very sternly corrected her, and am awaiting a response. So it's not just Bush. It's a whole mentality.


---
3 Sep 2007 @ 16:20 by Loopy @66.215.83.25 : corruption and contributions
What makes you think Jazzy that those that shop at Wal-mart even care about who is in office? Those of us that do care don't shop there anyway due to their sexist policies and slave wages, not to mention the cheap junk they promote. Unfortunately we are in the minority.
Yeah Vibes those "Contributions" are a joke. I remember us laughing and crying about it at the same time when you sent me Feinstein's reply. Lets support more killing by contributing our money to the government!!!!
I stopped signing petitions awhile ago because no one in congress is listening. They are too busy pleasing their rich backers or else can't keep their feet under their own bathroom stall while talking out of the corner of their mouth. Bunch of hypocrites!
Our entire government needs reform from the presidency on down but it won't happen in my lifetime. So instead of hating, complaining, pointing fingers and sending out negative energy, i am going in the opposite direction.
And you are right Vibes, hate is really just another form of fear. The mentality of congress is one of fear and manipulation with Bush leading the crowd of Wal-Martism thinking!

Cheers on this Labor Day folks and remember all your hard labor is leading to the down fall of humanity.

So instead walk in the light, raise your vibration and embrace all of humaity in light and love. You have the choice each moment and in every action and thought to show others that there are other alternatives to mass thinking and just going along. Laugh at the stupidity of Bush and congress. Laugh at "the American Way". LIsten to your spirit and your intution, allowing kindness and beauty to rise up.


---
3 Sep 2007 @ 17:03 by : Thanks for being here, Nora...
I love your voice, articles, comments and introduction to your homepage. Very creative for sure. Nice going....

Jerry


---
3 Sep 2007 @ 19:18 by @76.173.37.120 : Jerry
Hi Jerry - thanks :-) Hope you've been well.


---
4 Sep 2007 @ 09:47 by : Pup Awakening From Labor Day Slumbers
and it's back to work!

http://lava.nationalgeographic.com/pod/pictures/normal/arctic-fox-pup-canada-762529-ga.jpg


---
7 Sep 2007 @ 04:39 by : Slumbering...
"Wake up, little Suzie, wake up..." -- Don and Phil

"If the people knew what we had done, they would chase us down the street and lynch us"

George H.W. Bush

http://planetquo.com/George-Bush-The-CIA-Mind-Control-And-Child-Abuse

The Haig-Kissinger Depopulation Policy

http://planetquo.com/The-Haig-Kissinger-Depopulation-Policy

And, please, never forget that big brother LOVES you! ;)
Also that the Haig Kissinger depopulation plan is, really, all about LOVE!
Now, isn't LOVE just the best thing since Carters little liver pills?


---
7 Sep 2007 @ 08:56 by : Wow, I Want To Look Like THAT

http://www.the-forum.com/advert/images/carter.jpg


---
7 Sep 2007 @ 13:48 by : I think...
your students and your admin would probably freak IF you did suddenly, say -- like -- overnight, look like Miss Betty Fitch. Don't you? Wonder if Carters little liver pills were similar to bayers little heroin pills? I mean, what was in those little liver pills?

Note the sparkling eyes and clear glowing skin. Cocaine? ;)

So how is it George Bush gets away with 7 years of no-bid contracts clearly to companies that support the Republican Party with lots of cash? What is a no-bid contract anyway and where did it come from? Does no one ask this? Is presidential war powers the answer to every inquiry?

Hahahahahahahahahaha! Jah Ras Tafari! Haille Sallasie Eye Yai Yai!

I can manipulate time in my dreams. You?


---
7 Sep 2007 @ 15:27 by : Time Manipulation
I learned the art from radio shows in the old days. In fact, one of the biggest advertisers back then was Fitch Hair Care, makers of Fitch Shampoo and Fitch Hair Tonic. Yes, I still can see in my mind's eye the glowing hair of Phil Harris, who led the band on the Fitch Band Wagon. (Maybe Miss Betty Fitch was related.) Plus, I think Fitch sponsored Inner Sanctum too, where major manipulations always took place. But I'm sure Vax is too young to have had his hair stand on end at the sound of the creaking door. No wonder Fitch sponsored it.


---
8 Sep 2007 @ 04:54 by : Heh, heh...
Yah, too young for that for sure but old enough to remember just who made this world and it wasn't god! ;) Fitch, eh? Creeking doors making ones' hair stand on end...smacks (No pun intended) of early radio dramas.

Now I have had some courses in that stuff, and I think I understand how those programs could have made a childs, or adults, for that matter, hair stand on end...I did make crystal radio sets whose received voices used to make my hair stand on end and -- once upon a time -- did some work with Jerusalem Universities' English professor utilising radio frequencies to tune into the dead...made everyones hair stand on end too, but...no Fitch, no brylcream, with its' little dab'll do ya, and no Dixie Peach -- thank god!

Much too cyberpunk am I for all that...but do rely upon our historian of such, jazzolog, to keep me up to date. Though time travel to those eras can be quite fun (Thanks Technion!).

http://www.nyc2123.com/


---
8 Sep 2007 @ 09:17 by : Son Of A Fitch
Looks like memory may be fading, as I don't see Fitch listed...but Carter's Little Liver Pills certainly sponsored the thing. http://www.otrsite.com/logs/logi1004.htm I remember Ed Herlihy's cheerful voice urging the pills upon us during the breaks. Inner Sanctum was one of those shows that had warm and happy commercials in the midst of the macabre blood-letting that went on in the stories. Kraft used to do the same thing with Cheez-Whiz during the serious dramas on TV.

You really must hear the creaking door, and the brilliant organist Lew White tweak your nerve endings (especially if you were a little kid listening with all the lights out) and it's preserved at this site http://www.radiohof.org/adventuredrama/innersanctum.html . Just click Play on that old radio. And good grief, is that Ming in the top hat?

The great fun of DOING radio was that all this stuff could go wrong---and tricks could be played---but you had to keep the show rolling no matter what. If you finally cracked up, of course, the hilarity was impossible to stifle. Even though I did radio just as a part-time job through high school and college, I can tell you breaking up happened to us all. Wikipedia has a fascinating item about that squeaking door~~~

"Commonly unknown is the fact that the door sound was actually made by a rusty desk chair. The program did originally intend to use a door, but on first use the door did not creak. Undaunted, Brown grabbed a nearby chair, sat in it and turned, causing a hair raising squeak. The chair was used from then on as the sound prop. On at least one memorable occasion, a staffer innocently repaired and oiled the chair, thus forcing the sound man to mimic the squeak orally." http://en.wikipedia.org/wiki/Inner_Sanctum_Mysteries

See what I mean? Oh yes, I first mentioned Lew White's radio drama improvisations in the most fantastic essay I ever put online. It was about a radio production of A Christmas Carol. I still get emails and inquiries about it...especially since Wikipedia links it in its Ernest Chappell entry~~~ http://www.upsaid.com/jazzolog/index.php?action=viewcom&id=60 .


---
8 Sep 2007 @ 09:39 by : Our...
``in-credible" jazzolog! Yeah, man, nice stuff.
``The bluebird carries the sky on his back." --H. David Thoreau

Col Ha Cavod Lecha!

http://www.intellnet.org/


---
9 Sep 2007 @ 16:37 by : A MoM-ent...
'A Wrinkle in Time' Author L'Engle Dies

By CARA RUBINSKY – 1 day ago

"In my dreams, I never have an age," she said. "I never write for any age group in mind. ... When you underestimate your audience, you're cutting yourself off from your best work."

In 2004, President Bush awarded her a National Humanities Medal.

Keith Call, special collections assistant at Wheaton College in Illinois, which has a collection of L'Engle's papers, said he considers her the female counterpart of science fiction author Ray Bradbury because people loved her personally as much as they loved her books.

"Wrinkle" tells the story of adolescent Meg Murry, her genius little brother Charles Wallace, and their battle against evil as they search across the universe for their missing father, a scientist.

The brother and sister, helped by a young neighbor, Calvin, and some supernatural spirits, must pass through a time travel corridor (the "wrinkle in time") and overcome the ruling powers on a planet with a totalitarian government reminiscent of George Orwell's "1984."

L'Engle followed it up with further adventures of the Murry children, including "A Wind in the Door," 1973; "A Swiftly Tilting Planet," 1978, which won an American Book Award; and "Many Waters," 1986.

"A Ring of Endless Light," 1980, is part of another L'Engle series, the Austin family books. In all, there were nine Austin books from 1960 to 1999, and eight Murry books from 1962 to 1989, many featuring a grown-up, married Meg and Calvin and their children.


===

A Wrinkle In Time By Madeleine L'Engle

"It is a dark and stormy night. Meg Murry, her small brother Charles Wallace, and their mother are in the kitchen for a midnight snack when a most disturbing visitor arrives.

'Wild nights are my glory,' the unearthly stranger tells them. 'I just got stuck in a downdraft and blown off course. Let me sit down for a moment, and then I'll be on my way. Speaking ways, by the way, there is such thing as a tesseract.'

Meg's father had been experimenting with this fifth dimension of time travel when he mysteriously disappeared. Now the time has come for Meg, her friend Calvin, and Charles Wallace to rescue him. But can they outwit the forces of evil they will encounter on their heart-stopping jour through space?"
~As told by Madeleine L'Engel on the book jacket on a Wrinkle in Time~

http://library.thinkquest.org/CR0213657/wrinklehome.htm

--

http://library.thinkquest.org/CR0213657/studyguide.htm

--

"The Tesseract"

All about Madeleine L'Engle, author of A Wrinkle in Time. Her biography in five dimensions.

http://library.thinkquest.org/CR0213657/links.htm

--

Official page:

http://www.madeleinelengle.com/

---

A song of the rolling earth, and of words according,
Were you thinking that those were the words, those upright lines?
those curves, angles, dots?
No, those are not the words, the substantial words are in the ground
and sea,
They are in the air, they are in you.



---
15 Sep 2007 @ 16:46 by : Deadish thread?
"Es ist nicht deine Schuld, dass die Welt ist wie sie ist,es wär nur deine Schuld wenn sie so bleibt."
~Die Ärzte


---
27 Sep 2007 @ 10:10 by : Bush Holding His Cllimate Meeting Today
Hopefully he'll convince investors Nature can be made to listen to us! Money talks. Meanwhile~~~

http://earthobservatory.nasa.gov/Newsroom/NewImages/Images/arctic_ams_2007259.jpg

Arctic, September 16, 2007
Graph of Arctic Sea Ice Decline
June through September 2007 brought record sea ice melt in the Arctic, well below the previous record low, set in September 2005. According to the National Snow and Ice Data Center (NSIDC), on September 16, 2007, sea ice extent dropped to 4.13 million square kilometers (1.59 million square miles)—38 percent below average and 24 percent below the 2005 record. Anyone care to canoe the Northwest Passage this afternoon?


---
27 Sep 2007 @ 17:43 by : Terra Forming...
utilising Scalar Interferometry. And, sure, I'd love to Kayak it...


---
1 Nov 2007 @ 09:51 by : Live In A Box For A Billionaire
Ever feel like sucking up to power and big bucks? You can start by caddying at the local golf course..and you might even end up a president like Bush. More of his legacy~~~

Billionaires up, America down
By Holly Sklar, McClatchy-Tribune News Service
Sunday, October 21, 2007

When it comes to producing billionaires, America is doing great.

Until 2005, multimillionaires could still make the Forbes list of the 400 richest Americans. In 2006, the Forbes 400 went billionaires only.

This year, you'd need a Forbes 482 to fit all the billionaires.

A billion dollars is a lot of dough. Queen Elizabeth II, British monarch for five decades, would have to add $400 million to her $600 million fortune to reach $1 billion. And she'd need another $300 million to reach the Forbes 400 minimum of $1.3 billion. The average Forbes 400 member has $3.8 billion.

When the Forbes 400 began in 1982, it was dominated by oil and manufacturing fortunes. Today, says Forbes, "Wall Street is king."

Nearly half the 45 new members, says Forbes, "made their fortunes in hedge funds and private equity. Money manager John Paulson joins the list after pocketing more than $1 billion short-selling subprime credit this summer."

The 25th anniversary of the Forbes 400 isn't party time for America.

We have a record 482 billionaires — and record foreclosures.

We have a record 482 billionaires — and a record 47 million people without any health insurance.

Since 2000, we have added 184 billionaires — and 5 million more people living below the poverty line.

The official poverty threshold for one person was a ridiculously low $10,294 in 2006. That won't get you two pounds of caviar ($9,800) and 25 cigars ($730) on the Forbes Cost of Living Extremely Well Index. The $20,614 family-of-four poverty threshold is lower than the cost of three months of home flower arrangements ($24,525).

Wealth is being redistributed from poorer to richer.

Between 1983 and 2004, the average wealth of the top 1 percent of households grew by 78 percent, reports Edward Wolff, professor of economics at New York University. The bottom 40 percent lost 59 percent.

In 2004, one out of six households had zero or negative net worth. Nearly one out of three households had less than $10,000 in net worth, including home equity. That's before the mortgage crisis hit.

In 1982, when the Forbes 400 had just 13 billionaires, the highest paid CEO made $108 million and the average full-time worker made $34,199, adjusted for inflation in $2006. Last year, the highest paid hedge fund manager hauled in $1.7 billion, the highest paid CEO made $647 million, and the average worker made $34,861, with vanishing health and pension coverage.

The Forbes 400 is even more of a rich men's club than when it began. The number of women has dropped from 75 in 1982 to 39 today.

The 400 richest Americans have a conservatively estimated $1.54 trillion in combined wealth. That amount is more than 11 percent of our $13.8 trillion Gross Domestic Product (GDP) — the total annual value of goods and services produced by our nation of 303 million people. In 1982, Forbes 400 wealth measured less than 3 percent of U.S. GDP.

And the rich, notes Fortune magazine, "give away a smaller share of their income than the rest of us."

Thanks to mega-tax cuts, the rich can afford more mega-yachts, accessorized with helicopters and mini-submarines. Meanwhile, the infrastructure of bridges, levees, mass transit, parks and other public assets inherited from earlier generations of taxpayers crumbles from neglect, and the holes in the safety net are growing.

The top 1 percent of households — average income $1.5 million — will save a collective $79.5 billion on their 2008 taxes, reports Citizens for Tax Justice. That's more than the combined budgets of the Transportation Department, Small Business Administration, Environmental Protection Agency and Consumer Product Safety Commission.

Tax cuts will save the top 1 percent a projected $715 billion between 2001 and 2010. And cost us $715 billion in mounting national debt plus interest.

The children and grandchildren of today's underpaid workers will pay for the partying of today's plutocrats and their retinue of lobbyists.

It's time for Congress to roll back tax cuts for the wealthy and close the loophole letting billionaire hedge fund speculators pay taxes at a lower rate than their secretaries.

Inequality has roared back to 1920s levels. It was bad for our nation then. It's bad for our nation now.

Holly Sklar is co-author of "A Just Minimum Wage: Good for Workers, Business and Our Future" and "Raise the Floor: Wages and Policies That Work for All of Us."

http://dailycamera.com/news/2007/oct/21/billionaires-up-america-down/#comments


---
29 Apr 2016 @ 06:24 by @103.12.162.4 : brilliant! I would like to share this ar
Togel Online Singapore
Togel Online Hongkong
Bandar Togel Singapore
Bandar Togel
Togel Online Terpercaya
Bandar Togel Online Terpercaya
Togel Online
Agen Togel Online Terpercaya
Agen Togel Online


---
Other entries in Entrepreneurs, Money Making
29 Nov 2008 @ 06:39: Black Friday... seems to be so true.
27 Mar 2008 @ 11:26: Green Energy Development
20 Feb 2008 @ 01:25: a genuine relationship with all things.
7 Nov 2007 @ 00:51: Diversity counterproductive to social capital?
17 Jul 2006 @ 21:40: The Proposal for Profit
9 May 2006 @ 23:41: indieKarma
31 Jan 2006 @ 21:44: Things I've Done
7 Oct 2005 @ 17:37: No Google
12 Sep 2005 @ 21:46: Italian Version of Polar Dynamics Available
31 Jul 2005 @ 17:13: EXCUSE ME YOUR LIFE IS WAITING ~ a short short review!!




---