| | |
| --- | --- |
| EXCUSE ME YOUR LIFE IS WAITING ~ a short short review!! | |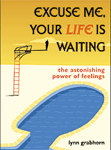 31 Jul 2005 @ 17:13, by Brenda McCann

I am so totally smitten by this book that I THOUGHT I ALREADY KNEW and was CONSISTANTLY DOING!! BUT... "Excuse Me YOUR Life is Waiting" by Lynn Grabhorn ~ By the Law of Attraction, "It takes only sixteen seconds of focused thought/with feeling = vibrational frequency to begin a manifestation." HAS NOT ONLY broken it all down into FEELING STEPS!! It has shown me HOW to TURN EVERY ONE OF MY 'DON'T WANTS'....INTO the vibrational frequencies of what I DO WANT in and as MY LIFE!!!!!!

Skip to your own chase and click this link for FULL AND COMPLETE INFORMATION!! article
*BUT FIRST SEE THIS QUOTE from top of page 102!!
"Don't forget that the universe gives us - not what we think, not what we ! speak, or what we deserve or think/feel we are destined to have...
The universe gives us PRECISELY - AND ONLY - what we are vibrating (as) in every EVERY moment of every EVERY day. NOTHING MORE & NOTHING LESS!"

You may also come to this website to purchase the BOOK: Excuse Me YOUR Life is Waiting and it's online course by Monday evening August 1, 2005 http://www.lightsoflove.us





Category: Entrepreneurs, Money Making

---
4 comments

31 Jul 2005 @ 17:21 by : this is the second
time I hear about this book these days. I think it has a very good approach toward happiness. Very positive, and I like positivism! I cannot wait to get it and read it too! Thank you, Brenda.


---
31 Jul 2005 @ 18:18 by scotty : How WONDERFUL
to see a posting about this terrific book !
I'm in the middle of reading it now !

Lynn Grabhorn is so down to earth and funny - and so CLEAR !!!
It's a life-changing book !!
Thanks Brenda for posting !!


---
1 Aug 2005 @ 16:38 by @209.165.15.148 : Great Book!
I saw your message on Care2 and had to tell you. I bought the book Saturday.. finished it in no time! I feel like it's already making a huge difference. It's very similar to Abraham/Hicks stuff, but seemed to be more accessible. Haven't gotten around to the 'woo-woo wands' yet :)


---
12 Apr 2007 @ 01:05 by Carolanne @202.27.209.251 : Fantastic book
I had things change as I was reading it and was so taken by it I gave two copies away to friends who are in trouble. I know it will work for them if they trust it.


---
Other entries in Entrepreneurs, Money Making
29 Nov 2008 @ 06:39: Black Friday... seems to be so true.
27 Mar 2008 @ 11:26: Green Energy Development
20 Feb 2008 @ 01:25: a genuine relationship with all things.
7 Nov 2007 @ 00:51: Diversity counterproductive to social capital?
1 Sep 2007 @ 12:48: Exactly How Bush Spends Your Money
17 Jul 2006 @ 21:40: The Proposal for Profit
9 May 2006 @ 23:41: indieKarma
31 Jan 2006 @ 21:44: Things I've Done
7 Oct 2005 @ 17:37: No Google
12 Sep 2005 @ 21:46: Italian Version of Polar Dynamics Available




---