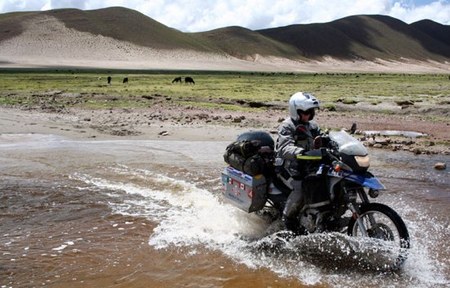 18 Feb 2006 @ 15:01, by Flemming Funch

Allan Karl was on his way around the world on his motorcycle until, last month, he had a bad fall and broke his leg rather thoroughly. In Tica Tica, Bolivia, which is in the middle of nowhere, unless you live there, and probably it still is. Very poor area, very high in the mountains, hundreds of miles on muddy roads from even bad hospitals. Anyway, Allan is a blogger par excellence and has meticulously documented the whole journey. And this is no different. Even while he's bouncing around in the back of a pickup truck with a broken leg in the rain on a dirt road in the Bolivian mountains, he somehow manages to get pictures taken, and he records the events blow by blow. Which is rather fascinating to read. I've only met Allan once, at a blogger event in L.A. He's a great guy. Anyway, his accounts of the around-the-world trip is here: worldrider.com, and his normal blog is Digital Tavern. Anyway, after some grueling days he made it back to a proper hospital in Orange County, to be put back together more professionally, which seems to be progressing well.





Category: Travel

---
6 comments

18 Feb 2006 @ 19:44 by @71.136.232.194 : Put Back Together
Hey Ming-Nice post. Glad you enjoyed the story. I was determined to capture all those photos; afterall I needed to keep busy and my mind off the injuries.Hell, it was all fun and I'm happy to be able to tell the story.


---
20 Feb 2006 @ 15:20 by : Stories
Hey, life is for living some good stories, so it is all worth it.


---
2 Jan 2016 @ 14:18 by @105.158.102.110 : juegos online
Diviértete con los mejores juegos de Disney Channel, Disney XD, películas Disney y mucho más!


---
29 Apr 2016 @ 06:12 by Willie @188.143.232.32 : zLRogyNOmZW
Alomrzaak-infaamation found, problem solved, thanks!


---
29 Apr 2016 @ 10:59 by @103.12.162.4 : brilliant! I would like to share this ar
Togel Online Singapore
Togel Online Hongkong
Bandar Togel Singapore
Bandar Togel
Togel Online Terpercaya
Bandar Togel Online Terpercaya
Togel Online
Agen Togel Online Terpercaya
Agen Togel Online


---
18 Aug 2016 @ 09:21 by @182.186.141.16 : Malik
That tragedy on Pakistan is constantly on the worsen simply because relief components and enable fall far except what important. More enable is seriously needed given that the potential for lots of fatalities starts off to loom.


---
Other entries in Travel
30 Jun 2010 @ 14:51: Sideline Philosophy:
6 Jan 2008 @ 15:34: Planeta.com Hosts Tourism and Climate Change E-Confence
5 Dec 2007 @ 17:25: Le Bateau Lavoir
27 May 2007 @ 01:49: Imaginary L.A. subway map
4 Apr 2007 @ 18:54: The Crossing
27 Mar 2007 @ 12:04: A380 in L.A.
11 Jul 2006 @ 21:50: Explosions in India 7.11.06
8 Jul 2006 @ 18:09: To the Dead Sea - descending 900 feet below sea level
10 May 2006 @ 22:52: Further gleanings from the long and winding road..
25 Apr 2006 @ 11:57: Rome, Italy




---