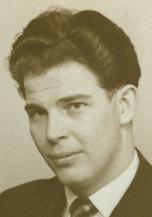 24 Feb 2008 @ 21:18, by Flemming Funch

My Dad died this week. I didn't really know him very well, so it is hard to know what to feel. At first I didn't feel anything. And the loss I feel now is maybe more abstract than it is about him in particular.

It is important to have a father. Mine got divorced from my mother when I was 1 years old. I mostly didn't think about what it would mean to have a father, because I didn't really have one who was there. My mother married again, but I never considered the new guy my father, even though he obviously was a continuous male presence.

And I didn't see my real father much. Maybe a total of 2 or 3 times as I was growing up.

I liked him. His particular way of speaking, Copenhagen dialect, from I'm not sure what exact part of town, made me feel somehow safe and comfortable, as if I was used to it from when I was a baby, even though I don't really remember. And not that he ever really acted much like a father, even though he always was friendly.

He didn't do anything in his life that will make any history book. He was a fireman for a while, a taxi driver for a while, and an assortment of other odd jobs that didn't last overly long. I have no problem with that, I'm kind of proud of coming from a simple working-class family.

I wish I had inherited his hair. He still had a full head of wavey dark hair last I saw him, whereas I'm close to bald.

I maybe wish I'd have a lot of memories to talk about. Although maybe it is better not to.

What I'm sad about is maybe the thought of the importance of having a father. I wish I had had a father more. And maybe it reminds me that I haven't always been as present with my kids as I could be. Oh, I'm still here and haven't gone anywhere, but one could of course always have done it better.

At any rate, I'll be in Denmark at the end of the week for the funeral.






Category: Children, Parenting

---
30 comments

25 Feb 2008 @ 00:19 by c.c.keiser @72.92.92.55 : Who we are.
Sorry to hear about your dad, but I know exactly how you feel.
My dad left my mom when I was about 1 also.
Unlike you though, I only got to see my dad once, and when I did finally find him he told me to go away. He even denied he was my father, but a few years after he died I received a call from my half brother. He hadn't known about me and dad never mentioned to his new family he had been married before, or had a another son. A blood test between myself and two other brothers confirmed he was indeed my dad.
And also like you, I had a step-father who wasn't my father, and didn't want to be.
I don't need to tell you what it's like, you lived it as well, but then we wouldn't be who we are otherwise.
By the way, my half brother has the exact same name I have. Yep, dear old dad named us both after himself!
We get along famously!

The purpose of life is to live it.
Enjoy it!


---
25 Feb 2008 @ 01:16 by @12.213.224.56 : Feelings
Sorry to hear about your dad. I lost my father to cancer 6 years ago. Although he was very much in my life and a deep influence on me, I imagine that just the not having a dad around would bring up for me at least a lot of feelings around it. Even with my father's influence, because of a conspicuous lack of a rites of passage, the seeking of deep/wise male mentorship has threaded itself through my life.

How have you been Flemming?

Warmest Wishes,

Paul


---
25 Feb 2008 @ 06:00 by Tim @86.7.153.243 : more present, yes.
Sorry to hear of your loss, Ming.

As you say, it's kind of a reminder too that we can be more "present" as fathers ourselves.

Warmly,
Tim


---
25 Feb 2008 @ 12:37 by : Dad
Luckily I've seen my dad a bit in later years, about once per year or so. There's nothing particularly I haven't done, which I should have. That kind of sucks when somebody dies and there's a long list of things one should have done or said, but one didn't get around to. Regardless, death sucks, but it is a reminder to be as present as possible while one has the chance. There's no time like the present.


---
25 Feb 2008 @ 12:48 by : Family
Incidentally I've also gotten closer to my family by becoming interested in genealogy recently, as that has made me find out more about my family, and even make contact with branches of the family I didn't know I had. If one doesn't focus on it, one might easily miss knowing anything at all about where one comes from.

My dad wasn't much help in terms of telling me about his own parents when I asked him. He didn't know his own dad very well. His parents got divorced too when he was a kid, and he never saw his dad again, except for once when he met him on the street and he didn't recognize his own son. His dad was aparently a strict disciplinarian. He had insisted that his kids say "De" to their parents. That's the polite pronoun in Danish for addressing someone, like "Vous" in French, which one uses for strangers, but which has gone almost out of use in Danish now.

I suppose I'll meet some relatives I didn't know about at my Dad's funeral, so that's an upside, I guess.


---
25 Feb 2008 @ 18:40 by celestial : Dear Ming,
I'm always sorry to hear about the loss of one's parents, even though sometimes we don't really ever get to know them. As always, when the beam goes down on one end, it's always up on the other end, as you've noted. Attending the funeral will help you get to know more about him and the kind of person he was!

With best wishes,
celestial


---
25 Feb 2008 @ 23:40 by @76.168.217.251 : resemblance
What was always the most disturbing fact of somebody leaving these grounds was that from that moment on, I did not have a chance to talk to them anymore. But maybe that is not such big thing when you don't have too much of a contact.
Maybe, just maybe, now the your dad does not need his hair any more, you might inherit it from you - maybe I put out a spell that it will magically transfer to you - - ooooom.
Beside that there really is a noticeable resemblance between you two.
Nice that you moved closer so that you can just zip over for the funeral and give a last farewell. I had the chance with my dad also. He was actually hanging onto his non functioning body until I came two days later and sent him on his way.


---
26 Feb 2008 @ 03:03 by : sincerest sympathy to you, ming
a loss of a parent is a new reminder of how large the galaxy is, how alone we are and how fleeting are our ties to one another.
May the funeral bring you new connections. The DNA thread is another clue to who we are.


---
26 Feb 2008 @ 12:00 by : Life
Everything is but a fleeting reflection off the surface of the sea of life. But then again, if we can anchor our happiness in the sea itself, rather than in the reflections, it ain't so bad.

Looks like I'll be going to a baptism the morning after the funeral, on the way to the airport. My latest nephew, Milo. Always puts things in perspective when birth and death take turns.

And, ah, yes, I think my hair's starting to grow...


---
26 Feb 2008 @ 16:15 by @208.82.79.9 : I feel your emptiness
Never knew my Mom or Dad, and when I found out my mom died, over25 years ago now, I didn't know what to feel. Sort of a what if feeling, and the wish that I had looked for her when I got the urge to, about a year before she passed.

Some of us have make our own families as we find them.

I think I remember from a high school genetics class, that baldness is inherited through the mother.

Peace.


---
27 Feb 2008 @ 19:05 by Lionel @82.225.26.8 : Flemming

I'm so sorry for your dad, dear Flemming. And I'm sur you're a nice father: profound and calm. Your children are lucky.


---
29 Feb 2008 @ 09:43 by Elvire @86.221.114.24 : trip...
Finally heard about your trip in Denmark..
I'm sorry for your dad and confused of my words the last time we met

Warmly


---
1 Mar 2008 @ 20:18 by @193.219.5.34 : Ming, I am sad for you
Flemming, I am sad to hear that your father died, but thank you for writing about him. And I'm glad to see his photograph, I think you share the same friendly smile. Peace.


---
2 Mar 2008 @ 00:52 by Martha Borders @71.94.156.121 : Always a father
Ming you will be a father until you die. So with that in mind become the father to your children that you wanted in your own father. It is never too later to love your children completely (bet he does already). Love is ageless.
Sorry for your feeling of loss. Love will fill up the loss. Don't live with regrets about what you could of done better. You have the wisdom now with age! So turn on that fatherly love more! I dare you!!! hahaha

Love Martha

PS. Having just recently become a grandma I see a clear pattern forming with generational family issues and how they can be shifted and healed...with more love of course.


---
2 Mar 2008 @ 04:08 by Carmen Clark @66.222.30.64 : Fathers, fatherhood, and fathering
Hello Dear Flemming!

I was interested in your comments as I read along about the demise of your bio father. You said he was not much of a presence in your life and also that you wished you were more of a presence in the life of your children. I think we learn what to do as parents by how we were parented. You may need to meditate on that and figure out how to "train" yourself to be a father, considering you did not have that role model. You do not want to the be father who dies one day with children wondering what they might have shared and known of you. :)

Love, hugs, and abstract condolences.

Carmen


---
18 Mar 2008 @ 04:21 by @213.176.84.3 : feeling
Dear Flemming
Sorry to hear about your dad, you have a man with depth sense, your sadness touched me deeply. My father died two years ago. My family live toghether and I saw my father all of the time. But I didnt Understand him and his role in my life. I know him when he died because he didnt advise me directly and controled my family over our mind. dear Flemming, you saw your father 2 or 3 time and I saw my father all the time, But we have a common sense, bacause we can not understant our fathers completly. This is a natural way. We are heavy-heated.
Best Wishes
Mazi


---
24 Mar 2008 @ 05:49 by @75.142.192.232 : - father
my condolences


---
6 Apr 2008 @ 20:00 by Lino @217.251.154.128 : Condolence
Sorry about your dad. Didn't read it till now because I have not been to ming.tv for a few months. I can understand what you feel, because my dad was pretty close to dying last year, and he is so old that you can expect that to happen any time, anyway.
But even though it is sad to say goodbye I think it is a wise thing just to accept that people do not want to stay forever in the same body. Neither will we want to, eventually. It is better to try to tell their spirits - in whichever way we will attemtp to communicate with them - that we accept their decision to proceed on their way through the universe.

Your mother still OK? If I am not quite mistaken - judging from satellite photos you published - her house is in the same neighbourhood, maybe even the same street as my sister's. I have no idea if they know each other, though.


---
17 Apr 2008 @ 10:50 by @82.207.115.117 : Money
Private Fund Management - asset management
is an international investment company specializing in asset management services. During its long history, it has achieved and occupied a stable position in the financial market and won the confidence of numerous investors from all over the world.
Asset management
Asset management comprises the management of the client's funds conducted on the basis of the contract signed by the investor and the management company. An investor transfers his or her powers to the management company, which chooses a professional and effective investment strategy based on the client's aims and financial capability.
The traders react to any fluctuations on the financial market by immediately correcting the investment strategy in order to achieve and maintain high profit levels for an investor.
Asset management for our clients
• The reliability of cooperation with a professional investment company.
• No restrictions concerning the sum of the initial investment.
• Guaranteed profit rate acquired at specified periods of time.
• All decisions concerning the management of the acquired profits are made by the investor himself.
• The management company works hard to increase the investor's income since the size of the brokerage received by it depends on the profit acquired by the client.
Does this investment method suit you?
Business development
The main reason for investing money into something is the formation of an additional source of passive income. If a client chooses the right way of investing money, he or she will be able to enjoy a certain degree of freedom in the development of his or her main business. Having a predetermined regular income, you will be able to expand the influence of your company at the market, invest the acquired profits into the development of new solutions and products, and define the prospective growth taking into consideration the peculiar features of your own stabilization fund.
Personal aims
By transferring a part of your funds to an asset management company, you will be able to figure out how you are going to use the acquired additional income for your own purposes. This sum used to be just a kind of stabilizer, but now you will be able to spend more money on recreation and unplanned purchases without increasing the size of the supply subtracted from your regular income.
Increasing the assets
By increasing the amount of funds transferred to an asset management company by means of acquired profits you will be increasing your own capital. At the same time the money doesn't just get accumulated – it keeps on working for you. Consequently, the larger is the invested sum, the more profit you get from it.
The advantages of transferring free funds into asset management
 The ability to build up your own investment business.
 Freedom in the process of designing more ambitious development strategies.
 Guaranteed stability and substantial amount of profits.
 Additional funds that can be used in the realization of one's personal aims.
 Capital growth and steady increase of the active income.
The advantages that we offer
Individual approach and absolutely straight dealing with our clients. We strive towards close long-term business relationships that are able to bring mutual profits to our clients, partners, and ourselves. Guided by the willingness to achieve our common goals, we pay maximum attention to each of our investors. We value long-term relationships with our investors much higher than one-time transactions – that's why we keep on doing our best to give maximum confidence to our clients and ensure the perfect performance of our liabilities.
Reliability. We minimize the risks taken by our clients by means of investment diversification and the utilizations of a specific investment strategy. All the investments that we manage get insured at the conditions that guarantee fullest protection of our clients' interests.
Blameless reputation. During our history we have signed a lot of profitable contracts. Long years of successful operation at the international market have resulted in the establishment of our company's blameless reputation based on the professional operation of our staff as well as the highest quality of the provided services.
Safe Investment Management Conception. Our work is based upon the principles; the effectiveness of which has been tested and proven in practice.
• Objective valuation of expectations.
• Detailed reports about the achieved results.
• Scrupulous risk management.
• Full correspondence of our activity to the current legislation.
• The willingness to find an appropriate solution for every particular problem.
• Creative approach towards the problems experienced by our clients.
• Aiming at the establishment of long-term business relationships with our clients.
The clients working with Private Fund Management should be fully confident of the reliability and the potential profitability of their investment. Our employees will help you choose the most convenient and well-paying investment option for you after picking up the appropriate investment strategy and investment portfolio.
Investment portfolios
While choosing the appropriate investment means one will always have to look for the happy medium between two indices: profitability and possible risks. These indices are in direct relation to each other - the bigger is the potential profit, the bigger is the potential risk. It has to be noted that the concept of risk is getting less and less relevant these days since within the past seven years of our operation at the financial market none of our clients have ever received profits lower than those agreed upon during the process of signing the contract. We offer solutions able to help each of our customers to choose the investment means that is the most profitable for him or her in particular.
What is an investment portfolio?
An investment portfolio is the combination of assets that you invest your money into. The process of building up an investment portfolio is based upon the process of choosing securities. The main reason for creating a portfolio is pretty simple – if done correctly, it will allow you to supply your set of securities with such investment features (profitability and risk) that cannot be achieved by purchasing only stocks or bonds, for instance. Combination is the only key to creating a good investment portfolio.
Peculiar features of different investment portfolios
All investment portfolios are built up in accordance with one of the following strategies:
• The strategy aimed at the aggressive capital growth stimulation with high level of risk. Potential annual profitability of this strategy can be estimated at about 35%. This strategy is based upon the utilization of tools with a high level of risk: shares, futures, and options.
• The strategy aimed at low-risk investment and intended for steady capital growth (about 22% annually). Stocks can serve as an example of low-risk investment tools.

By combining high- and low-risk approaches in different proportions, the experts of Private Fund Management develop investment portfolios based on the requirements set by different clients.
http://www.my-investment.com


---
8 Dec 2008 @ 02:29 by gilles @74.59.205.179 : Reach within.
Never too late to get in touch with the father in you. Become the true father you are, then just give this fatherhood image of tenderness away. Everyday, people of all kinds need it around you: watch for their eyes...


---
2 Mar 2009 @ 15:22 by Sasha @87.232.1.90 : I can relate
My father was Irish. He lived in the US for years, but got deported back to Ireland shortly before he died....long story...Anyway, I didn't know my father well either. Same experience...saw him maybe 2 or 3 times growing up. Before he died, I don't think I had seen him since I graduated from college 5 years ago. I am in Ireland right now...I flew in to try to see my father before he died, but he died before I could get here. I almost had this sense that, even in death, he ran from me. But I believe that he was so afraid he would be a bad father, that he chose not to be one at all....that somehow he thought he was doing me a favor by being absent from my life. I do feel the same kind of abstract sadness you were describing, and I wanted to thank you for posting this. I don't feel quite so alone now.


---
29 Jun 2009 @ 09:48 by LEON @94.194.122.46 : DAD
I know how you feel my father denies that i'm his son. My mum told me when i was young who my father is and about 10 years ago was speaking to friend about it when they turned round and said i know him his got 3 daughters. i arranged to meet 1 of my half sisters we got on really well untill she told our dad he convinced her that i was mothing to do with him or my sisters, i even told him i would take a dna test but he refused. Anyway a couple of months ago my sister moved down my street she now has 2 children but doesnt even acknowledge me, i dont know if its cause he thinks i want money or things from him but i dont all i want is to know my sisters and dad.


---
16 Feb 2016 @ 16:23 by @27.116.62.50 : eLvis
I've always been a hugger. If we all hugged more, the world would be a better place :)


---
28 Apr 2016 @ 21:01 by Lorraine @188.143.232.32 : SFMMZxfhPIDs
By June 26, 2012 - 7:35 amThanks a lot for providing inaidivudls with a very spectacular opportunity to read critical reviews from this website. It is always so amazing and also packed with a good time for me and my office peers to search your blog more than 3 times in a week to learn the fresh stuff you will have. And lastly, I'm usually satisfied with the sensational methods served by you. Selected 2 points in this posting are honestly the most efficient we've had.


---
29 Apr 2016 @ 05:58 by @103.12.162.4 : brilliant! I would like to share this ar
mayarsi


---
12 Aug 2016 @ 20:55 by MORRISON FINANCE COMPANY @105.112.34.146 : Are you looking for a business loan.....
Are you looking for a business loan, personal loan, home loan, car loan, student loan, debt consolidation loans, unsecured loans, venture 
capital, etc. .. Or were you refused a loan by a bank or a financial institution for one or more reasons.

You in the right place for your loan solutions! I am a private lender, I give out loans to companies and individuals at a low and affordable interest rate of 2%. Interest. Please contact us via email  

morrisonaniems@consultant.com or morrisonfinancecompany@gmail.com

+1 (205) 287-7481

Thanks,

Mr Morrison Aniems.


---
5 Sep 2016 @ 07:00 by @117.207.102.53 : xender for pc
xender for pc


---
30 Sep 2016 @ 16:52 by jack sparr @43.224.128.93 : nice
Download Zapya for PC to share files and folders easily from PC to Mobile


---
19 Oct 2016 @ 06:15 by @120.188.80.187 : herbalisleo@yahoo.com
Jual Vimax Asli Canada di Aceh
Jual Vimax Asli Canada di Bandung
Jual Vimax Asli Canada di Bali
Jual Vimax Asli Canada di Binjai
Jual Vimax Asli Canada di Jakarta
Jual Vimax Asli Canada di Jepara
Jual Vimax Asli Canada di Jogja
Jual Vimax Asli Canada di Kudus
Jual Vimax Asli Canada di Lampung
Jual Vimax Asli Canada di Lubuk Pakam
Jual Vimax Asli Canada di Makasar
Jual Vimax Asli Canada di Medan
Jual Vimax Asli Canada di Padang
Jual Vimax Asli Canada di Palembang
Jual Vimax Asli Canada di Papua
Jual Vimax Asli Canada di Pati
Jual Vimax Asli Canada di Pekanbaru
Jual Vimax Asli Canada di Riau
Jual Vimax Asli Canada di Semarang
Jual Vimax Asli Canada di Solo
Jual Vimax Asli Canada di Sukoharjo
Jual Vimax Asli Canada di Sumatera Utara
Jual Vimax Asli Canada di Tangerang
Jual Vimax Asli Canada di Tanjung Morawa
Jual Vimax Asli Canada di Wonosobo
Jual Vimax Asli Canada di Yogyakarta
Jual Vimax Asli Canada di Badung
Jual Vimax Asli Canada di Balikpapan
Jual Vimax Asli Canada di Lampung
Jual Vimax Asli Canada di Banten
Jual Vimax Asli Canada di Batam
Jual Vimax Asli Canada di Batu
Jual Vimax Asli Canada di Bekasi
Jual Vimax Asli Canada di Belawan
Jual Vimax Asli Canada di Bogor
Jual Vimax Asli Canada di BSD
Jual Vimax Asli Canada di Demak
Jual Vimax Asli Canada di Denpasar
Jual Vimax Asli Canada di Depok
Jual Vimax Asli Canada di Kendal
Jual Vimax Asli Canada di Lamongan
Jual Vimax Asli Canada di Malang
Jual Vimax Asli Canada di Surabaya
Jual Vimax Asli Canada di Tuban


---
15 Dec 2016 @ 07:21 by Govind Nath @122.173.54.51 : Happy New Year Images
Merry Christmas and New Year 2017 Animated Images Merry Christmas and New Year 2017 Quotes in Italian
Merry Christmas and New Year 2017 Wishes in Hebrew Merry Christmas and New Year 2017 Images in Hebrew Merry Christmas Quotes in Hebrew Happy New Year 2018 Happy New Year 2018 Images Happy New Year 2018 Wallpapers Happy New Year 2018 Wishes Happy New Year 2018 Quotes New Year 2018 Happy New Year 2018 Happy New Year 2018 Images Happy New Year 2018 Wallpapers Happy New Year 2018 Wishes Happy New Year 2018 Quotes Happy New Year 2018 Photos Happy New Year 2019 Happy New Year 2019 Images Happy New Year 2019 Wallpapers Happy New Year 2017 Wishes Sayings In French New Year 2017 Funny Jokes In Japanese New Year 2017 Animated Greeting Images In Hebrew New Year 2017 Whatsapp DP Status Messages Quotes SMS In Hebrew New Year 2017 Wallpaper Free Download Happy New Year 2017 Whatsapp DP Merry Christmas Gif ImagesMerry Christmas and A Happy New Year 2017 Wishes in Italian Merry Christmas and A Merry Christmas 2016 HD Pictures Merry Christmas 2016 Gif images Merry Christmas 2016 Funny Images Merry Christmas and a 2017 Happy New Year Images Merry Xmas Latest HD Funny Pictures Merry Xmas Latest HD Funny Images Merry Christmas Animated Pic with Gifts Merry Christmas Animated Images Merry Christmas Animated Gif Merry Christmas and A Happy New Year 2017 Wishes in Hebrew Merry Christmas and A Happy New Year 2017 Images in Hebrew Happy New Year 2017 Images in Italian New Year HD Wallpapers 2017
Happy New year 2019 Wishes Happy New year 2019 Happy New year 2018 Images Happy New year 2018 Happy New year 2018 MessagesHappy New Year 2017Greetings in Hebrew
Happy New Year 2017 AnimatedGreetings in Hebrew Happy New Year2017 Messages in Italian
Happy New Year 2017 AustraliaFlag Happy New Year Australia FlagHappy New Year 2017 AustraliaImagesHappy New Year England Flag
New Year 2017Wishes in ItalianMerryChristmas Whatsapp DP MessagesMerry Christmas and New Year 2017 Quotes in Italian
Merry Christmas and New Year 2017 Wishes in Italian
Merry Christmas and New Year 2017 Animated Images
Merry Christmas and New Year 2017 Quotes in ItalianMerry Christmas and New Year 2017 Wishes in HebrewMerry Christmas and New Year 2017 Images in HebrewMerry Christmas Quotes in HebrewYear 2018 CalenderYear 2018 Calender PSDYear 2018 Calender Template
Year 2018 Calender Template indxYear 2018 Calender Template Free Download


---
Other entries in Children, Parenting
12 Dec 2008 @ 15:48: Long Deployments Breaking Up Families
30 Mar 2008 @ 09:34: OLD SOUL AT HOME: BOON TO SOUL EVOLUTION
13 Jan 2008 @ 13:16: Don't be a sucker, man - face the cougar, baby !
2 Jan 2008 @ 16:42: A Crappy New Year from the rabbit...
24 Dec 2007 @ 08:25: A Child Is Given
8 Sep 2007 @ 16:10: Let Kids be Kids!!!
19 Aug 2007 @ 11:07: Heavy With Child
6 Aug 2007 @ 20:17: Genealogy
26 Jul 2007 @ 12:44: Healthy Kids have enormous energy
31 May 2007 @ 14:49: Being Enthusiastic and giving Encouragement to Children




---