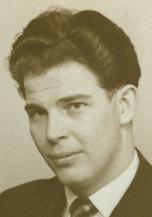 24 Feb 2008 @ 21:18, by Flemming Funch

My Dad died this week. I didn't really know him very well, so it is hard to know what to feel. At first I didn't feel anything. And the loss I feel now is maybe more abstract than it is about him in particular.

It is important to have a father. Mine got divorced from my mother when I was 1 years old. I mostly didn't think about what it would mean to have a father, because I didn't really have one who was there. My mother married again, but I never considered the new guy my father, even though he obviously was a continuous male presence.

And I didn't see my real father much. Maybe a total of 2 or 3 times as I was growing up.

I liked him. His particular way of speaking, Copenhagen dialect, from I'm not sure what exact part of town, made me feel somehow safe and comfortable, as if I was used to it from when I was a baby, even though I don't really remember. And not that he ever really acted much like a father, even though he always was friendly.

He didn't do anything in his life that will make any history book. He was a fireman for a while, a taxi driver for a while, and an assortment of other odd jobs that didn't last overly long. I have no problem with that, I'm kind of proud of coming from a simple working-class family.

I wish I had inherited his hair. He still had a full head of wavey dark hair last I saw him, whereas I'm close to bald.

I maybe wish I'd have a lot of memories to talk about. Although maybe it is better not to.

What I'm sad about is maybe the thought of the importance of having a father. I wish I had had a father more. And maybe it reminds me that I haven't always been as present with my kids as I could be. Oh, I'm still here and haven't gone anywhere, but one could of course always have done it better.

At any rate, I'll be in Denmark at the end of the week for the funeral.






Category: Children, Parenting

---
17 comments

25 Feb 2008 @ 00:19 by c.c.keiser @72.92.92.55 : Who we are.
Sorry to hear about your dad, but I know exactly how you feel.
My dad left my mom when I was about 1 also.
Unlike you though, I only got to see my dad once, and when I did finally find him he told me to go away. He even denied he was my father, but a few years after he died I received a call from my half brother. He hadn't known about me and dad never mentioned to his new family he had been married before, or had a another son. A blood test between myself and two other brothers confirmed he was indeed my dad.
And also like you, I had a step-father who wasn't my father, and didn't want to be.
I don't need to tell you what it's like, you lived it as well, but then we wouldn't be who we are otherwise.
By the way, my half brother has the exact same name I have. Yep, dear old dad named us both after himself!
We get along famously!

The purpose of life is to live it.
Enjoy it!


---
25 Feb 2008 @ 06:00 by Tim @86.7.153.243 : more present, yes.
Sorry to hear of your loss, Ming.

As you say, it's kind of a reminder too that we can be more "present" as fathers ourselves.

Warmly,
Tim


---
25 Feb 2008 @ 12:37 by : Dad
Luckily I've seen my dad a bit in later years, about once per year or so. There's nothing particularly I haven't done, which I should have. That kind of sucks when somebody dies and there's a long list of things one should have done or said, but one didn't get around to. Regardless, death sucks, but it is a reminder to be as present as possible while one has the chance. There's no time like the present.


---
25 Feb 2008 @ 12:48 by : Family
Incidentally I've also gotten closer to my family by becoming interested in genealogy recently, as that has made me find out more about my family, and even make contact with branches of the family I didn't know I had. If one doesn't focus on it, one might easily miss knowing anything at all about where one comes from.

My dad wasn't much help in terms of telling me about his own parents when I asked him. He didn't know his own dad very well. His parents got divorced too when he was a kid, and he never saw his dad again, except for once when he met him on the street and he didn't recognize his own son. His dad was aparently a strict disciplinarian. He had insisted that his kids say "De" to their parents. That's the polite pronoun in Danish for addressing someone, like "Vous" in French, which one uses for strangers, but which has gone almost out of use in Danish now.

I suppose I'll meet some relatives I didn't know about at my Dad's funeral, so that's an upside, I guess.


---
25 Feb 2008 @ 18:40 by celestial : Dear Ming,
I'm always sorry to hear about the loss of one's parents, even though sometimes we don't really ever get to know them. As always, when the beam goes down on one end, it's always up on the other end, as you've noted. Attending the funeral will help you get to know more about him and the kind of person he was!

With best wishes,
celestial


---
26 Feb 2008 @ 03:03 by : sincerest sympathy to you, ming
a loss of a parent is a new reminder of how large the galaxy is, how alone we are and how fleeting are our ties to one another.
May the funeral bring you new connections. The DNA thread is another clue to who we are.


---
26 Feb 2008 @ 12:00 by : Life
Everything is but a fleeting reflection off the surface of the sea of life. But then again, if we can anchor our happiness in the sea itself, rather than in the reflections, it ain't so bad.

Looks like I'll be going to a baptism the morning after the funeral, on the way to the airport. My latest nephew, Milo. Always puts things in perspective when birth and death take turns.

And, ah, yes, I think my hair's starting to grow...


---
27 Feb 2008 @ 19:05 by Lionel @82.225.26.8 : Flemming

I'm so sorry for your dad, dear Flemming. And I'm sur you're a nice father: profound and calm. Your children are lucky.


---
29 Feb 2008 @ 09:43 by Elvire @86.221.114.24 : trip...
Finally heard about your trip in Denmark..
I'm sorry for your dad and confused of my words the last time we met

Warmly


---
2 Mar 2008 @ 00:52 by Martha Borders @71.94.156.121 : Always a father
Ming you will be a father until you die. So with that in mind become the father to your children that you wanted in your own father. It is never too later to love your children completely (bet he does already). Love is ageless.
Sorry for your feeling of loss. Love will fill up the loss. Don't live with regrets about what you could of done better. You have the wisdom now with age! So turn on that fatherly love more! I dare you!!! hahaha

Love Martha

PS. Having just recently become a grandma I see a clear pattern forming with generational family issues and how they can be shifted and healed...with more love of course.


---
2 Mar 2008 @ 04:08 by Carmen Clark @66.222.30.64 : Fathers, fatherhood, and fathering
Hello Dear Flemming!

I was interested in your comments as I read along about the demise of your bio father. You said he was not much of a presence in your life and also that you wished you were more of a presence in the life of your children. I think we learn what to do as parents by how we were parented. You may need to meditate on that and figure out how to "train" yourself to be a father, considering you did not have that role model. You do not want to the be father who dies one day with children wondering what they might have shared and known of you. :)

Love, hugs, and abstract condolences.

Carmen


---
18 Mar 2008 @ 04:21 by @213.176.84.3 : feeling
Dear Flemming
Sorry to hear about your dad, you have a man with depth sense, your sadness touched me deeply. My father died two years ago. My family live toghether and I saw my father all of the time. But I didnt Understand him and his role in my life. I know him when he died because he didnt advise me directly and controled my family over our mind. dear Flemming, you saw your father 2 or 3 time and I saw my father all the time, But we have a common sense, bacause we can not understant our fathers completly. This is a natural way. We are heavy-heated.
Best Wishes
Mazi


---
6 Apr 2008 @ 20:00 by Lino @217.251.154.128 : Condolence
Sorry about your dad. Didn't read it till now because I have not been to ming.tv for a few months. I can understand what you feel, because my dad was pretty close to dying last year, and he is so old that you can expect that to happen any time, anyway.
But even though it is sad to say goodbye I think it is a wise thing just to accept that people do not want to stay forever in the same body. Neither will we want to, eventually. It is better to try to tell their spirits - in whichever way we will attemtp to communicate with them - that we accept their decision to proceed on their way through the universe.

Your mother still OK? If I am not quite mistaken - judging from satellite photos you published - her house is in the same neighbourhood, maybe even the same street as my sister's. I have no idea if they know each other, though.


---
8 Dec 2008 @ 02:29 by gilles @74.59.205.179 : Reach within.
Never too late to get in touch with the father in you. Become the true father you are, then just give this fatherhood image of tenderness away. Everyday, people of all kinds need it around you: watch for their eyes...


---
2 Mar 2009 @ 15:22 by Sasha @87.232.1.90 : I can relate
My father was Irish. He lived in the US for years, but got deported back to Ireland shortly before he died....long story...Anyway, I didn't know my father well either. Same experience...saw him maybe 2 or 3 times growing up. Before he died, I don't think I had seen him since I graduated from college 5 years ago. I am in Ireland right now...I flew in to try to see my father before he died, but he died before I could get here. I almost had this sense that, even in death, he ran from me. But I believe that he was so afraid he would be a bad father, that he chose not to be one at all....that somehow he thought he was doing me a favor by being absent from my life. I do feel the same kind of abstract sadness you were describing, and I wanted to thank you for posting this. I don't feel quite so alone now.


---
29 Jun 2009 @ 09:48 by LEON @94.194.122.46 : DAD
I know how you feel my father denies that i'm his son. My mum told me when i was young who my father is and about 10 years ago was speaking to friend about it when they turned round and said i know him his got 3 daughters. i arranged to meet 1 of my half sisters we got on really well untill she told our dad he convinced her that i was mothing to do with him or my sisters, i even told him i would take a dna test but he refused. Anyway a couple of months ago my sister moved down my street she now has 2 children but doesnt even acknowledge me, i dont know if its cause he thinks i want money or things from him but i dont all i want is to know my sisters and dad.


---
28 Apr 2016 @ 21:01 by Lorraine @188.143.232.32 : SFMMZxfhPIDs
By June 26, 2012 - 7:35 amThanks a lot for providing inaidivudls with a very spectacular opportunity to read critical reviews from this website. It is always so amazing and also packed with a good time for me and my office peers to search your blog more than 3 times in a week to learn the fresh stuff you will have. And lastly, I'm usually satisfied with the sensational methods served by you. Selected 2 points in this posting are honestly the most efficient we've had.


---
Other entries in Children, Parenting
12 Dec 2008 @ 15:48: Long Deployments Breaking Up Families
30 Mar 2008 @ 09:34: OLD SOUL AT HOME: BOON TO SOUL EVOLUTION
13 Jan 2008 @ 13:16: Don't be a sucker, man - face the cougar, baby !
2 Jan 2008 @ 16:42: A Crappy New Year from the rabbit...
24 Dec 2007 @ 08:25: A Child Is Given
8 Sep 2007 @ 16:10: Let Kids be Kids!!!
19 Aug 2007 @ 11:07: Heavy With Child
6 Aug 2007 @ 20:17: Genealogy
26 Jul 2007 @ 12:44: Healthy Kids have enormous energy
31 May 2007 @ 14:49: Being Enthusiastic and giving Encouragement to Children




---