| | |
| --- | --- |
| Healthy Kids have enormous energy | |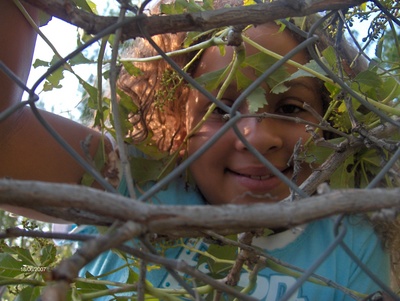 26 Jul 2007 @ 12:44, by Gerald Vest
It is--the need to love others and to be loved; the qualities of curiosity, inquisitiveness, thirst for knowlege; the need to learn; imagination, creativity, openmindedness, experimental-mindedness; the sense of humor, playfulness, joy, the optimism, honesty, resilience, and compassionate intelligence--that constitute the spirit of the child. Growing Young, Ashley Montagu


Do we have the 'spirit' to stay up with our kids and grandkids?

I'm not sure how much energy I have left today to write a log on "staying up" with kids. As we know, when all of the physical, mental, emotional and spiritual systems are in balance, an abundance of energy manifests in all four realms--so it can be great fun to engage our grandkids fully. In a day's time, we play ball, write a "Daily Family Newsletter," go golfing, swim, play cards, go biking, play video games, review the Tarot, and still have time to eat three meals, take pictures and make a video. What a Day this Makes!!!

I am truly amazed at how much energy kids have and how they love to express it with their whole being. It is no wonder that school is so hard for them when they must curtail their physical activities and sit for a long period of time without being able to express themselves fully. It is obvious that their minds are wide open and in the moment so they can express their creativity and joy in living with their whole being when given the opportunity. They laugh, sing, dance, drum, and play freely without any inhibition or limitation. Oh, once in awhile they have some usual sibling rivalries, and the age differences present some challenges: however, the honesty and innocence of children's expression of emotions allows them to get angry, upset and they usually get over it just as quickly as it comes. Hmm, if only we adults could be so skillful and flexible.

Anyway, this is a short article I will expand upon as we enter our 2nd. week of vacation together with our grandkids--Ari (age 9), Beau (Age 8) and Daeja (age 5).

During some quiet times, Ariana made several short videos related to being Mindful: "Learning the difference between Mindfulness and Accidents"- [link]






Category: Children, Parenting

---
8 comments

31 Jul 2007 @ 05:15 by a-d : Quite Obviously BORN DIVINE!...
each 'n' everyone of us!.....and then WHAT HAPPENS???? 'n' why?..... "Adult" Could that be a "SecretWord" for ADULT(ARATED)??? You don't find this Question answered by the Websters!... I've looked!


---
31 Jul 2007 @ 13:24 by : That would be my take and as
you say, when we are around children, it is "Arated" and definitely Divine. Thanks for visiting, I miss you.

Jerry


---
31 Jul 2007 @ 17:54 by a-d : Yeahhh
Ever since I read Miguel Ruiz' book: "The Mastery of Love", which talks a lot about the so called Domestication Process, that -especially our Western- Culture/s puts us (all) through (via its "SYSTEM"/ also called "The Establishment"). This process, hence our entire Culture, is 100% based on the OLD Paradigm, according to which SELFISHNESS at the expense of ALL ELSE AROUND US is the Way To Go, so speak ( plus a whole lot more idiotic stuff) which in turn has destroyed life for Millenias already. And STILL: EVERY CHILD ever born -indeed every Living "Thing" -at least was meant to be born into its originally in-programmed DIVINITY- and would have hadaccess to this goodnes if this Culture of ours hadn't decided to take on where the Civilization before us left (for) us as it DESTROYED ITSELF via its own arrogance and denial of Cosmic Goodness/Divinity!...( ohhhh... I could hold a seminar for three days on this subject matter -if you'd like jerry!...heheheh )This -in short- is the Domestication Process the ADULTURATING Process of us all.
Yet EVERY TIME it happens that each & every child comes here DIVINE, full of JOY and WISDOM in order to benefit the highest good of ALL LIFE (just like the Original Plan was -THANK GOD, STILL IS!)

When ADULTARATED enough (through Ed Sys, Dogmatic Religions/Church, etc etc), we then find ourselves to have grown up -only to remain trapped in this adultarated state (of Mind-SOUL)and called "ADULTS" ( now if that isn't the best kept Secret hidden-in-plain-sight, then I donno whaddizz! ) untill we choose to change it all and start claiming our Divine Heritage back; our ability to stay centered in the NOW, enthusiasm; to put it short: our 'Joie de Vivre' and so forth. See: [ http://en.wikipedia.org/wiki/Joie_de_vivre ]
Ohhh, Jerry-Boy : ) I miss you too!... So much! /A-d Can't wait to come & visit u guys!...well... one of these days!....


---
31 Jul 2007 @ 20:15 by : I do accept that we are meant to
enjoy life, health and relationships. Seems we are given all of the tools to do it, but not always the opportunities--depending upon how equality, justice and fairness is part of or incorporated into our society, culture and ethnicity.

What is so amazing to me when I make videos and interact with the kids is that they know what mindfulness and awareness means at a deeper level than most of the college students and professionals that I work with. I realize that their minds and senses are wide open so thay can take everything in without censoring or having a veil between their knowledge, love and truth as introduced in the Tarot.

Anyway, today I am in recovery for having been so active during their visit with us the past two weeks. I thought I was in pretty good shape, but .........

Thanks for staying-in-touch. I would love to have you visit sometime or anytime that you can. We'll show you around our area and you can work with our team in giving stressouts and sharing with us your joy in living.


---
2 Aug 2007 @ 17:19 by a-d : Ayayayayyyyy
I can sure relate to that!... : thinking I'm in better shape than turns out! *!*
Most likely next Spring would be the time for me to visit NM. I would love join your Sessions!
Stay enthused, my friend. THAT is the Kids' Big Secret (to their Creativity & Joy -or should I say Joyful Creativity!....)
Thanks Jerry! : )
Love/A-d


---
2 Aug 2007 @ 17:26 by : Joyful Creativity...what a great
name for a future log. I posted some pics on my photo log that show some of this joy and creativity. Hey, it would be great to see you in the Spring. I'm sure our team will be going full force by then as we are about to launch some more workshops in the nursing homes and our health clinic "StressOuts" are really doing well. {link:http://photo.net/photodb/member-photos?user_id=889959}

Much love to you, A-d.

Jerry


---
9 Aug 2007 @ 21:11 by a-d : Great Pics!
Went throu them all. Quite wonderful!You guys have so much FUN going on there! :)


---
12 Aug 2007 @ 16:03 by : Thanks a-d for taking time to
visit our pics. I have been advocating for our teachers and schools to use videos and pictures to support the kids in school and help them advance their knowledge, skills and values. The arts are so very important to our children and they seem to be minimized in our public schools today. When kids are given the opportunity to express their creativity with art, music, dance, photography, etc. it provides the foundation for their psyches to have the confidence to take on the hard sciences.

Anyway, I know how much you appreciate these values and resources for health and wellbeing.

Thanks again for staying-in-touch.

Jerry


---
Other entries in Children, Parenting
12 Dec 2008 @ 15:48: Long Deployments Breaking Up Families
30 Mar 2008 @ 09:34: OLD SOUL AT HOME: BOON TO SOUL EVOLUTION
24 Feb 2008 @ 21:18: My Dad
13 Jan 2008 @ 13:16: Don't be a sucker, man - face the cougar, baby !
2 Jan 2008 @ 16:42: A Crappy New Year from the rabbit...
24 Dec 2007 @ 08:25: A Child Is Given
8 Sep 2007 @ 16:10: Let Kids be Kids!!!
19 Aug 2007 @ 11:07: Heavy With Child
6 Aug 2007 @ 20:17: Genealogy
31 May 2007 @ 14:49: Being Enthusiastic and giving Encouragement to Children




---