| | |
| --- | --- |
| OUR EVOLVING HEART STORY! WWW.HEARTSTORY.CO.NZ | |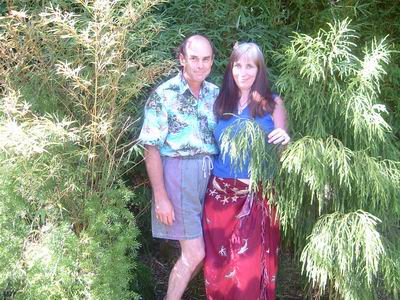 17 Jan 2004 @ 21:43, by Alana Tobin

A Year later... 18th of January

Happy Anniversary Max!

Heart Story

My Dear Husband,

Our love it grows more each day
As we come to share in ever deeper ways
God's infinite love, I must confess
Deeply nourishes us both, through all manner of tests

Our love so potent, wise and free
Busts all human dynamics and their polarities
No person, or energy, nor force may achieve
To alter our choice, our course - to love and to be

Happily wed ever after, through eternity,
Is our love home to Source, the two as One,
You and Me...

I love you Max!

Your loving wife,

Alana


PS: Thanks to all for your comments and best wishes.

I had created a card and included this poem within it, and gave the card to Max on the day. However because we have been somewhat public with our coming together, my heart guided me to share this writing with NCN -online as well, as a public acknowledgement and celebration of our love.










Category: Shared Purpose

---
5 comments

17 Jan 2004 @ 23:31 by hgoodgame : Happy Anniversary to you both
Thank you for sharing your 'moment' with us all! May you continue to find joy and comfort in each other.


---
18 Jan 2004 @ 03:29 by scotty : A real Love Story !
Happy Anniversary Alana and Max !
( a year already !! crikey !)


---
18 Jan 2004 @ 07:42 by swan : Lovely poem,
Happy Anniversary, I hope you have had a beautiful day. Katelyn


---
18 Jan 2004 @ 14:16 by : Love
Mmmh, happy anniversary you guys! Wonderful to see how it unfolds.


---
19 Jan 2004 @ 15:39 by : Thank you all
Thank you for the good wishes all.

Special thanks to you my beloved wife for such a special gift, these words. And I love you too, I am delighted to celebrate this with you.

It is a blessing that Alana and I have found in each other.
We truly are very happy. Challenges abound for us both in the lessons that Creator provides us as we honour our commitment to walk the sacred path "two as one". Our guides from spirit provide profound input in support of this choice. The becoming conscious of the consequences is a somewhat bumpy journey as we push each other to open (Free) our hearts and put the ego/personality into its ideal space for the next phase of the grand awakening!!

The love we share is blessed, it is the source manifest and now we can grow more comfortable and secure in our understanding of this power, so of course we are asked by source to share, nothing more. Ahh such magical harmonies growing in this realm for us to know.

Yes the Relation-ship is ALL.


---
Other entries in Shared Purpose
4 Jun 2010 @ 03:30: Hanging Out.
24 Dec 2008 @ 23:52: Christmas Greetings
29 May 2008 @ 14:56: Cosmic Glue Part 3
20 Mar 2008 @ 10:13: Barack Obama: Rock Church, Rock
20 Oct 2007 @ 19:44: ANOTHER KIND OF EPIDEMIC... as dangerous as any!
21 Jul 2006 @ 01:52: All that Glitters is not of Gold
2 Jun 2006 @ 13:25: Another two NCN'ers meet !
30 May 2006 @ 15:47: Something is waiting to be known -
17 Apr 2006 @ 13:03: Time Travelor John Titor
25 Feb 2006 @ 14:14: GENETICALLY ENGINEERED FOOD




---