| | |
| --- | --- |
| Another two NCN'ers meet ! | |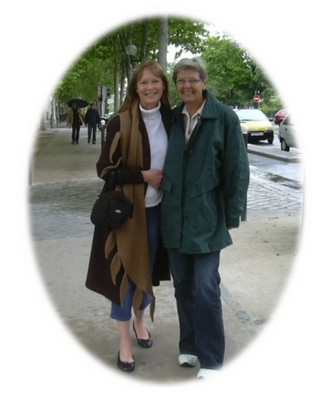 2 Jun 2006 @ 13:25, by Sylvie Rimbault

Well, it happened again !!! Allright everybody, nobody moves, what is going on ? It seems some of us are meeting all over the planet.

Manifestation, virtual world becoming reality, time to rally the troops, whatever you want to call it, it is great !

Scotty is in Paris, no not Texas, France, gay Paris, grey Paris.
We had a lovely lunch and talk nonstop all afternoon, both of us feeling like we knew each other forever, not just from the net, I think it is more like a soul connection, definitely one from the heart one.

A lovely lady, a beautifull soul, Merci Chris.

A bientot.... Until we meet again






Category: Shared Purpose

---
10 comments

2 Jun 2006 @ 13:53 by swan : Oh Good!
I was hoping to see photos. Now I get to see both of you. Scotty said the same thing about you Sylvie. The exact same words!


---
2 Jun 2006 @ 14:01 by dempstress : How nice
to see you and to see a pic of Scotty in France, where I know she hopes to return for good soon. I don't know: tropical paradise just not good enough for some people........


---
2 Jun 2006 @ 14:47 by scotty : Salut Sylvie !
Thanks for posting !! I like the pic too - will send you a couple more as soon as I get home.( We leave Paris tomorrow morning)
I thoroughly enjoyed my time with you - it flew by much too quickly ! So much to share - so little time !
Prochain rendezvous aux Caraibes n'est pas hein!!

Soul Connection - definitely!
Heart Connection - absolument !!

A biéntot .. bisous.



I'd been hoping to meet up with Jeff and Ming as at one point in our trip we weren't really all that far away - but alas time wasn't elastic enough ... hmm got to work more on the 'reality' of time eh heh heh heh
however - as Caroline says, we'll soon be living in France again and will have plenty of time to meet up then : )


---
2 Jun 2006 @ 14:54 by swanny : The World is Travelling
Well the world is travelling it would seem
New connections being made in the real and true.
Nice to see you both.
A friend of mine just got back from Portugal.
He went with a gal he met on the web.
Small and cosy web and world sometimes.
Ah yes... it's all connected somewhat...
and being "refined" as we speak.

ed


---
2 Jun 2006 @ 18:51 by hgoodgame : Totally cool!
Another connection IRL! Bit by bit we're going to pull this whole virtual world thing into the REAL. Thanks so much for sharing this picture with us Sylvie, Scotty had told us about her meeting with you and what a delightful person you are.

This confirms what I've suspected all along - there are 'real' people behind all these psuedonyms! Could you imagine getting us all together? Good. That's the kind of imagining we need. ;)


---
3 Jun 2006 @ 09:43 by : Hello everybody !
Thank you for all the kind words.

Yes Chris next time Guadaloupe ! Ti'punch, planters, cowlslaw and tiramisu ! And then of course you are moving to France! Soon!

Yes I can imagine getting us all together, I even think that's kind of the goal, the net, reaching omega... Noosgenesis...Rediscovering fire!

Fun!!!


---
6 Jun 2006 @ 09:33 by Enocia @212.85.12.219 : NCNers Meet
I'm so happy for you both.

I met a fellow NCNer, John Grieve, in April. We had a lot of fun. Out of that meeting came this story. http://enociaj.blogspot.com/2006/04/great-expectations.html

Love EJ


---
2 Jan 2016 @ 09:42 by @105.158.102.110 : telecherger jeux
Meilleurs Jeux de Moto Gratuits et Nouveautés 2015 : Envie de jouer aux meilleurs jeux de moto gratuits ? Bienvenue sur notre page moto.


---
29 Apr 2016 @ 09:05 by @103.12.162.4 : brilliant! I would like to share this ar
Togel Online Singapore
Togel Online Hongkong
Bandar Togel Singapore
Bandar Togel
Togel Online Terpercaya
Bandar Togel Online Terpercaya
Togel Online
Agen Togel Online Terpercaya
Agen Togel Online


---
18 Jul 2016 @ 07:37 by @202.83.57.43 : Dissertation writing service usa
I am a writer. I interested this page.New Civilization News is very wide impossible to understand all. I done a small work about this as Dissertation writing service usa . Included some important messages.


---
Other entries in Shared Purpose
4 Jun 2010 @ 03:30: Hanging Out.
24 Dec 2008 @ 23:52: Christmas Greetings
29 May 2008 @ 14:56: Cosmic Glue Part 3
20 Mar 2008 @ 10:13: Barack Obama: Rock Church, Rock
20 Oct 2007 @ 19:44: ANOTHER KIND OF EPIDEMIC... as dangerous as any!
21 Jul 2006 @ 01:52: All that Glitters is not of Gold
30 May 2006 @ 15:47: Something is waiting to be known -
17 Apr 2006 @ 13:03: Time Travelor John Titor
25 Feb 2006 @ 14:14: GENETICALLY ENGINEERED FOOD
6 Nov 2005 @ 16:15: If you leave me




---