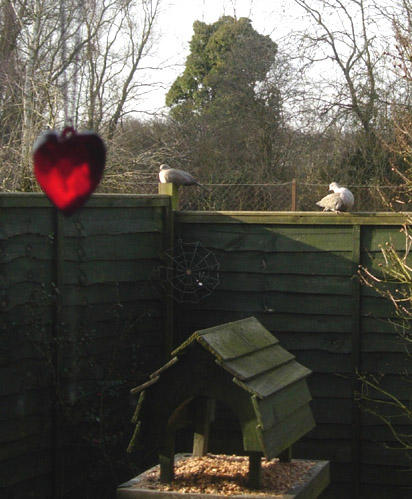 7 Mar 2010 @ 18:16, by susannahbe

. . . The view from my window when sitting at my desk.

"The little things? The little moments? They aren't little." - John Zabat-Zinn

The Doves have spent a few days now hanging out on the fence enjoying the sunshine, and then flying over to the bird table for some seed, then back to sunbathing and courting! I watch as they gently groom one another, then I tactfully avert my eyes as they mate!- regularly! ;-)

It is wonderful to have my computer right in front of this window, as it feels like I am part of what is going on out there. . . the changing light, the hundreds of birds that visit the bird table and hanging feeders throughout the day.

I know that as I watch, before long all the trees will have their leaves and the bush to the right in the bottom photo will be dripping with huge lilac blooms that I will be able to smell through the open window.

It is wonderful to watch the sun go down, it sets just behind the red heart in the window, and in the morning to watch the pink light of sunrise bathe those trees in a gentle golden light.

I think this is a great place to have my computer!

.