| | |
| --- | --- |
| Landing, a workgroup to help newcomers | |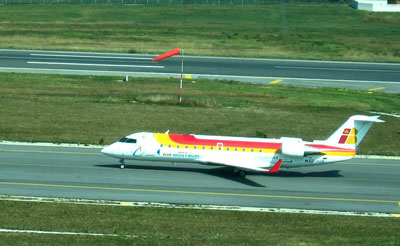 18 Sep 2005 @ 12:45, by Silvia M.S

When you first join NCN you are like a traveler landing on a new place, carrying your own expectations & doubts, and seeing lot of things around that you may not understand well... Imagine that there is somebody at the airport waiting for you to welcome you and show you the place. Don't you think that it would be much easier for you if such a friendly person were there? You would feel better and more confident to make your first steps in that new land. With these thoughts in mind, I've started the Landing group. We can set up a warm atmosphere for those who join, to encourage them to do their first steps here.

I don't know if this group is going to work or not, but for sure it won't work if nobody starts it :-). So let's give it a try and see what happens!

If you are a newcomer, I invite you to join this group to ask any question that you may have, or to introduce yourself and start meeting people instead of waiting for somebody to contact you. Here there are many people willing to know from you!. You can find this group going to your 'Member area', in the menu at the top click 'Groups' and then scroll down until you see group 177, named Landing. Click the join button on the right. And once that you've joined, there is a 'leave the group' button in case you change your mind :-).

If you've been here for some time and are willing to help those who have recently joined NCN, I invite you to join this new group as well. Any suggestion or idea will be welcomed!







Category: Networking

---
10 comments

18 Sep 2005 @ 13:27 by swanny : Good Idea
Good idea there lady

carry on

swanny


---
18 Sep 2005 @ 15:48 by : thanks Ed
I hope this works !


---
19 Sep 2005 @ 17:57 by martha @24.205.65.251 : Newcomers
Hi Silvia,
I'm suprised that some long time members have not commented on this log you wrote. Many of them know that attempts have been made to create a group for newcomers. I believe one of the open rooms at the bottom of the communications page is set up for just that purpose. But then I could understand why you might not want to participate in any of those rooms since one is subject to abuse.
I am puzzled though why certain female members have not discussed with you the fact that for a long time a group was set up for new members. But then maybe no one is participating in those groups anymore.
Good luck with your group.


---
19 Sep 2005 @ 21:34 by : martha, nice to see you around ;-)
I checked the list of groups last week before creating Landing and there was no other group to help newcomers (at least is not shown in the description). It seems that there was one in the past but it was dissolved. Also after setting up Landing I received some comments and also some advices from some people here. So well, my intention is simply to have a place where newcomers can ask their questions and get some help to do their first steps here. Let's see if it works, in many ways I'm still a newbie so it can be also a group for me to learn :-)


---
19 Sep 2005 @ 22:40 by : Nice going, Silvia.
Seems that individuals can feel part of a group with an attractive Welcome--come back soon. Let's join together to help make a new civilization--everyone is welcome. And, if our group interacts from our hearts, we will be a wonderful place to visit, interact, learn, and evolve. Much love to all. Jerry


---
20 Sep 2005 @ 01:28 by astrid : So what if
such a group existed before Martha? What's your point in saying NO to it today if there is no such today? Aren't you -again- coming forth a little as Theee Owner of ncn????.... the one to whom EVerybody should always turn???
I am quite confident that Silvia will do just fine as the Welcome committee, especially with her language skills and Cultural diversity, being perfectly "at home" in both European Culture as well as pretty good at American!
Congratulations Silvia! I know many people will benefit from your Open Heart and Arms!


---
20 Sep 2005 @ 02:41 by Vibrani @70.34.248.233 : welcome
Astrid, Martha didn't say no to a group today. She did say good luck with your group. What are you reading, Astrid?

What else Martha did say, and I echo, is that I and some other people DID make efforts in the past to have a welcome group room for new members. It didn't last long because not everyone knew about it, and those that did got the help they needed, or used messaging to get answers and meet people. Plus, people are subject to abuse in the present chat rooms that are open for all members. That turned off many people, and continues to do so - one reason I left NCN. It is surprising that those that claim they care at NCN and know about the history of it, said NOTHING until Martha's comment. That includes Ming. You do the math.


---
20 Sep 2005 @ 05:36 by : thank you Jerry, Astrid and Vibrani
for your comments :-). And also thanks to all those who have given me their advices and suggestions these days. I like to get your input about this, as from the experience of you all we can face better any problem that may arise in this new group. I can imagine there would be some problems, but well, let's face them when they come! I would like that others with more experience than me would join as well to help, some have actually done it (thanks!!).

I suppose that not all the newcomers will need this group, as Vibrani commented, some others pm people directly, they ask Ming about technical questions like I did when I first joined... But at least there will be a place for those who need such a group.


---
24 Sep 2005 @ 13:51 by swan : I think it is a great idea to
try a welcome group. Shakti hosted one for a long time before it was taken down. When I was a new member I didn't know how to find the group so I never joined. For a while I used to write an email to new people I saw had joined and let them know they could ask me questions if they had any, after the group was closed. I will join and check in from time to time to help you if you would like.


---
24 Sep 2005 @ 16:40 by : thank you Swan, you
will be very much welcomed :-). I thought also about writing the new people, but then I decided that setting up a help group would be better.


---
Other entries in Networking
22 Jun 2010 @ 00:27: Inventory
30 Oct 2008 @ 21:50: Freedom, fun and inspiration for all
21 Feb 2008 @ 21:16: Open social networks
1 Jan 2008 @ 22:17: Looking for personal recommendations by state and country
24 Jun 2007 @ 23:17: Global Assembly now accepting sign ups
17 Jun 2007 @ 20:09: Facebook
24 Jun 2006 @ 00:22: Organizing a Unity-and-Diversity Global Assembly from the Bottom Up
5 Nov 2005 @ 09:02: A call to hold Earth Summit of the Leaders of New Civilization
25 Jan 2004 @ 08:13: Orkut
2 May 2003 @ 12:48: Why NCN works...




---