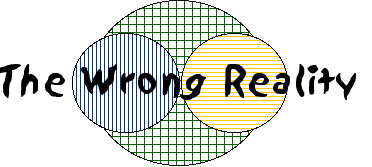 5 Jan 2006 @ 14:00, by John Oates

Human world society is clearly insane.

There are many attempts to better the world by changing the hearts of people but leaving the basic structure of society the same.

It is vital that structure and heart be changed at the same time, for we cannot be moral in an amoral framework of life

Everyone is inherently moral but our reality, the framework of our lives, the system we live under, the Machine and its competitive money economy, is essentially amoral.

The reason for this is that we are endowed with high intelligence given by the postconscious mind whose function is moral truth, whereas the Machine is founded upon instinctive principles and practices that dictate much of our conscious thinking and activity.

It is a widely held opinion that were humans to perfect themselves by observing the moral truths the world would change for the better, but nobody can be better than half-moral in an amoral framework of life.

We are all frequently faced with the choice whether to go with the Machine and against our moral values for the sake of material advantage, or the opposite. It makes us feel good to give generously to the relief of starvation somewhere in the world but it may well be that the financial practices of our governments were the cause of that starvation.

It is considered praiseworthy that we work for Machine interests in order to further and protect our own family interests, and vigorously defend them, but this may be to the detriment of other families. National governments similarly work for their peoples' interests and where this conflicts with the interests of other nations war is often the result.

Wars are immoral and arise from the amoral nature of the dominant Machine. They occur despite the fact that most or all of the individuals engaged or involved in them are fundamentally well intentioned and peaceable.

The work that I contribute to NCN is directed against the Machine, a system of low intelligence, not against people whose high intellectual capacity deserves, and would wholeheartedly respond to, a humantrue framework of life.

It is down-to-earth work, perhaps unexciting, but does not look to gather fruits before the tree takes root and flowers.