| | |
| --- | --- |
| The Vital Necessity for Agreement | |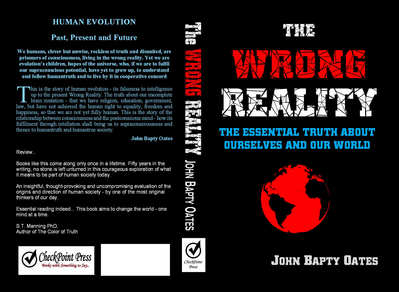 12 Mar 2008 @ 17:14, by John Oates

Anybody wishing to understand the thinking that lies behind the following short article is invited to read my website www.humantruth.org or, if they prefer, to read the new edition of my book The Wrong Reality (560 pages) shortly to be published by CheckPoint Press, Ireland.


It is noticeable that in the interchange of thoughts and ideas within and between all departments and institutions of this reality there is a disposition to disagree. Politics depends upon disagreement, and philosophy is devoted to it. Disagreement persistently features in the articles and comments published by independent radical thinkers. Disagreement seems to be a way of life that involves a point of honour. We appear to regard it as a strength to hold firmly to our beliefs and opinions yet we know that there are always widespread differences between the positions that we take up. Since only one position can be completely true, broadly speaking, it follows that the rest of the beliefs and opinions must be incomplete and untenable.

In our present reality we may make decisions not on the grounds of moral truth but according to the numbers voting for or against. We also attempt to settle arguments by debate, which more often than not ends in unsatisfactory compromise because agreement, between many differently convinced factions, is impossible.

The solution to this problem is really quite simple. The basis of agreement is humantruth, which is the function of the postconscious mind, arrived at by correlating everything essential with everything else essential. All of us have travelled a certain way along the road to humantruth. On reaching each part-way stage on the road we are prone to identify that as our truth, unless and until we move on. But we do not attain whole humantruth until we reach the very end of that road.

When we have done all that correlating and reached the end of the road, we shall know whole humantruth. This truth does not belong to us – it is ultimately the same for everyone and nobody owns it. It is unlikely that all of us shall arrive at whole humantruth at the same time, but those who have will know they have, and their beliefs and opinions, whether or not immediately accepted or adopted, shall have the utmost value. By the same token, if we have not arrived at whole humantruth we will know that too, and will decline to present our opinions or beliefs as fully true.

It might be thought that we have neither the time nor capacity for all that correlating, but consider how much falsity we are conditioned by and attached to in our present lives. Think how much time we spend in reviewing, confirming and referring to that falsity in this present reality. Rather than build truth we persistently add fuel to the fires of unfinished reason. To arrive at humantruth in the midst of this wrong reality will be a daunting task. It involves breaking up the Machine and clearing away a mass of untruth. But subsequently, as falsity is rejected and humantruth built up, and as we steadily approach the road's end, that task will become progressively easier and agreement more readily established.






Category: Social System Design

---
22 comments

12 Mar 2008 @ 19:37 by a-d : Congratulations
on your Book!!!.... That is a truly GREAT achievement!

"... It is noticeable that in the interchange of thoughts and ideas within and between all departments and institutions of this reality there is a disposition to disagree. Politics depends upon disagreement, and philosophy is devoted to it. Disagreement persistently features in the articles and comments published by independent radical thinkers. Disagreement seems to be a way of life that involves a point of honour. We appear to regard it as a strength to hold firmly to our beliefs and opinions yet we know that there are always widespread differences between the positions that we take up. Since only one position can be true, broadly speaking, it follows that most of the rest of the beliefs and opinions must be incomplete and untenable...."

NO KIDDING!

"....In our present reality we may make decisions not on the grounds of moral truth but according to the numbers voting for or against. We also attempt to settle arguments by debate, which more often than not ends in unsatisfactory compromise because agreement, between many differently convinced factions, is impossible...."

VERY POWERFUL observation!

And, like you point out: At the END of the so called "personal" (oh, doesn't that sound nice and legitemate! : )-though I am tempted to call it the EGOMANIACK's road, that is where the Path of and to the ULTIMATE COSMIC/Divine TRUTH begins , ending in the Absolute of all lesser our "absolutes".
Thanks John B.!


---
14 Mar 2008 @ 10:36 by : Vital agreement

I am thinking just now of a prisoner who fearfully awaits torture.

Divine powers, were they to exist, might teach him to endure, or might influence his captors to be merciful.

My concern is that we should have an intelligent reality in which there are no prisons, and where torture is unthinkable – a morally true framework of life that cannot possibly again revert to such practices.

As things stand, individuals may personally be morally true but at the same time support, knowingly or not, an unintelligent reality that is not so.


---
10 Jul 2015 @ 13:21 by @180.251.165.14 : This is
This is an incredible web site and that i cannot suggest you guys enough. packed with helpful resource and nice layout terribly straightforward on the eyes.


---
10 Jul 2015 @ 13:26 by @180.251.165.14 : Thanks combination
Thanks combination of appropriate and helpful info and literate sentences that may actually lure your sense.There MEasure} therefore multiple comments here that ar very fun and contributive to me thanks for sharing a link particularly for sharing this journal.


---
9 Apr 2016 @ 09:19 by @103.207.8.1 : game of thrones seasons
How To Download Game Of Thrones Full Episodes


---
29 Apr 2016 @ 05:32 by @103.12.162.4 : brilliant! I would like to share this ar
Togel Online Singapore
Togel Online Hongkong
Bandar Togel Singapore
Bandar Togel
Togel Online Terpercaya
Bandar Togel Online Terpercaya
Togel Online
Agen Togel Online Terpercaya
Agen Togel Online


---
30 Apr 2016 @ 09:27 by @124.253.212.60 : Game of Thrones
Game of Thrones continues on Sunday (May 1) on HBO in the US and Sky Atlantic on Monday (May 2) in the UK.


---
9 May 2016 @ 07:50 by @202.62.17.18 : daftar sbobet online
daftar sbobet
daftar sbobet bola
daftar sbobet online
daftar sbobet terpercaya
daftar sbobet indonesia

daftar casino
daftar casino ibcbet
daftar casino sbobet
daftar casino online
daftar casino indonesia
daftar casino terpercaya


---
9 Aug 2016 @ 11:06 by @180.210.204.143 : bokep
Hello my friend! I wish to say that this post is amazing, nicely written along
with contain almost all significant information. I'd
like to see more posts such as this.
bokep


---
10 Aug 2016 @ 02:38 by @180.210.204.143 : cerita ngentot barat
yeaah , thats story of sex in the home yard.


---
11 Aug 2016 @ 13:36 by Cricket World @183.87.118.13 : sdada
Happy Independence Day Essay in English
Independence Day Messages in English
Happy Independence Day Images


---
19 Aug 2016 @ 06:53 by @139.228.123.47 : casino
I like the helpful information you provide in your


---
19 Aug 2016 @ 06:53 by @139.228.123.47 : live casino
Great work..looking for affordable and trusted


---
19 Aug 2016 @ 06:54 by @139.228.123.47 : pokerclub88
Really good blog;


---
19 Aug 2016 @ 06:55 by @139.228.123.47 : pokerace99
you make blogging look easy. The overall look of your web site is fantastic, as well as the content!


---
19 Aug 2016 @ 06:55 by @139.228.123.47 : afapoker
I am really grateful for your blog post.


---
14 Sep 2016 @ 13:53 by @122.162.173.52 : Bangalore Escorts
Hello

Bangalore Escorts
Bangalore Escorts Agency
Bangalore Escorts Service


---
14 Sep 2016 @ 13:55 by @122.162.173.52 : Bangalore Escorts Agency
Bangalore Escorts Agency - Talita Verma


---
27 Nov 2016 @ 21:11 by @202.58.97.174 : master Agen Betting
judi Bola


---
27 Nov 2016 @ 21:12 by @202.58.97.174 : master Agen Betting
Judi Online


---
13 Dec 2016 @ 04:38 by @182.187.86.28 : impressive post
I really impressed by your post because you have shared the best quality stuff in the content of the post. The title of the post has inspired me very much.


---
24 Dec 2016 @ 10:12 by Payal Sinha @117.244.60.55 : Bangalore Escorts
mumbai Escorts
Bangalore Escorts
Escorts Bangalore
Bangalore Escorts
Mumbai Escorts
Ahmedabad Escorts
Nainital Escorts
Escorts Vashi
Andheri Escorts
Powai Escorts
Thane Escorts
Nerul Escorts
Andheri Escorts
Escorts Powai
Escorts Ahmedabad
Mumbai Escorts
Escorts In Bangalore
Escorts Powai
Bandra Escorts
Escorts Vashi
Thane Escorts
Juhu Escorts
Bandra Escorts
Juhu Escorts

Andheri Escorts
Delhi Escorts
Ahmedabad Escorts
Andheri Escorts
Powai Escorts
Thane Escorts
Vashi Escorts
Bandra Escorts
Female Escorts Pune
Escorts Pune
Pune Escorts
Female Escorts Pune
Pune Escorts
Escorts Pune
Escorts Ahmedabad
Ahmedabad Escorts
Independent Ahmedabad Escorts
Escorts in Ahmedabad
Female Escorts Ahmedabad
Pune Escorts
Bangalore Escorts
Independent Escorts Bangalore
Bangalore Escorts


---
Other entries in Social System Design
29 Nov 2008 @ 22:27: THE ENEMY WITHIN
6 Aug 2008 @ 07:40: In quest of a New Civilization: Summary and going ahead
6 Aug 2007 @ 11:40: America The Vindictive
13 Jun 2007 @ 17:47: Scale of confront, including mechanics of polarization
15 Jul 2006 @ 16:05: Global Assembly Progress Report
2 Jun 2006 @ 14:11: Boring or Specific?
19 Apr 2006 @ 12:52: The Global Social Reality
10 Feb 2006 @ 08:13: The true you
7 Jan 2006 @ 12:57: The Unworkable Practice of Permanent Leadership
5 Jan 2006 @ 14:00: Humanity against the Machine




---