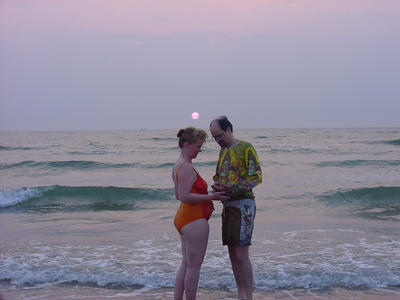 17 Aug 2002 @ 09:19, by Flemming Funch

I just came back from a very enjoyable vacation in Denmark for a month with my family. Well, I'd sort of have preferred to post a bunch of updates along the way, but I didn't really have the excess energy for that. I can't really just take vaction for a month, so I had to keep my main computer work going, and I had various headaches just getting my computers connected, etc. But at some point I hope to be so comfortably connected that I can report on things as they happen.

We spent quite some time re-discovering our home country, driving around and playing tourists and stuff. But for me it is really the little nostalgic things that make a difference. Walking through a street I haven't seen since I was a kid. Picking up bread from the bakery in the morning. Hearing people talk Danish on the street.

And I ate way too much. But it was worth it I think.





Category: Recreation, Fun

---
6 comments

17 Aug 2002 @ 11:19 by scottj : Nice picture
I guess it was taken a couple of weeks ago. Here in Jæren we had the same kind of sunsets over the same colour of sea, I think we had those conditions for maybe a week.

At the moment I am reading a lot of stuff about the Bronse age and earlier and it seems there was a big connection between my area here (Rogaland) and Jylland in Denmark. Relations of course took a rather one sided nature later on but we won't talk about that ;-)


---
17 Aug 2002 @ 12:50 by : Glad to see you back!
Hello Flemming! Beautiful scene of you and your partner and the background all so magical! Welcome back to the unfolding adventure!


---
17 Aug 2002 @ 13:14 by : Sunsets
That sunset there was along the west coast of Jylland, indeed about 2 weeks ago, while driving back from Skagen, the northernmost tip of Denmark. There were also some very nice sunsets over the sea while we were with the overnight ferry up to Oslo. I'll look for one of those too.


---
1 May 2016 @ 10:10 by Rayshelon @188.143.232.32 : pVyQYyFrmfshyW
I'll try to put this to good use imiltmadeey.


---
1 May 2016 @ 22:46 by Aggy @188.143.232.32 : Znakvlcfbls
Sunt de acord cu majoritatea alegerilor tale, nu am vazut inca Hugo, asa ca preferinta mea merge pentru The Artist… Si stii deja ca Glenn Close e preferata me&;t8230aPen#ru mai multe, ma abtin pentru moment, maine publicam si noi un articol pe aceeasi tema…


---
5 Feb 2017 @ 06:50 by @167.160.116.192 : agen bola terpercaya
Agen Bola www.bandarliga.net

Agen Bola WORLD CUP www.bandarliga.net

Agen Bola SBOBET www.bandarliga.net

Agen Bola Online www.bandarliga.net

Agen Bola Liga www.bandarliga.net

Prediksi Pasaran Bola www.bandarliga.net

Agen Bandar Bola www.bandarliga.net

Bandar Liga www.bandarliga.net

Prediksi Bola www.bandarliga.net

Agen SBOBET TERPERCAYA www.bandarliga.net

Agen Casino www.bandarliga.net

Agen 338A www.bandarliga.net

Agen Togel www.bandarliga.com


---
Other entries in Recreation, Fun
1 Jul 2010 @ 22:02: The Utter Uselessness of Sports and the Purpose of Life
26 Jun 2010 @ 20:45: A game has 90 minutes, ehh, or 120, plus overtime...
6 Jan 2009 @ 06:58: GAMES POSTULATES
11 Dec 2008 @ 06:48: Divinity Rising: My (bra) cup runneth over...
11 Dec 2008 @ 01:14: Strong with the force, that one is...
7 Dec 2008 @ 16:23: An Open Letter to Enlil and Enki ("Sermon of the Holy Rock")
16 Jan 2008 @ 11:00: What Are You Like?
22 Nov 2007 @ 19:01: The purpose of the white rabbit...
30 Jul 2007 @ 14:52: The REAL purpose for the creation of pets
25 Apr 2007 @ 18:05: Git ve gör! Çok geç olmadan




---