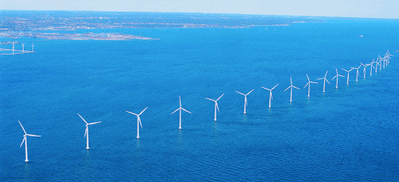 9 Sep 2002 @ 18:55, by Flemming Funch


4 days till the next New Civ Salon in L.A. The phone is usually ringing off the hook those few days with people RSVPing or asking what the heck it is.


When I was driving around Denmark with my family, after not having been there for a decade, one of the most striking differences is the thousands of windmills that now dot the landscape. Denmark had a plan of covering 50% of the national energy needs with wind by 2030. However, I wouldn't be very surprised if that goal is close to being met. Anybody knows? Here's an article from Wired about various ambitious wind projects in northern Europe. The picture to the right is of the 40Megawatt windmill park "Middelgrunden" at the entrance to the Copenhagen harbor.


A Skull & Bones Broadcast by Connie Chung scheduled for September 4th on CNN was cancelled without explanation. That shouldn't be any big surprise, as the current U.S. president and his dad are amongst the prominent members of this secret society, picked from seniors at Yale University. The best researched document about the Skull & Bones Society is the book "America's Secret Establishment" by Anthony Sutton, who at the time was a Research Fellow at the Hoover Institution of Stanford University. I couldn't put it down when I was reading it a number of years ago. The list of members is quite chilling.


I've been out looking for a new house to live in with my family this past week. Just another rental at this point, but the current house is really too small for us and our stuff. Not that I have the money or that I'm ready, but it seems to be time to move.

"I will not die an unlived life. I will not live in fear of falling or catching fire. I choose to inhabit my days, to allow my living to open me, to make me less afraid, more accessible, to loosen my heart until it becomes a wing, a torch, a promise. I choose to risk my significance; to live so that which comes to me as seed goes to the next as blossom and that which comes to me as blossom, goes on as fruit." --Dawna Markova, Author of Open Mind.





Category: Personal Development

---
4 comments

9 Sep 2002 @ 22:54 by : I know the feeling
Best of luck in your search


---
10 Sep 2002 @ 01:31 by : good luck bro...
good time to begin a new life in a new place. rosh ha shana was just the other day so i wish you all the best at the outset of this new year. ever think of buying a place ming? it's cheaper than renting one in the long run...but perhaps difficult to find in your area. thanks for always being an inspiration, too...Shana Tova to you and your whole family.


---
10 Sep 2002 @ 02:23 by : Owning a house
Well, I did own a house about 10 years ago, which was great for a few years, and it was a wonderful house on a hillside in Glendale. But when we needed to sell it, and the market was down, it was hell. We ended up losing it. Since then we were quite happy renting, as we were more flexible, didn't owe any money to anybody, and anything wrong with the house was somebody else's problem. But, probably in a couple of years I'll want to buy something again. But I'm a moron at saving up money, just living from check to check, and the kind of house I'd feel good about buying would be at least $500K around here. And to be able to qualify for that I would probably need to have 20% of it in my hand.


---
13 Jan 2017 @ 12:54 by @122.180.251.127 : custom web portal development 
Interesting post.


---
Other entries in Personal Development
9 Dec 2015 @ 10:52: MOZART YOUR DAY
12 Sep 2010 @ 03:36: Alignment or Realignment?
1 Apr 2010 @ 09:27: Mindfulness
23 Feb 2010 @ 01:44: just in.. what makes us happy?
17 Feb 2010 @ 08:15: Osho on fear
13 May 2008 @ 09:52: Apocalypse Anonymous
6 May 2008 @ 13:57: Why can't we stick to our goals?
7 Apr 2008 @ 19:29: (Enthusiasm) A Good Problem to Have
9 Oct 2007 @ 15:32: The Dream of the Trail
18 Sep 2007 @ 22:54: Rethinking blogs




---