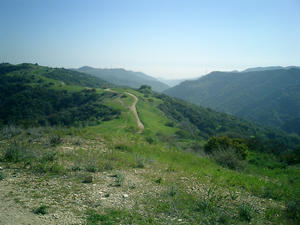 9 Mar 2003 @ 19:02, by Flemming Funch

One of my favorite places to go for a walk is along Mulholland Drive. Mulholland runs along the ridge of the Santa Monica Mountains separating the Los Angeles basin from the San Fernando Valley, where I live. So, you're in the middle of the metropolis, but can still be in what is pretty much a wilderness. And most people stay down there in the smog, so you can even sometimes walk for a little bit without meeting anybody else. These pictures are some I took today. This one is pointed South, towards L.A.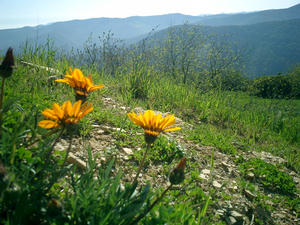 Nice flowers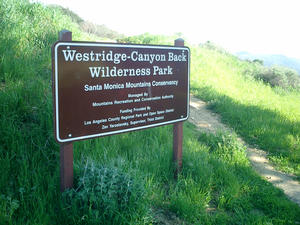 That's the name of the park, apparently.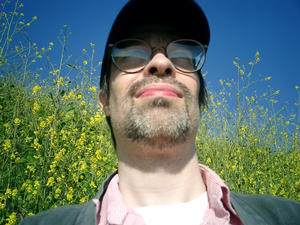 Me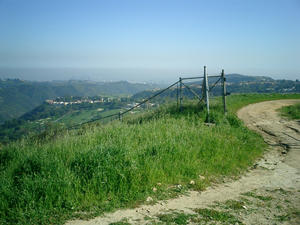 Century City in the distance, under the smog. Hm, actually one can't see it in this size.





Category: Environment, Ecology

---
4 comments

9 Mar 2003 @ 22:21 by vibrani : wait.......
I think I see some planes landing at LAX! Yup - it's a very cool place to be, Flemming. Views of all of L.A. from the mountains to the beach.


---
10 Mar 2003 @ 16:41 by : Very Beautiful!
That area is beautiful! Max and I especially loved Monterey, before we hit LA last October, but that is quite a long ways from where you are. Thanks for the photos Flemming. I enjoyed seeing them. Blessings, Alana


---
20 Dec 2014 @ 04:53 by Ali @190.203.6.21 : RewrdPpUlMeO
I appreciate the work that Bob Smith has done in contalilg many of the coercive features associated with Islam.There is no question that violence and intimidation are part of the foundation of Islam.But, Smith's thesis that there is a systematically-trained corp of killers within Islam is a bit thin. There is a huge difference between the existence of people willing to kill, and the systematic training of such people. Smith makes the existence of trained killers as the central part of his claim, but never documents the training. His description of Islamic religious schools does not illustrate his thesis. He also goes on to cite every example of unjustified violence by Muslims as evidence for his thesis.I think his mistake lies in trying to describe a specific mechanism to explain the fact that Islam, and high concentrations of Muslims in a society, are associated with increased violence and intimidation. He would have to show specific instances where Muslims are trained to kill in order to enforce Islamic orthodoxy, and he has not done this.For example, there are cases in the news where Muslim fathers in the US, most likely aided by male sons, kill their daughters for being too Western. It is unlikely that these fathers act out of fear of an unknown assassin. Also, it is unlikely that these fathers and sons received specific training in assassinating someone. So, the existence of a secret corp of trained killers is unnecessary in describing this phenomenon, and may provide a false lead.Similarly, the radicalization and personality dissociation of Major Hassan, the Fort Hood killer, are fairly public through his emails and actions leading to his shooting. There was actually not much "secret" about his transformation. His superiors and associates noted his shift to radical Islam. His communications with Anwar al-Awlaki, the radical Sheik in Yeman, were seen and noted by the FBI, among others. Nobody took the responsibility to act on obvious signs of danger.I do not dispute that as a Muslim community becomes larger and more concentrated, there is an increased threat of violence and intimidation. This is a primary reason for shutting off Muslim immigration. However, I don't know that the concept of secret, trained killers systematically enforcing orthodoxy is really helpful in explaining this occurrence. We might be better off simply documenting its existence.


---
23 Dec 2014 @ 20:58 by Fernando @186.93.202.34 : jAajzmuxAlK
Firstly, I think it is sad that I, as a 17 year old, is one of few that think that 66 is old!More importantly, I want to coenvy the disappointment of my friends and I at the resignation of Ming Campbell. We all like him and were excited by his policies, which is appearing to become increasingly important to politicians as we are the youth vote'.We are saddened by the loss of Ming as Liberal Democrat leader and feel that he deserved MUCH better.


---
Other entries in Environment, Ecology
12 Jul 2010 @ 09:06: Human Energy Cap and Freeze 2010
27 Jun 2010 @ 09:37: Flood in Draguignan
31 May 2010 @ 09:12: The New Norm
29 May 2010 @ 10:27: The Transition Movie
28 May 2010 @ 01:03: Survival of the Enlightened
16 Apr 2010 @ 21:01: The Cloud - or Last call / Final Calling wake-up call ?
12 Mar 2010 @ 13:04: One photo and the memory it contained. . .
7 Mar 2010 @ 18:16: Sunday . . . at my computer
12 Nov 2008 @ 22:37: HAPPY SIXTH DAY - MAYAN CALENDAR CHANGE!
20 Apr 2008 @ 17:08: The Redemption Of Spring




---