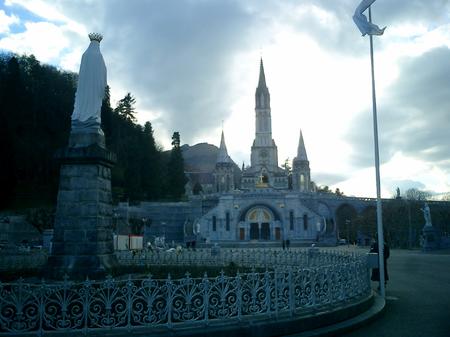 7 Mar 2004 @ 15:09, by Flemming Funch

Today we drove to Lourdes. Which is a little town in the foothills of the Pyrenées visited by more than 5 million people each year, as it is a major catholic pilgrimage site. It is a beautiful and peaceful place, well placed next to some spectacular mountains. But it is also a strange town. There's almost nothing but lots and lots of hotels and souvenir shops there. And it all leads towards The Grotto. Which is a little cavity in the side of a big rock, in which you find a small spring. And it is the water of that spring that has been reported to produce lots and lots of miraculous healings and miracles in general. And I'd believe that. Well, whether the water really does anything or not, I don't know. But there's an impressive atmosphere set up for the purpose, and enough people who believe it and take it very seriously, that miraculous occurances would quite naturally occur.

On top of the rock where you find the grotto there's a large and spectacular cathedral-like church with an impressive set of stairs leading up to it, and a very impressive entrance. We were obviously there outside the season, as there wasn't really that many people, and it was clear that the whole arrangement was expecting tens of thousands of people at a time. You line up for the entrance into the grotto, where I suppose you'll know what to do if you're a good catholic. The rocks are black and smooth from being touched by millions of people. And you buy large candles that you can light and leave in an area for that purpose, together with a prayer.

So, we did stock up on healing water from Lourdes. You can buy many kinds of containers in the shops, which you fill yourself from the spring, but we didn't go for the 5 liter models, just some little ones. And the water tasted nice and fresh.

For more about Lourdes and the visions of Bernadette Soubirous that started the whole thing, read for example here or here





Category: Recreation, Fun

---
10 comments

7 Mar 2004 @ 16:39 by Kathie Lynch @68.101.175.211 : Lourdes
Thanks so much for reminding me of one of my favorite childhood stories. I don't know exactly why I loved reading about Bernadette, the healing waters and the miracles. Maybe because I was a young girl about the same age as Bernadette was then, and I wasn't brainwashed enough into thinking miracles were impossible. I'm not a Catholic anymore, but again I do believe in miracles at the age of 56!
Also, a big hug and hello to Max:-))


---
7 Mar 2004 @ 19:57 by martha : ok
well I'm waiting to hear about the miracles coming from the Funch house...(I also believe in miracles)


---
8 Mar 2004 @ 17:17 by @209.52.174.148 : Lourdes
Those who can't get to Lourdes can make their own healing water by following the instuctions on the Energized Water web site. And, it's FREE.


---
8 Mar 2004 @ 22:40 by : Amazing Photos
Flemming I'm loving your photographs.


---
10 Mar 2004 @ 09:53 by Ales @64.213.98.17 : Lourdes
I visited Lourdes about 8 years ago. I vaguely recall being smacked round the face by, what appeared to me to be, a plain-clothes. All because I said a minor rude word when I was almost mowed down by a wheel chair which was speeding in an uncontroled manner towards "The Grotto". Regretably, I do not have fond memories of the visit and the only miracle is that I am still alive today to tell such an exciting tale...


---
11 Mar 2004 @ 13:40 by Jon Husband @24.87.28.174 : Whereabouts in early April
Hi, Flemming - sounds like you are on a road trip ? I will be flying over to Europe March 25, and will be in the UK until March 31 or April 1. Then over to France - probably Paris for a few days, and then I was wondering whether or not I might visit with you for a day or two in Toulouse ? Whadda ya think ? Will you be there ?


---
12 Mar 2004 @ 12:35 by : France, April
Certainly. I'm here. Going some places before and after, but around that time sounds perfectly clear. Would be great to see you!! Keep me posted.


---
12 Mar 2004 @ 12:59 by : Thanks Flemming,
Yes I too remember the story of Bernadette, and loved watching the movie many years ago as well. It touched me deeply. Haven't been to Lourdes yet, but would love to see it and connect with the water.


---
21 Apr 2016 @ 07:09 by Travon @188.143.232.32 : YxjoJkLciTJlOAOtj
Kick the tires and light the fires, problem ofiiafclly solved!


---
21 Apr 2016 @ 11:53 by Lyndall @188.143.232.32 : UACPiVpBAlbB
This is just the perfcet answer for all forum members


---
Other entries in Recreation, Fun
1 Jul 2010 @ 22:02: The Utter Uselessness of Sports and the Purpose of Life
26 Jun 2010 @ 20:45: A game has 90 minutes, ehh, or 120, plus overtime...
6 Jan 2009 @ 06:58: GAMES POSTULATES
11 Dec 2008 @ 06:48: Divinity Rising: My (bra) cup runneth over...
11 Dec 2008 @ 01:14: Strong with the force, that one is...
7 Dec 2008 @ 16:23: An Open Letter to Enlil and Enki ("Sermon of the Holy Rock")
16 Jan 2008 @ 11:00: What Are You Like?
22 Nov 2007 @ 19:01: The purpose of the white rabbit...
30 Jul 2007 @ 14:52: The REAL purpose for the creation of pets
25 Apr 2007 @ 18:05: Git ve gör! Çok geç olmadan




---