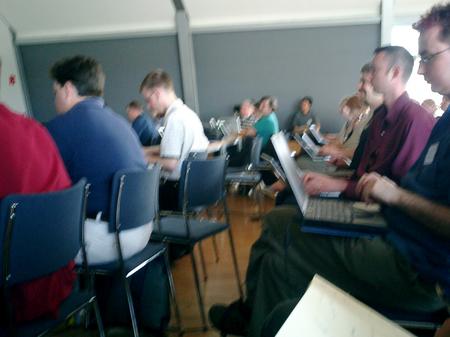 5 Jul 2004 @ 17:29, by Flemming Funch

Now, those of you don't go to tech conferences, or who haven't recently, might not be aware of how it works nowadays. In a conference that has a significant number of bloggers present it would now be completely unheard of if there weren't an open WiFi network in the conference room. Which means, essentially, you open your laptop and you're on the net. Which means that about one out of two people there has a laptop running. The lucky people who manage to grab a seat at the two rows of tables at the front can actually sit at a desk and are most likely to be able to plug in. And now, this is suddenly a different kind of audience. They look up people's URLs right away, they browse the scheduled program, reference materials, check the validity of what people are saying, and share maps for the suggested lunch locatioin. There's a wiki with information about participants, which anybody can update. There's an IRC chat channel, so one can talk to each other, both people who're there, and those who watch the live feed at home. People on macs (more than 1/2) automatically see other people there on iChat, and can collaborate on writing notes in SubEthaEdit. If people are bored with the presentation, they check their e-mail or browse the web for totally unrelated things. A bunch of people blog live right there. I.e. they write about what they hear, and have often posted about a talk before it even is done. Based on the trackback mechanism, others can see which weblog postings have happened that refer to the conference, right away, and will most likely have read it shortly after it appears.

Is that all useful? In many ways it is. It provides more channels of information, and makes what otherwise would be a one-way speech into something more interactive. You can discuss amongst yourselves, voice your opinion, your disagreements, provide contrasting information, etc. You can also miss half of the talk, of course, but somehow you're likely to get it back from other channels.

It doesn't always work. The net connection was obviously rather overloaded here half the time. And people now take it so for granted that any problems tend to be met with a lot of comments and postings about the outrage of providing only a spotty connection.

Anyway, those of you who go to these things know all this of course, so this was more for the benefit of those who might consider such a format strange and unexpected.

More from another angle from another participant, Suw Charman, here.

Wien in general has excellent public connectivity. There are a large number of open WiFi networks. You can sit down at many cafes or squares and plug directly into the net for free. And this hotel I'm at has a free network you just plug into. Many other cities could learn from that.

OK, I did have some problems at first. I had somehow packed a little quickly, and somehow got off without an ethernet network cable, and I somehow grabbed the U.S. type power cable for my laptop, without getting a converter plug. So the first evening I couldn't get into anything. I tried some of the public nets, but the one at the nearby Museums Quartier was incidentally down at that time, and when I found one by a McDonalds, it turned out to be one of those one had to register for, even though it was free, and I couldn't get the code without an Austrian cellphone. But I got all that remedied in the morning, after a quick trip to a computer store.





Category: Technology

---
18 comments

6 Jul 2004 @ 14:27 by @12.72.228.164 : backchannel
Many2Many and Liz Lawley have started to gather ideas about the backchannel at conferences... [link] has a collection of links.


---
6 Jul 2004 @ 15:58 by celestial : Live Blogging
Wow! This is wonderful. I didn't know about these sort of conventions. I hope they will improve connections at future meetings at other locations. To be there in real time is absolutely awesome.

Thanks for explaining how they work. This article was very informative to me.


---
17 Nov 2004 @ 00:12 by brian @12.221.195.68 : timing belt mark
I need a chart showing a timing belt mark for an 1997 hyndai elantra.do u have 1 to send e-mail me.


---
21 Dec 2005 @ 22:02 by melvin @167.196.185.138 : driveshaft
i have a 77 nova that i am restoring but it has a 400 buick motor in it and i need a driveshaft should i look for a chevy or buick driveshaft


---
31 May 2006 @ 14:16 by Rebecca @80.3.160.6 : Electric window
My Citroen saxo vsx 1.4 passenger electric window judders when going down and tilts when going up,which causes the glass to come out of the side runner. Can you tell me what is causing this problem?


---
9 Nov 2007 @ 14:11 by david @66.255.207.4 : chevy tahoe 1996
i have a 1996 4x4 tahoe how possible is it for all the bearing to go out at once on rear and front


---
16 Nov 2015 @ 14:39 by @134.255.62.255 : laptopok ASUS
Egy év után az nVidia chipek a hatalom a Chromebook 14, HP megy vissza az Intel szilícium.

Az új HP Chromebook 14 modell elérhető november 8 fut egy Intel Celeron processzor, ami meglehetősen szokásos tarifa rendszert futtató számítógépeken a Google ChromeOS platform. Mint a tavalyi Chromebook 14, a legújabb verzió ventilátor nélküli, csendes. A kikiáltási ár az $ 249,99.

A 14 hüvelykes kijelző, amely alap ár 1366 x 768 felbontású, de.

OLVASD EL

Majd a vállalati segíteni hármas Chromebook értékesítés 2017-re?
Majd a vállalati segíteni hármas Chromebook értékesítés 2017-re?

Olvass tovább
Miután használta a régebbi HP Chromebook 14 laptopok, szemem értékelik a 279,99 $ opció 1920 x 1080 felbontás, úgyhogy inkább választani, hogy az egyik.

És bár az opcionális FullHD [link] modell rámenős több pixel, ez esetben is megkapja egész napos akkumulátor-élettartam: HP [link] azt mondja, akkor számíthat 9 óra 15 perc áthidalási idejű egyetlen feltöltéssel.
[link]
Néhány, hogy a hosszú akkumulátor-élettartam miatt van több hely a tényleges elemeket.

Ez a nagy Chromebook súlya 3,94 £, és 17,8 milliméter vastag. Kisméretű, könnyű gép nem ez. Amíg lehet biztosan cipel körbe a Chromebook 14 lehet legalkalmasabb között oszlik idő az asztalra, és időben ki a város.

Minden, ami extra helyet, mint a kisebb eszköz lehetővé teszi több kikötő is. Van egy USB 3.0 port, egy pár USB 2.0 port, HDMI kimenet és micro SD kártya olvasó. Az USB [link] 3.0 port használ HP Sleep and Charge technológiát, hogy felhúzzák az elemeket egy társ eszközt is, ha a Chromebook 14 nem kapcsolt be, de be van dugva.

Vevők lesz 100 GB ingyenes Google Drive tárhely benne két évig, illetve 12 Gogo fedélzeti internet halad, és egy három hónapos tárgyalás Google Play Music. Ide tartoznak a három Google Play film kölcsönzés.
[link]
HP azt mondja, ez is kínálnak Turbo Silver Chromebook 14 G4 modell az oktatás és a vállalkozások. A laptop ellenőrzik a Citrix Receiver 1.8, és további biztonsági és VPN-lehetőségeket. Ez a modell indul 279,99 még ebben a hónapban.


---
1 Oct 2016 @ 15:30 by @61.1.67.69 : xender
Very use full
Good blog
xender for pc


---
8 Oct 2016 @ 05:08 by @180.215.120.143 : rbs
hi [link]
good [link]
post [link]
snapchat windows [link]
snapchat for linux [link]
snapchatdownload [link]
snapchat app [link]
mac [link]
ios [link]
android [link]
windows [link]
app [link]
ios [link]
android [link]
windows [link]
ios [link]
mac [link]
android phone [link]
windows phone [link]


---
17 Oct 2016 @ 20:08 by @103.12.162.3 : togel online hongkong
was very helpful and very useful
articles that you provide very helpful and nice to everyone thanks
promo
[link]
daftar
[link]
cara
[link]
informasi
[link]
Buku mimpi
[link]


---
1 Nov 2016 @ 21:25 by @42.115.2.44 : agen poker
The pressure for war is mounting. The people are opposed to it, but the Administration seems hell-bent on its way to war. Most of the Jewish interests in the country are behind war.I shall
praturan
[link]
jadwal
[link]
promo
[link]
panduan
[link]
main
[link]


---
25 Nov 2016 @ 07:40 by @116.212.141.50 : SejarahQQ.com Agen DominoQQ Online
Click phenomenal game


---
25 Nov 2016 @ 10:52 by @116.212.141.50 : SejarahQQ.com Agen DominoQQ Online
This is really interesting, You are a very skilled blogger.


---
5 Feb 2017 @ 06:50 by @167.160.116.192 : agen bola terpercaya
Agen Bola www.bandarliga.net

Agen Bola WORLD CUP www.bandarliga.net

Agen Bola SBOBET www.bandarliga.net

Agen Bola Online www.bandarliga.net

Agen Bola Liga www.bandarliga.net

Prediksi Pasaran Bola www.bandarliga.net

Agen Bandar Bola www.bandarliga.net

Bandar Liga www.bandarliga.net

Prediksi Bola www.bandarliga.net

Agen SBOBET TERPERCAYA www.bandarliga.net

Agen Casino www.bandarliga.net

Agen 338A www.bandarliga.net

Agen Togel www.bandarliga.com


---
8 Feb 2017 @ 11:07 by @202.180.53.82 : agen bola terpercaya
Agen Bola [link]

Agen Bola WORLD CUP [link]

Agen Bola SBOBET [link]

Agen Bola Online [link]

Agen Bola Liga [link]

Prediksi Pasaran Bola [link]

Agen Bandar Bola [link]

Bandar Liga [link]

Prediksi Bola [link]

Agen SBOBET TERPERCAYA [link]


---
11 Mar 2017 @ 10:34 by @103.54.221.214 : file sharing app for pc
nice post admin thanks.
[link] file sharing app for pc
[link] click to know more
[link] file sharing app for pc
[link] click to know more


---
25 Mar 2017 @ 15:34 by @103.255.6.99 : Worth reading.
[link] file sharing app for pc

[link] click to know more

[link] file sharing app for pc

[link] click to know more


---
25 Mar 2017 @ 15:35 by @103.255.6.99 : good post.
Enjoy Online PC APPS
Download Movie HD Apk
Here's how to download Phoneappsforpc
Download Apppcdl Free.
Download phone apps PC


---
Other entries in Technology
3 Jul 2010 @ 07:01: Forms, Archetypes work by Association
19 Jun 2010 @ 23:10: Conversations
9 Feb 2010 @ 20:13: Transmediale - space navigation and interfaces
13 Nov 2007 @ 16:55: Important Security Update
24 Jul 2007 @ 12:45: What exactly is SMN and how does it connect with other technologies?
26 Apr 2007 @ 15:56: OmniWeb
5 Jun 2006 @ 21:41: Reboot8
3 Mar 2006 @ 18:01: 0 to 60 in 4 seconds.
4 Jan 2006 @ 04:39: Books, Books, Books!
30 Sep 2005 @ 11:27: Web Browsers




---