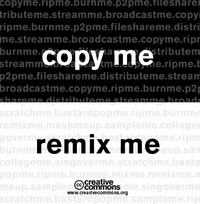 25 Mar 2005 @ 17:00, by Flemming Funch

Yahoo has a new search feature, for materials with Creative Commons licenses. I.e. typically stuff you can use freely if you just mention where they come from, or maybe that you can only use non-commercially.

Wait, how do they know? I search for my own blog, and it came up with a page here where indeed I mentioned that I consider what I write here to be in the public domain. Really, what I should do should be to put a proper CC image and link here that says so. I've so far labeled it as Primarily Public Domain which really fits best. But I like the idea that a formalized piece of xml will be allow various services to automatically find content with a certain license or dedication. So, I've added the public domain code from CC in my sidebar now.

Anyway, there's a growing number of ways one can search for liberally licensed content.

America Free TV gives you online streaming video programming like that.

OurMedia offers free hosting for CC licensed media.

Of course Creative Commons itself has a search.

Flickr lets you search for pictures based on their licenses. Flickr who btw was bought by Yahoo this week, who promises to let them keep doing what they're doing.

I'm sure there are others.





Category: Technology

---
5 comments

26 Mar 2005 @ 14:12 by jmarc : watched
reefer madness on America Free TV this morning. cool find.


---
29 Mar 2005 @ 11:37 by ashanti : Creative Commons
is coming to South Africa. Actually, it's here, but is going to be officially launched at the end of May. Lawrence Lessig is coming over for the launch. I'll be attending the event, if I get a chance, will blog it, as they will have facilities (of course)!


---
29 Apr 2005 @ 03:25 by Tom Visel @216.19.17.203 : Watermarking...
might be a way for more modern, reasonable and clear laws to be effected. The owner and license status could be woven into the medium itself, with context-menu tools added on to the programs that access the media. Anything, of course, can be hacked or abused, but WM-based licensing would make toe-treading a lot more avoidable.


---
2 Jan 2016 @ 14:28 by @105.158.102.110 : juegos online
Diviértete con los mejores juegos de Disney Channel, Disney XD, películas Disney y mucho más!


---
20 Sep 2016 @ 05:27 by @178.162.216.32 : xender for pc
xender for pc


---
Other entries in Technology
3 Jul 2010 @ 07:01: Forms, Archetypes work by Association
19 Jun 2010 @ 23:10: Conversations
9 Feb 2010 @ 20:13: Transmediale - space navigation and interfaces
13 Nov 2007 @ 16:55: Important Security Update
24 Jul 2007 @ 12:45: What exactly is SMN and how does it connect with other technologies?
26 Apr 2007 @ 15:56: OmniWeb
5 Jun 2006 @ 21:41: Reboot8
3 Mar 2006 @ 18:01: 0 to 60 in 4 seconds.
4 Jan 2006 @ 04:39: Books, Books, Books!
30 Sep 2005 @ 11:27: Web Browsers




---