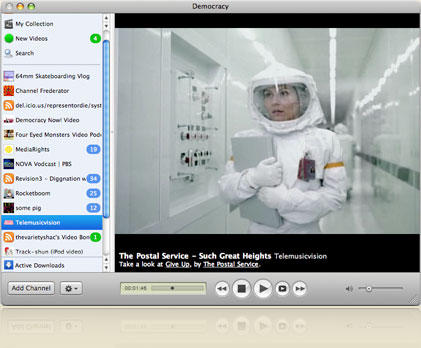 26 Jul 2006 @ 00:51, by Flemming Funch

Wow, very cool! The Democracy Player from the Participatory Culture Foundation. It's a desktop application for watching free, open source TV. Kind of like iTunes, but for free stuff only. And better, really. Lots of channels, which essentially are PodCast channels. I.e. often amateurs that produce a weekly, daily, or occasional video show, which is freely available. Or some public broadcasting shows, and various other sources. All free, and all stuff that you wouldn't necessarily see on TV. Quality varies, but there's lots of choice.

The application does most of the work for you to make it really simple. You can subscribe for channels to be automatically downloaded, or you can browse around and pick things to watch. The content gets downloaded by BitTorrent. It gets played by the open source VLC media player, or other media players you might have installed. All of which means you can watch pretty much any format without worrying about it. The video just shows up within the Democracy Player, and you can blow it up to fullscreen if you want.

This is close to being able to change the broadcasting world altogether. I mean, if there were enough content here, I might not feel like watching normal TV at all. There isn't quite, but there's lots, and great stuff there. Diggnation, a regular show for computer nerds, similar to Screen Savers. Democracy Now, great regular PBS show with news. Popular podcast shows like RocketBoom. Etc, etc.

If it is this easy, all we need is enough variety to emerge and enough natural selection to take place in order to no longer need traditional media. Well, some distance to go. No traditional sitcoms, feature length movies worth watching, and real current news reports is still not very easy for a bunch of scattered amateurs to come up with.





Category: Broadcasting, Media

---
5 comments

26 Jul 2006 @ 17:32 by Ned Hamson @71.72.227.85 : Freedom lives!
It is truly amazing that no matter how hard commercial developer wannabe monopolists try, they don't seem to be able to knock out the spirit of open source and freedom of expression. Maybe people want to be free as much as they want to be rich - eh? Grin. It still does not get down to several billion people who do not have access to a regular income or electricty but the direction is still correct.

Now, if we could just "broadcast" electricity for free and find ways that everyone could earn enough to be secure enough in the basics to rent/buy, or barter for a solar, wind-up, and plug-in computer to access the "free" internet. Zzzzzzz. Umph, awck, humph! I guess, I was dreaming again. Nice dream though.


---
8 Aug 2006 @ 16:26 by astrid ware @207.118.57.33 : "Freedom lives!"
Dear Ned, sounds like a very good (and necessary Dream!.... So I would suggest; Dream on Ned, dream on!... I'm with in dreaming that Dream! : )
Greetings/Astrid


---
2 Sep 2006 @ 01:10 by Jon Husband @69.70.170.112 : Wow !
... surprised you've just found this now, Flemming. It (the foundation) has been around for a couple of years or so, and the most recent OS media player they offer has been available for about the last 6 months.

It's not a criticism at all, just somehow thought you would have stumbled upon this sooner, somehow.


---
20 Dec 2014 @ 01:49 by Polita @207.236.194.136 : SsmSYqPsjwjsYzqcIb
I was just searching for this inaitmfroon for some time. After six hours of continuous Googleing, at last I got it in your website. I wonder what's the lack of Google strategy that don't rank this kind of informative web sites in top of the list. Usually the top websites are full of garbage.


---
23 Dec 2014 @ 20:21 by Billi @190.198.164.222 : JGjKgkIkGRx
Dear Mr Campbell,I'm not sorry that Brown has decided agnsait going to the Polls as it gives our Party time to change its policy on nuclear power. Having worked at Harwell for 47 years, I'm very sorry that the party I have been a life-long member of (I supported Jo Grimond!) is still echoing the views of the Loony Green Fringe when its former leaders Bishop Montifiore, James Lovelock etc have recanted and are now pro-nuclear power as a means of combating Global Warming.I approve of fixed term parliaments.Sincerely,Nick Hance MBE


---
Other entries in Broadcasting, Media
6 Oct 2007 @ 20:17: Bringing Back the Fairness Doctrine
25 May 2006 @ 10:57: Charlie Jade
13 Dec 2005 @ 20:54: All Disasters, nothing interesting about recovery
28 Sep 2005 @ 22:32: Goodbye MSM , and Good Riddance.
2 Sep 2005 @ 15:25: Operation: "Media Rescue"
20 Jul 2005 @ 11:15: Where Is Jeff Gannon Now?
1 Jun 2005 @ 20:20: Smartyville
22 May 2005 @ 18:15: Comfort Stand
4 May 2005 @ 21:51: t'isnt all bad news in the world !
27 Mar 2005 @ 23:12: News Sources




---