| | |
| --- | --- |
| Rotten Denmark pt. 1 Danish Crown | |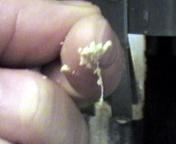 18 Jan 2004 @ 09:38, by Flemming Leer Jakobsen

Shakespeare was right. There is something wrong in the state of Denmark. The biggest Danish producer of meat, Danish Crown , was under scrutiny after a home video was shown on TV2. The video was shot after ISS personel had finished cleaning. Or so they thought. The picture here is from that video.


The video shot by a former ISS employe showed meat under panels, in the ceiling and on meat hooks.

Danish Crown and ISS later said that the video was a fake taken during clean up and not as it claimed afterwards. They threatened to sue TV2 and Ekstrabladet for liabilities. But the trick may have been an effort to get the name of the one who shot the video.

But unannounced inspections by the veterinary on january 8th showed some 40 errors in various Danish Crown slaughterhouses which had to be cleaned before production could begin.

Another former employee also stepped forward and told that the reason why the Danish Crown slaughterhouse in Odense could continue to pass biochemical analysis was that the ISS employees had access to the test sample room. They simply removed samples from days with known poor cleaning with good days. The slaughterhouse in Odense has been under close scrutiny by the authorities for the past 3 years.

Ekstabladet.dk article in Danish about Danish Uncrown 9. jan. 2004

See the video for yourself in real audio click on middle of the page beneath ("Se Også") 04-01-04





Category: Activism

---
2 comments

18 Jan 2004 @ 13:31 by : ISS
I worked for ISS once, briefly, before I started my own cleaning company. They have all the big contracts because they are super-cheap. Meaning, they'll have to cut some corners and make everybody work very hard. Wasn't much fun. I'm not surprised if stuff like this is going on.


---
21 Jan 2004 @ 01:51 by : Yes
I tried out for a competitor, which was later bought by ISS. Jydsk Rengøring. Using some really tough chemicals. One was chlorine. Despite using mask and proper suits, I got some serious itchy rashes lasting for 4-5 days.

It was quite usual they said. And that was the end of my career there.


---
Other entries in Activism
27 Oct 2015 @ 02:04: My Domains
18 Nov 2008 @ 23:51: The Day John Kennedy Was Shot
9 Nov 2008 @ 11:47: Now, About Bill Ayers...
11 May 2008 @ 03:44: Pangea Day and Unified Science
11 Jan 2008 @ 10:07: Full Frontal Feminism
2 Jan 2008 @ 01:01: The Catastrophic Support Circle
11 Dec 2007 @ 21:05: Step Into the Stargate of Transformation - posted ONLY by Brenda
6 Dec 2007 @ 21:15: Changing the Course of Human History: 2008 a most pivotal year
31 Oct 2007 @ 22:51: NEW ADDITION - Planetary Grid Activation on Mt. Zion
21 Oct 2007 @ 10:13: Questions for Al Gore




---