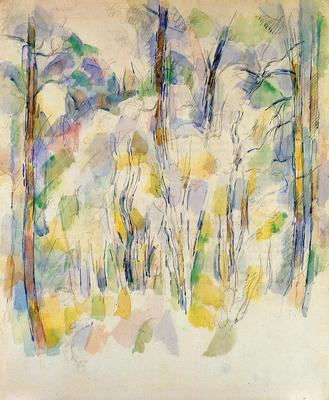 14 Feb 2004 @ 11:13, by Richard Carlson

I have never waited for anything the way I've waited for today, when nothing will happen.

---Marguerite Duras

And the end of all our exploring will be to arrive where we started and know the place for the first time.

---T.S. Eliot

Approach it and there is no beginning; follow it and there is no end. You can't know it, but you can be it, at ease in your own life.

---Lao-Tzu

In the Woods, c.1900-04
Watercolor over pencil on paper
Paul Cezanne 1829 - 1906

A break in the weather and, while it's still cold outside (around 20 degrees Fahrenheit) here's a chance to restore and replenish. Southeast Ohio has been so wet this fall and winter, relieving a few years of drought conditions, that the ground is completely saturated. Any more rain or thaw after snowfall means flooding at once, so time at home has been used fortifying against the elements. Today is calm and rather bright so I was inspired, as the Valentine ladies laze about a bit this morning (plus Ilona's friend Tara who spent the night after the big Middle School dance) to get after a few chores.

The larger woodpile is well away from the house under a primitive shed Jeroch built a few years ago. We saw up some of our fallen oaks, but increasingly I look to neighbors, who cut, season and sell wood, to bring me a truckload for our 2 woodburners in this large house. I see there's enough left to get us easily to first sprigs of spring, but I've got to carry a couple hoursworth over next to the house. Other guys tell me to get a little tractor with a wagon on it to do this---and maybe ultimately I'll have to---but right now I enjoy the walking meditation of back and forth with an armload and then emptiness. I get to think and look at the sky and talk to a few birds. I might even burn a few calories which everybody in the world tells me I need to do.

I look at the logs singly and more carefully this winter as I pile them into my arms. Last year I might have carried an eggcase over to the house, because during the summer we suddenly found a couple dozen black widows around the exterior and, most alarmingly, in the attached garage. Black widows are extremely attractive spiders to me, despite the poison. They are astonishingly fast and can "disappear" in the blink of an eye, usually too fast to catch and squish. They're nocturnal so you really have to look for them in the dark, maybe with a flashlight. They build a tangled web about chesthigh to adults in which they catch a ton of insects. Black widows really don't bother people since they're not at all aggressive, but folks get bitten by accident and the injury is pretty terrible. When I found a couple inside the house, from the garage, I had to get busy---and so I stooped to spraying. They like to winter in woodpiles and many bites come while carrying logs after bugs are thawed out again. No signs of life today though.

Oh but of course there are signs in the bushes and trees. Buds are ready to ease a leaf out into the sunshine and warm rain of next month. I trim back branches along the paths and driveway and bring them into the house to sprout in vases of water. February is a lot cheerier with some green and blooms around the house. Tufted titmouse nesting songs are starting up, since they sing them at a hint of warmth on the air. Woodpeckers are tapping aggressively this morning too, and often that means the males are staking out their territories. The red-bellieds are singing their strange gargling songs more loudly too as they visit the feeders. They take seeds with them into the surrounding oaks, where they seem to be drilling them into the branches. For years I thought they must be storing them instinctively against hard times, but now I wonder whether these insect-eaters might use them for bait. A seed sunk into a branch somewhat might draw an interested larva to it, but who knows if a woodpecker could figure out such a scheme?

I find only one mousenest in the woodpile and fortunately it appears to be incomplete, so I don't disturb any timid, wintering ladies. But I'm not so lucky when I walk down to the meadow and check the birdhouses. Usually mice take them over for the winter, but I decide to look at this early time anyway. I guess I have to confess to wanting to find something alive and closeup inside---and sure enough, when I open the first one, there's a rustling and then a head pokes out...and gives me the look. The look a mouse can give you, when she's disturbed and frightened for her life and home, is only a little less shaming than one from your own mother! I close the birdhouse back up again and tiptoe away.

The next little birdhouse is a casualty of time I'm afraid, for it is down next to the walnut in the meadow. Ilona made it during a summer activity maybe 5 years ago...and alas, the back has rotted away enough to fall under the weight of a couple winter mice. It's frozen and so I can't look inside, but I see through the hole all the soft signs of mouse occupation. What a wild ride they had when it fell! Can you imagine the bottom dropping out while you sit in your computer chair reading this? That's how Nature is though, isn't it. So I'm a little melancholy as I trudge up the driveway. I've put the fallen birdhouse in the sun to thaw out, and I'll have a look later to see if anybody got hurt. Nor have I broken the news to Ilona yet. One must be prepared when cleaning up around the delicate, tough tentativeness of life about to begin again.






Category: Environment, Ecology

---
11 comments

14 Feb 2004 @ 16:03 by martha : thanks for glimpse
into yur life richard. Sounds nice and cozy at your house. Off for a walk now in our 70 degree weather but there is no smell of spring yet in the air.


---
15 Feb 2004 @ 07:13 by athedge : Thanks
Thanks for your observations. Was just thinking that although the temps here in southeastern NY are still pretty chilly, the angle and strength of the sunshine is promising spring. I've pushed past that moment that occurs every year when I am convinced that this year will be the first year that spring is not going to come.

Thanks for the heads up about the black widows.


---
15 Feb 2004 @ 08:28 by : Southeast NY
Your Profile shows you about as far southeast as New York goes, athedge, if indeed you're out there all year round. I have many great memories of the Island...at least the western end accessible by car (which was only a parking lot really) but that was way back in the late '60s.


---
15 Feb 2004 @ 10:38 by athedge : Far south
If I walk 500 paces directly south of my front door, I would walk off the eastern edge of a map of southeast NY !!! Just like my user id suggests -- I am at the edge (in many different ways). And, yes, I am a year-rounder. Have been for twelve years now. And I'm an anxious landscaper, so you can be assured that I'm paying close attention to the weather right now.
That parking lot is still just a parking lot. Fire Island's look hasn't changed too much over the last 50 years. A lot more homes and a lot more vegetation than you probably remember but you still get that same feeling when you look at it -- sort of a peaceful rusticness. It has retained its "undiscovered" look.


---
15 Feb 2004 @ 15:19 by : For Our Worldwide Audience...
Fire Island is the extreme sandbar that runs parallel to the southern shore of Eastern Long Island that you see in this representation~~~

http://www.eastwest.nu/fireisland2/seashoresign.jpg

Access is by ferry only really, unless you hike in from that parking lot...and no motor vehicles, except safety, are allowed. As a result there remains, apparently, some of the last wilderness beach on the East Coast. I congratulate athedge for braving even one winter out there. This is not he, I presume, partaking of one of the true joys of such remoteness~~~

http://www.eastwest.nu/fireisland2/skinnydip.jpg


---
16 Feb 2004 @ 06:53 by Ashanti @196.6.198.254 : Fire Island
I stayed there in July 1996, with some friends, for a few days, when I visited NYC. Fire Island was magical, altho there was a problem with an outbreak of Lyme (?) disease. So we spent lots of time in the hot tub, after the parties. I still have the postacrds, photos, and incredible memories of a world like no other I have known. :-)


---
16 Feb 2004 @ 08:14 by athedge : Lyme disease
Yes, lyme disease is a proplem out here but if you are careful and check yourself for ticks on a regular basis you should be OK. I'm a landscaper out here and practically live in the brush and have never gotten it.

Jazzolog -- I wish that photo was of me but, alas, it is not!!


---
16 Feb 2004 @ 08:44 by swan : Jazzolog,
thank you for the beautiful reminder that spring IS on its way. Yesterday I stood outside, as I was getting into my car and listened to the cardinals sing and thought to myself that spring couldn't be far away. It has been below 0 in Minnesota the last few days. We have had a lot of snow in the last couple of weeks and it looks far from springing into a new season.


---
16 Feb 2004 @ 09:19 by : Athedge, Meet Ashanti
Since Athedge is a new member and Ashanti's link here is to her email, I might mention that she lives in South Africa. It would be wonderful if we could lure her back for another visit---hot tub or not. We always can post a photo of you in that one's place, buddy.

I just got an email from another friend in Milwaukee, who says this winter is the first real one in several years up there. Good thing your feathers are oiled up, Swan. :-)


---
16 Feb 2004 @ 10:43 by athedge : Charmed, I'm sure
Hope to learn more about you, Ashanti. I am thrilled with the people I am meeting here on NCN. So many bright, interesting and funny people. I can't remember the last time I was involved with this many people at one time. It certainly is taking the edge off of the winter doldrums. Thanks to all of you and the ever increasing sunlight of a promised spring, I'm feeling fantastic these days. Wish you all the same.


---
16 Feb 2004 @ 10:45 by swan : Richard,
Black Swan is most appreciative of the oily feathers as a protection against the cold. In the spring the feathered cape comes off and anything is possible, in the realm of magic.


---
Other entries in Environment, Ecology
12 Jul 2010 @ 09:06: Human Energy Cap and Freeze 2010
27 Jun 2010 @ 09:37: Flood in Draguignan
31 May 2010 @ 09:12: The New Norm
29 May 2010 @ 10:27: The Transition Movie
28 May 2010 @ 01:03: Survival of the Enlightened
16 Apr 2010 @ 21:01: The Cloud - or Last call / Final Calling wake-up call ?
12 Mar 2010 @ 13:04: One photo and the memory it contained. . .
7 Mar 2010 @ 18:16: Sunday . . . at my computer
12 Nov 2008 @ 22:37: HAPPY SIXTH DAY - MAYAN CALENDAR CHANGE!
20 Apr 2008 @ 17:08: The Redemption Of Spring




---