| | |
| --- | --- |
| Young Love: Alone In Spain | |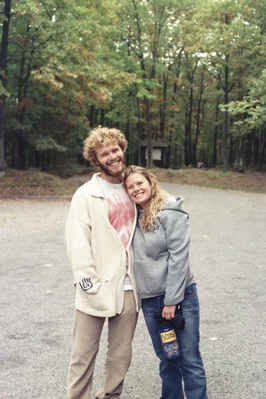 9 Feb 2006 @ 09:33, by Richard Carlson

There's no need to discuss the principles of koan study;
just listen carefully
to the wind outside
the pines and cedars.

---Ryonen

Someone else
looked at the sky
with the same rapture
when the moon
crossed the dawn.

---Izumi Shikibu

What silence can there be,
What lack of sound compare
to a snowfall from dark air
falling quietly to sea?

---H. D. Eshleman

The lovers last summer, together in Kinzua, Pennsylvania.

Yesterday a letter arrived from Espana. It is from a university student who has become very dear to our family these past several months. She is my son's young lady, finishing her advanced degree in Pamplona. He remains here, helping to manage his business. They both are 22.

How well I remember separation at 22. I was at Harvard and she was in Maine, not so far apart as Jeroch and Karen (pronounced KARR-in, as they do in Norway---although few in her life have learned to say it that way). There was a 4-lane highway a few miles outside Cambridge that went right up there. Maybe that made it worse. I only had a bicycle though. Some nights I used to ride it all the way out to that road, and just stand on an overpass, looking North...howling at the moon.

Perhaps Jeroch is a better man than I was. I hope so. A father hopes that for his son. After a month apart, he still appears with a ready smile and his customary hug of encouragement. He asks how we're doing, and he wants to know. He listens intently to any troubles. I have to press him for news of his heart. But he tells us cheerfully of emails and phone calls.

It was just a phone booth for me. One of those old kind you got in and closed the folding door. Encased in a standup coffin with a pocketful of change. The operator would interrupt: she wanted more money. I would plead for just a few more seconds to say goodbye. Fortunately, in New England in the early '60s, they were merciful. Ma Bell we used to nickname the company.

The computer cafe in Pamplona costs money though. I don't know what arrangement they have for long international telephoning. With all the possibilities of Instant Message these days, I'm sure they could work something out...even with a webcam. But not at the cafe I guess. So they make do...and write and phone a lot. And count the days. "I am almost into February," she was writing at the end of January, "and February is the shortest month of the year."

One's heart surely is tested and strengthened in these times apart. It doesn't matter if you're not as young as these two. When Dana and I were courting, we both had jobs and cars but 400 miles of separation. We chose a location on the map halfway and used to meet there. What passion when we'd touch! It's good to remember that, revitalizing like a spring fountain.

Karen is living with a Spanish family, learning the language better and personally, and much about cooking their way. She loves to travel and explore, and so whatever time she can spare from her "pretty tough" courses she's out "into the countryside and the mountains." There's a monastery "built into a mountainside in the 8th century" and El Castillo de Loarre, which she says may be the best preserved Romanic castle in the world. [link]

And then there is Pamplona itself. "I am in love," she writes. "My window overlooks a huge park, with cathedral towers peeking out behind, and mountains peeking out from behind them. There is a bird sanctuary that is a minute (on foot) away---peacocks and black swans, even roosters---and Giant Sequoyas tower over the rest of the park's canopy. The buildings downtown are beautifully old and worn, with flowers draped off of balconies. The streets are winding and cobblestoned, too narrow for cars (at least the American kind). The coffee is strong, the food is fresh, and the people are warm. I feel safe here, even alone at night." At that point her letter drifts a few sentences into thoughts of Jeroch and missing him...and vivid dreams she has, and how she loves those times of aloneness. Oh, the bittersweet hours. "My blankets are so soft, and the lights from the park cast beautiful shadows that dance around my room at night."

Isn't that lovely, and isn't she sweet to write so gently? When you miss a loved one, any touch from the familiar back around him eases the longing. It intensifies the moments that can be spared in remembering and, perhaps with moist eyes, hugging oneself...or a suddenly very personal pillow. Writing to us touches him too. We stand as a family, looking her way, and awaiting her return. We too are in growing health to be near their young love.





Category: Children, Parenting

---
15 comments

9 Feb 2006 @ 09:39 by vibrani : Sweet
did you get her permission to post her photo with your son, and share personal letters on your log for all to see?


---
9 Feb 2006 @ 10:10 by jstarrs : Alone in Spain Or....
..wasn't a song by Love.
There were still concierges at that time though, reminding us of the rules from dark stairwells, waiting to pounce, because their lives would be so empty otherwise.
;0)


---
9 Feb 2006 @ 16:41 by Quinty @68.226.88.25 : That was very nice

And you have to go to Spain too!

Fly to Madrid, visit Toledo, el Escorial, Segovia, Avila: take the train south, to Cordoba, Sevilla, or Granada. Or go further north to Pamplona and the Basque regions. Or, to get your feet wet, fly to Paris for ten or twelve days. If such a trip could be found boring I would say that person is no longer alive.


---
9 Feb 2006 @ 17:06 by : If she ever comes to visit Asturias
tell her to write me and I'll show her Oviedo (my city) :-). It's about 3.30h driving from Pamplona. Link
Alone in Spain... well, I hope that nobody feels alone here, as we're very friendly people! ;-)


---
9 Feb 2006 @ 18:33 by martha : Enjoy the moment Jazzy
All life changes. Love never dies no matter the choices made.

I am happy for your family able to soak in the joyous beauty of love.


---
9 Feb 2006 @ 21:38 by : You Friends Are Wonderful, Thank You
Well Paul, I'd love to travel Europe---as would Jeroch---and hopefully we shall, when we're finished funding all these tax cuts, the results of which I don't seem to find in my bank account at all. Right now the corporate globalizers need me. I understand that by 2007, I'll need a passport to travel to our beloved Canada. Can't be too careful ya know...and of course another neat fundraiser. Check on the price of a passport lately?

Dear Silvia, I shall send Karen your invitation...and you a copy. I want her to know how much I think of you. If she outruns the bulls, I'm sure she'll try to come.

Martha...I know.
In fact, it looks like love WON'T die, even if you try to kill it!


---
9 Feb 2006 @ 22:09 by : wonderful!!
I'll enjoy very much meeting her and showing her my beloved city and its surroundings. If the weather is nice I'll also take her up to mount Naranco, the beautiful place whose pic I show in my NCN profile :-)


---
9 Feb 2006 @ 23:36 by scotty : Tresor !!
In four years time I'll be back living in the south of France - so if you do visit europe then you'll be most welcome chez nous !!!


---
10 Feb 2006 @ 10:53 by : Thank You Nora
I've been thinking about the first comment in this thread, and also have received a few emails about it. I've always written personally at this Log since I set it up some years ago. I believe the Internet, this site, and the world call for as much openness as there can be. But both Nora and I know the world is a more dangerous place now, and I think she is cautioning me in this way. I appreciate that. Let it also be remembered that Vibrani has been taking on all comers up at Ming's Blog for the past week in the Cartoon Wars. She knows how suddenly thousands of folks can descend upon a public log.

Also, once before I put up an article about a very dear and old friend at jazzoLOG, and everything was fine until it actually was seen and commented on---and then that friend telephoned an urgent appeal to take it down. Which I did. Sometimes sharing looks different when you're staring yourself in the face online. My wife certainly feels that way...and was startled recently to see a picture of herself in a brochure that came from an article I wrote here. Fortunately it was a good one, and I didn't get yelled at.

I've written to Karen twice since this entry went up, most recently to convey Silvia's greetings and invitation. If she's worried, I'll either edit or take it down.


---
10 Feb 2006 @ 11:25 by : hi jazz
Yes, it's a strange tightrope we walk when blogging. On one hand, we're in the intimacy of NCN and on the other hand, we're public and anyone can access our words with a random click of a search engine.

In any case, the photo attracts instant good wishes just by the light of such smiles. May the warmth radiating your way reach them!


---
10 Feb 2006 @ 11:49 by vibrani : Richard
thanks for considering my question, as you do know what can happen. Of course it's between you and your son's friend - maybe the whole family - to decide if it's cool to put it up here. I'm sure she would be flattered to be so welcomed and talked about so kindly. If I were in her shoes, I would want to know and be asked before it hit the internet. She might not be as cautious, or she might be thrilled. The two sure do look happy together.


---
10 Feb 2006 @ 16:51 by : jstarrs Neglect
I was surprised to notice this morning I hadn't made reference to Jeff's comment yesterday. I thought I had...but I know why I didn't. It inspired a reverie, which as you'll discover in later years, often takes precedence over reality. (Or if you're a Republican.)

What I was remembering were the dormmothers back in college days, which served the same function as the concierge...and then some. I think boarding schools and universities still employ people for this. The lady in the dorm where Quinty and I lived (John Bertram Hall...or JB for short) had her own apartment, whose door was open during the day. You didn't want to wake her at night---except for an emergency. She even darned socks! Yes folks, at one time Americans tried to fix things rather than just throw them away. Her main duty of course was to protect the school property and make sure no girls ever were in our rooms. At the girls dorms there was a sitting room where boys could be briefly visited. There the dormmothers, it is said, enforced the rule at Bates that a phonebook should always be placed between a boy and a girl sitting together on a sofa. You get the idea.


---
10 Feb 2006 @ 21:00 by Quinty @68.226.88.25 : Ah, yes
I can remember all that. And how unwelcoming the atmosphere could be. Maybe I needed a haircut.

By the way, have you caught up on the news today?

If there is anyone left who believes a word Bush says it only goes to prove the power of blind faith over reason. But then it's been at that point for a very long time.


---
17 Oct 2016 @ 15:41 by @103.12.162.3 : togel online hongkong
After read a couple of the articles on your website these few days, and I truly like your style of blogging. I tag it to my favorites internet site list and will be checking back soon. Please check out my web site also and let me know what you think.
praturan
[link]
home
[link]
daftar
[link]
cara main
[link]
hasil
[link]
buku mimpi
[link]


---
28 Nov 2016 @ 19:31 by @43.252.17.165 : togel online
was very helpful and very useful
articles that you provide very helpful and nice to everyone thanks
promo
[link]
daftar
[link]
cara
[link]
informasi
[link]
Buku mimpi
[link]


---
Other entries in Children, Parenting
12 Dec 2008 @ 15:48: Long Deployments Breaking Up Families
30 Mar 2008 @ 09:34: OLD SOUL AT HOME: BOON TO SOUL EVOLUTION
24 Feb 2008 @ 21:18: My Dad
13 Jan 2008 @ 13:16: Don't be a sucker, man - face the cougar, baby !
2 Jan 2008 @ 16:42: A Crappy New Year from the rabbit...
24 Dec 2007 @ 08:25: A Child Is Given
8 Sep 2007 @ 16:10: Let Kids be Kids!!!
19 Aug 2007 @ 11:07: Heavy With Child
6 Aug 2007 @ 20:17: Genealogy
26 Jul 2007 @ 12:44: Healthy Kids have enormous energy




---