| | |
| --- | --- |
| I Feel the Earth Move.... | |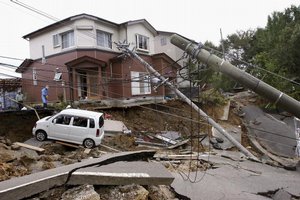 28 Oct 2004 @ 00:15, by Alana Tobin

Funny thing is last Friday evening before bed, Thursday in US, I pulled the Earthquake card with the intention of finding out what the next day's energies would bring, since Max and I were attending an important conference over our Labour Day weekend here in NZ. I then proceeded to dream about weather challenges that night after the first of a 3 day weekend experience. The next day at a conference in Wellington, I experienced strong eruptive feelings emotionally that stressed my body physically, and found it a challenge to take care of my body within a very mental invironment. Overloaded energetically, I drew upon many of my inner resources to navigate through the tensions I was experiencing. That very day a quake in Japan occured.

Photo from Archive


The eclipse of today here in the South Pacific along with the Quintile - involving the 5 planets in a star pattern combined, are making life a bit intense and eruptive in ways as much is unearthing in order to make way for the Universal Genius of the Divine to shine... and flow more fully...

Last evening I thought I was going to jump out of my skin with the nervous energy I was feeling. When no-one was around I found myself doing a bit of howling to the sky, Lunar eclipses have a way of bringing out the Coyote in me.

I have also spoken with a healing practitioner today to find out that a signficant virus is also causing big problems here in NZ, and causing a host of mental and physical symptoms, which confirm some of the mental, emotional and physical symptoms I and others have been challenged with.

I will soon post that report when I am done with the research as I am currently gathering the data. This leaves me wondering if this virus is hitting the US as well.

***I also notice that tonite a friend of ours is presenting a public talk about the inherent dangers of the
MeNZV Vaccine - John is author of Suppressed Inventions & Other Discoveries, as well The GE Sellout, and People Power - two books that deal with issues specifically impacting NZ and what we folk can do about them. May all take good care of themselves during a time of increasing energy shifts and the challenges that come with them.

Riding the waves, Magical Melody


28.10.2004

NAGAOKA - A strong earthquake yesterday jolted the same part of northern Japan where a quake killed at least 31 people and injured more than 3400 on Saturday.

There were no early reports of injuries from the new quake in rural Niigata prefecture, 250km north of Tokyo, but one building collapsed in Ojiya, one of the towns hardest hit by Saturday's big tremor.

The quake was also felt strongly in Tokyo.

Saturday's earthquake was Japan's deadliest since a quake killed more than 6400 people in the western city of Kobe in 1995.

More than 100,000 survivors of Saturday's quake, many of them elderly, are in makeshift shelters, facing another day of stress and fatigue, raising fears that the death toll could rise.

Television film showed a highrise building in Nagaoka swaying.

In other TV shots, women, many of them clutching small children, ran for the door of an evacuation centre in the town of Tokamachi.

People including elderly and children at another centre flattened themselves on the floor as voices called, "I'm scared, I'm scared."

All train services in the Niigata area halted, and Niigata airport suspended operations.

The Tokyo Electric Power Co said all its nuclear reactors in Niigata were operating normally.

- REUTERS


Fresh quake hits Japan
From correspondents in Tokyo
October 27, 2004
The Australian

A STRONG 6.0-magnitude earthquake hit a quake-ravaged area of northern Japan today, officials said.

There were no immediate reports of injuries or damage.

The Japan Meteorological Agency said the quake was centred at a depth of 10km in Hirokami, about 250km north-west of Tokyo.

The quake, which hit at 10:40am (1040 AEST) was strong enough to sway buildings in the Japanese capital.

The quake hit the same area where a 6.8-magnitude quake and a series of strong aftershocks struck on Saturday, killing at least 31 people and injuring about 2500.






Category: Altered States

---
2 comments

28 Oct 2004 @ 05:18 by : dang
well.. that all explains a few things I have been going thru.


---
31 Oct 2004 @ 01:51 by : Yeah, this earth dance,
sure be shaking the trance, as we loose the noose of former reality, we're opened you and me, to deep emergent seas. MM

Best way through such waves, is in surrender to the relationSHIP to carry us all through into a new way of being. I mean really, isn't that what it's all about? Returning to sacred relationship with ourselves, one another and the Earth. These energies of life awakening through us are quaking strong!!


---
Other entries in Altered States
13 Apr 2008 @ 10:06: Oblivions Dreamer
25 Jun 2007 @ 15:14: Your Dreams Miss You - 4
24 Apr 2007 @ 04:48: The Nine Unknown Men
17 Apr 2007 @ 15:43: The Ascended Masters
6 Aug 2006 @ 02:09: When GOD Speaks YOU write it down & share the vision!
23 Jun 2006 @ 16:49: Reoccurring Dream
14 Jun 2006 @ 06:21: My Odd Little Dream
27 May 2006 @ 11:39: REUNITING WITH SELF
2 Feb 2006 @ 01:15: A Dream in Time !!
6 Jan 2006 @ 14:31: Adjacent Energy Emanations and Stray Polarities




---