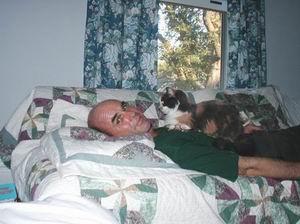 2 Feb 2005 @ 09:47, by Alana Tobin

My dearest friend, you were the pet companion of my life. I will always love you! I thank you for your loving Presence in my life and for being a powerful healer not only to me, but to Sylvia and others.

To Kiko. Wednesday 2, February 2005 NZ time

Today Kiko died. (This morning at around 10am Minnesota time, and 6am NZ time). Kiko had been living back in Minnesota in the care of my closest and dearest friend Sylvia. I knew it was coming in stages, and yet I have had to pass through levels of grief in the letting go of our special relationship as we had shared life together for over thirteen years – until I moved from my place of birth to New Zealand with Max. Meisha was also left behind and he continues to hold a very special place in my heart as well. I miss both cats and yet the call to move on was such that there was no realistic way I could bring these two special companions along with me, given the stress of the quarantine process. Kiko was fifteen years old. I will be posting another photo of Kiko soon as the only photo I have at present is the one above when she first met Max upon his arrival to the US. I was living alone in an apartment in south Minneapolis at the time. Kiko really liked Max, she approved of him as my fiancée, and found her way to his heart as the photo reveals. However, I wish to post a frontal shot of Kiko so that you can see the depth in Kiko's eyes, and the energy imbued in her affectionate face. She was a very special cat, and continues to be a special Presence even as she resides in the realm of Spirit now, a world beyond the physical.

Kiko was a 'Spirit Cat." She was a lot like me, very mystical and emotional and her eyes akin to mine, were also very watery and deep. Her sensitivity and affection were so strong and never have I met another cat that had the depth of knowing she had. I had never felt such a connection before with an animal such as I experienced with Kiko. I felt an eternal tie with her. People who did not know her well even said she was a bit different and they noticed the depth of emotionalism and sensitivity in her eyes. She was a Pisces and her depth shone through the windows of her soul.

Another 'Intuitive' said Kiko was a true "Spirit Cat! and she also said that Kiko spent much time out of body doing very special work. I know this to be true as well. Certainly many companion animals are profound healers and teachers. I know in my heart that Kiko was a Master Healer and had contracts with individuals beyond those that were in close physical proximity, as she had telepathically told me this on more than one occasion. I had the strongest heart communication and telepathic link with Kiko. We had intimate conversations from time to time, and this communication actually grew in ways when I moved to NZ, before it tapered off as I increasingly came to let go of her and our relationship over the past six months.

She would tell me things that would occur and tell me about the deeper meanings of why things were the way that they were. She even told me how she was assisting Sylvia right up until today and why it was that she left in the manner she had. That exit has left a deep imprint on Sylvia, and is serving as a cat-alyst for her to move forward into more conscious and attentive love.

Every companion animal has 'special' attributes and my experience of communicating with animals and learning about their missions is that many of them have agreed to be of service to humanity and to the planet for certain durations in order to assist in the evolutionary experience and to provide comfort and various other healing influences as a part of soothing the human pains that come with being incarnate in this world.

Sylvia is very sad as I am today at the physical loss of Kiko. For me it's a final closure, even as I released the physical experience of that relationship over two years ago now. I started doing personal closure with her today and will create a ritual tomorrow morning to celebrate her life. This posting is another step of the process. Now Sylvia is getting ready to move to a new house. Their sacred contract has also finally come to a close today.

Thank you Kiko for the healing and the teachings you have imparted. Your healing presence touched Max as he too felt your presence even here in New Zealand. I will be forever grateful for the significant contribution you have made to my life this time round. Your life touched many people in special ways.

I had been trying to get a hold of my close friend Sylvia for a couple days, as I had felt a strong urge to talk with her. Last evening at bed-time and again this morning I awoke with a very strong migraine-like headache and shoulder pain. I sensed that something was amiss, a pressure was building in my body and emotions. Earlier in the week, I had dreamt of Kiko and remembered embracing her. There was significant pain that had reached me from across the distance, and my intuitive self knew that death was impending some days prior, however my body knew this before my personality did. Even a friend back in the states had sensed only the day before as we had talked by phone, certain undercurrents of a deeper emotional energy brewing. At that time I felt something too, but on a conscious level did not understand yet what my soul/body was experiencing. Two days later now, I know what was brewing. There was significant physical pain that Kiko experienced in her last hour and it had come to a head. She was ready to leave promptly.

I thank Sylvia for having spent the previous days holding Kiko as she had. Kiko was conveying to Sylvia in stages that she was ready to leave. Sylvia had shared that she was comforting Kiko each evening as she was begging for more attention than usual. Kiko wanted to be held in the way that I used to cradle her at times to comfort her. I am happy to know that they were each being a comfort to one another in those last few days before Kiko passed on.

Kiko is now merged with Cat Essence and is continuing to serve from that space of Feline Presence. I trust that her loving soul will continue to add more healing onto this world and that which is beyond, as the beauty of her love and the brilliance of her soul lives on.

In loving memory,

Alana






Category: Relationships

---
6 comments

2 Feb 2005 @ 13:55 by martha : They are precious
Alana. Kiko sounds like a special kitty and I am sure she is still with you in spirit.
I also left my two cats behind when I moved west. They stayed with my ex who loved them. Both have passed since but one does visit me in spirit and I have had several wonderful experiences with Gwendolyn. Cats keep us grounded and are a terrific reminder of unconditional love. Sorry for your loss but I know you are comforted by her memory.


---
2 Feb 2005 @ 15:29 by : My prayers are with Kiko
Hi Alana,
Thank you for your heartfelt post. Having lost some dear four-footed companions in the past, I can imagine what it feels like - though each is unique and so I can never really know. I can also picture Kiko being in the beauty of the interlife, having successfully completed her mission(s) in this
world. And one mission was to bring you joy and unconditional love.

Like Molly and Missy in recent years, we bid fond farewell to Kiko.
My prayers for you and Max.
Namste,
-Craig


---
2 Feb 2005 @ 16:43 by swan : Alana,
I am sorry to hear about Kiko's passing. What a beautiful tribute you write to her. She was a special being and even though you were far away there wasn't any distance between you.


---
4 Feb 2005 @ 00:19 by : Words not enough
Alana, Kiko 'knew' it was OK for you to leave with me. She told me so in her own way (see picture!). I am sorry the transition has held so many challenges, the trauma of bringing the cats with us to Aotearoa would have been to much, besides Sylvia would not have allowed that!! I trust the evolving singing I 'hear' from your heart makes it all worth while. We can and have celebrated the presense of Kiko and Misha in the heart of now where all distances disolve. As our guidance tells us, it matters not where you are on the planet (but there are places which are as nodal points on our journey home) for home is where the heart is, so now we experience bi-location on a daily basis. I hold you in the painful places until they melt, as you do for me. Bless you and Bless Kiko for all she was and is now becoming in her evolving journey.


---
5 Feb 2005 @ 15:20 by Sylvia @63.231.149.209 : Baby Kitty
I commend you to the cat spirit world, and I will do something good in this world in your honor. After the grief, this is the highest tribute we can do for any being--human or otherwise. Help her to move on--either to reincarnate or to be happy in her "heaven"--meanwhile picking one piece of her essense and doing something good with it to honor her. Kiko was soulful and emotional, unlike any cat I have met, as Alana says. As Jane Goodall said at the end of a speech I attended, "Individuals are important. Remember that." That rings true here. Kiko was an individual unlike any other, and her affect on us will remain throughout our lives. Kiko existed on the heart level, and it moved my heart, always will. Peace to you, Baby Kitty.


---
9 Feb 2005 @ 01:35 by : I appreciate all of your comments,
Thank you. I feel and accept the love and support from each of you. How lovely to see Sylvia comment here in this log as well. I feel in resonance with all that each of you has shared.


---
Other entries in Relationships
1 May 2008 @ 15:34: Remembering Mother's Day
24 Jan 2008 @ 09:58: Getting Drunk For Dr. King
6 Dec 2007 @ 14:13: Need Some Cheer? Here's Dennis!
21 Jun 2007 @ 23:37: Pete
3 Jun 2006 @ 19:59: How to Select Your True Life Mate
29 Apr 2006 @ 17:56: Love is the Key
14 Feb 2006 @ 09:08: Our Valentine
23 Dec 2005 @ 14:15: 50 years of love!
8 Nov 2005 @ 06:07: Max and Alana's Heart Story Website!! and Relationship Report
25 Oct 2005 @ 06:05: in honor of mars retrograde...




---