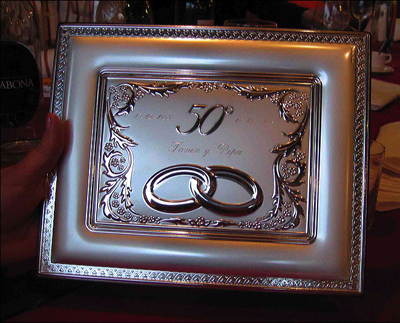 23 Dec 2005 @ 14:15, by Silvia M.S

Last Saturday I celebrated with my family the golden wedding of my uncle and aunt. After living together for 50 years, they still keep the emotion in their eyes when they see each other. Isn't it beautiful?

They've been living all their life in Carabanzo, a small Astur village in the mountains. And today they got married again in the same place like 50 years ago, but with new members in the family (like my cousins and me).

They celebrated it in the traditional way. Elena, one of my cousins (the beautiful girl in the pic), carried the thirteen coins given by the bridegroom to the bride (arras in Spanish). They exchanged the arras and the rings, promised to love each other forever and we even threw rice to the couple when the ceremony finished, with music of bagpipes in the background.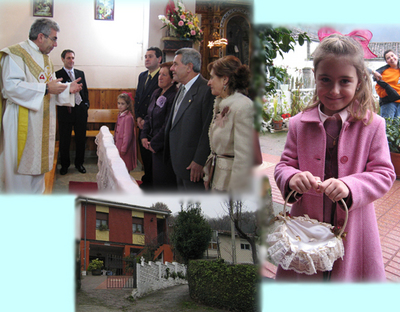 After the ceremony we went to have lunch in a rural restaurant located in the same village. The owner told us that in the past the place was a stable, but they decided to remodel it to transform it into a rural hotel and restaurant. The lunch was wonderful, with seafood soup, monkfish medallions with big prawns, leg of goat with herbes and the wedding cake. Wow!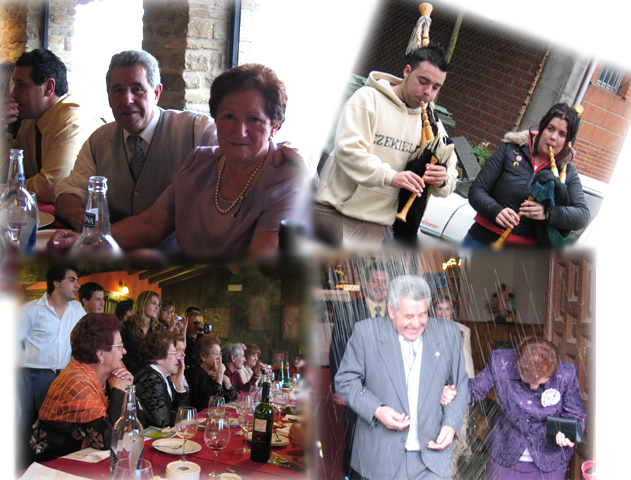 I've enjoyed very much this special day with them. Nowadays, in a world of wars and violence, it's wonderful to see that there're still couples whose love remains alive with the pass of the years, growing day by day and overcoming any difference existent between the two. And also many others who haven't been together for so long, but who share a deep love.

This was another beautiful event of ordinary people that I've had the opportunity to enjoy. I believe that these simple events are the most important ones, because they continuously bring happiness and light to our lives. Usually there are not many important occasions during the year, so if we live waiting for them it's easy to get bored of life. But if we appreciate these little & simple things, then almost everyday can be a wonderful one. So, let's appreciate every day of our lives!





Category: Relationships

---
13 comments

23 Dec 2005 @ 14:43 by jstarrs : Lovely post....
...the lesson I learn is that these moments of joy are right here, around us, if we nuture & nourish them.


---
23 Dec 2005 @ 15:04 by scotty : little & simple things
are called Miracles !
They're all around us - if we only have eyes to see !

Lovely post - thankyou so much for sharing.


---
23 Dec 2005 @ 15:25 by swan : They looks so young,
Love will do that to a person. Thanks for letting us be part of the festivities.


---
23 Dec 2005 @ 15:35 by : I really enjoy your posts, Silvia.
They show the beauty and love expressed in relationships. As we know, it is not always easy to adapt and to fully express our love for one another, yet when we are open and honest, something magical and 'golden' happens. Thanks


---
23 Dec 2005 @ 16:51 by : thank you for your comments :-)
We need to remember from time to time that we're surrounded by wonderful people, who give us little presents very often, like the one that my aunt and uncle have given me: an example of a life full of love.


---
23 Dec 2005 @ 16:55 by : How lovely
And may they continue to love for always. Thank you for sharing.

Love EJ


---
23 Dec 2005 @ 18:51 by : makes me wonder
What do you know. Will i ever be in the situation of having been with my man for 50 years? Should be very cool!
Thanks, Silvia. You bring our families closer with your posts.


---
23 Dec 2005 @ 19:07 by : beautiful wishes
Enocia, thanks for your beautiful wish, may it become true! Judih, may your wish become true too!


---
22 Oct 2006 @ 04:29 by Prem Kumar @59.88.116.163 : Learning experience
Dear Silvia

Every time I am learning lot of new things from various websites, blogs and forums. The way of your presentation and supporting photos are simply superb, as usual. Take care and stay in touch, Dear Silvia, Prem

*********

Thank you, Prem! :-)


---
28 Sep 2016 @ 10:09 by Black Magic Specialist Baba Ji @115.252.123.86 : Black Magic Specialist Baba Ji
awesome post


---
17 Oct 2016 @ 16:25 by @103.12.162.3 : togel online hongkong
After read a couple of the articles on your website these few days, and I truly like your style of blogging. I tag it to my favorites internet site list and will be checking back soon. Please check out my web site also and let me know what you think.
praturan
http://yakuza4d.com/peraturan
home
http://yakuza4d.com/home
daftar
http://yakuza4d.com/daftar
cara main
http://yakuza4d.com/cara_main
hasil
http://yakuza4d.com/hasil
buku mimpi
http://yakuza4d.com/buku_mimpi


---
28 Nov 2016 @ 22:37 by @43.252.17.165 : togel online
thank you for providing web were very nice and helpful
promo
http://yakuza4d2.com/promo
daftar
http://yakuza4d2.com/daftar
cara
http://yakuza4d2.com/cara_main
hasil
Buku mimpi
http://yakuza4d2.com/buku_mimpi


---
1 Dec 2016 @ 14:01 by @178.70.75.103 : good post
I found a wonderful site, and there is a cool breed http://bostonterrierinfo.net/


---
Other entries in Relationships
22 Jan 2016 @ 07:07: Searching for the Queen of My Colony.
1 May 2008 @ 15:34: Remembering Mother's Day
24 Jan 2008 @ 09:58: Getting Drunk For Dr. King
6 Dec 2007 @ 14:13: Need Some Cheer? Here's Dennis!
21 Jun 2007 @ 23:37: Pete
3 Jun 2006 @ 19:59: How to Select Your True Life Mate
29 Apr 2006 @ 17:56: Love is the Key
14 Feb 2006 @ 09:08: Our Valentine
8 Nov 2005 @ 06:07: Max and Alana's Heart Story Website!! and Relationship Report
25 Oct 2005 @ 06:05: in honor of mars retrograde...




---