| | |
| --- | --- |
| ANIMAL RIGHTS - & OUR RESPONSIBILITY | |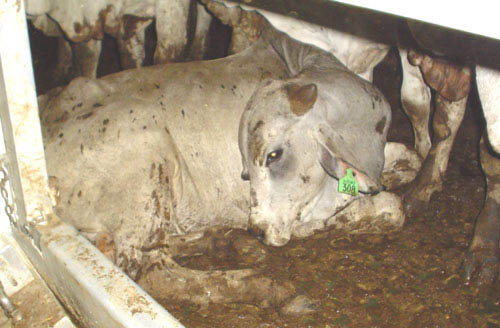 24 Apr 2005 @ 02:26, by Salama Shaquana

(This picture above was taken onboard a ship during transit from Australia to Asia)

I have been reading a number of horrific articles (and reacquainting myself with previous articles) this weekend with respect to the treatment of animals:

Animal death camps in Europe. When animals are put to death in the most appalling circumstances and where they suffer unbelievably cruel deaths

Live animal transport trade from Australia to many markets overseas. I urge you to NOT eat any meat that is transported live from Australia. Better still just don't eat meat period...

Dog and cat farming in Europe. The vanity of people who think it is fashionable to wear fur

Animal testing. One of most vile exploitations and invasions of animal rights. The lies that are told about animal testing are breathtaking.

I thought this was a goodtime to promote the following. Until we learn to respect other forms of life we will never learn to respect human life. We are all connected and what pain and cruelty man inflicts on defenceless animals we inflict on our own kind.

Article 1:
All animals are born with an equal claim on life and the same rights to existence.

Article 2:
All animals are entitled to respect. Man as an animal species shall not arrogate to himself the right to exterminate or inhumanely exploit other animals. It is his duty to use his knowledge for the welfare of animals. All animals have the right to the attention, care and protection of men.

Article 3:
No animal shall be ill treated or be subjected to cruel acts

Article 4:
All wild animals have the right to liberty in their natural environment, whether land, air or water

Article 5:
Animals of species living traditionally in a human environment have the right to live and grow at the rhythm and under the conditions of life and freedom peculiar to their species. Any interference by man with this rhythm of these conditions for purposes of gain is an infringement of their rights.

Article 6:
All companion animals have the right to complete their natural life span. Abandonment of an animal is a cruel and degrading act.

Article 7:
All working animals are entitled to a reasonable limitation of the duration and intensity of their work, to the necessary nourishment and to rest.

Article 8:
Animal experimentation involving physical or psychological suffering is incompatible with the rights of animals, whether it be for scientific, medical, commercial or any other form of research. Replacement methods must be used and developed. Alternatives to animal experimentation should be prepared.

Article 9:
No animal shall be exploited for the amusement of man.
Exhibitions and spectacles involving animals are incompatible with their dignity.

Article 10:
Any act involving the slaughter of the animal is biocide, that is, a crime against the life.

Article 11:
Any act involving mass killing of Universal Rights Universal Declaration of Human Rights, December 10, 1948 Universal Declaration of the Rights of Animals, October 15, 1978 wild animals is genocide, that is, a crime against the species. Pollution or destruction of the natural environment leads to genocide.

Article 12:
Dead animals shall be treated with respect. Scenes of violence involving animals shall be banned from cinema and television except for human education.

Article 13:
Representatives of movements that defend animal rights should have an effective voice at all levels of government. The rights of animals, like human rights should enjoy the protection of law.

International League for Animal Rights








Category: Activism

---
5 comments

27 Apr 2005 @ 12:52 by : Equal Rights
Thanks Salama for the animal rights. I am sending this out to several friends who care about animals--people too--and, will take some actions against the people in our area who are unkind and cruel to our friends.

Jerry


---
28 Apr 2005 @ 10:32 by : Thank You
Dear Jerry, thank you from the bottom of my heart. I pray that others do the same. Bless you. Nemue


---
29 Apr 2005 @ 00:34 by astrid : What Man is willing to
do to Animals, he is also willing to do to Children and Elderly...and in fact to ALL, whom he considers inconvenient or experiences as a "threat" = of NON-like- mind to himself!...
There's no words for how pitiful and horrible, all at once this is!
DEMAND Energies Divine Justice in ever increasing amounts to enter our Earth - Athmosphere; World; The Society in order to protect the Innocent Ones and Perperators of Evil to get the Share they earened with their actions/deeds. WE ONLY GET TO EARTH LIFE the Energies/ Qualites of Life THAT WE, HUMANS, DEMAND!
HUMANS ARE THE CONDUCTORS OF COSMIC ENERGY and the ones who CHOOSE THE RESPONSES = RESPONSE-ABILITIES. HENCE IT IS OUR RESPONSE-ABILITY THAT DETERMINES HOW ANY INNOCENT LIVING BEINGS WILL BE TREATED!!!


---
29 Apr 2005 @ 09:01 by susannahbe : Thanks ...
for bringing this to peoples attention. May all living beings have peace and respect.

Our treatment of animals will someday be considered barbarous. There cannot be perfect civilisation until man realises that the rights of every living creature are as sacred as his own.
Dr David Starr Jordan (1851-1931)

"Until he extends his circle of compassion to all living things, man himself will not find peace."
Albert Schweitzer 1875 - 1965

Quotes included are from a post on my log [link]


---
29 Apr 2005 @ 11:33 by jstarrs : On being a vegetarian...
...George Bernard Shaw once said..."Animals are my friends; and I don't eat my friends."
Thanks for the post..


---
Other entries in Activism
27 Oct 2015 @ 02:04: My Domains
18 Nov 2008 @ 23:51: The Day John Kennedy Was Shot
9 Nov 2008 @ 11:47: Now, About Bill Ayers...
11 May 2008 @ 03:44: Pangea Day and Unified Science
11 Jan 2008 @ 10:07: Full Frontal Feminism
2 Jan 2008 @ 01:01: The Catastrophic Support Circle
11 Dec 2007 @ 21:05: Step Into the Stargate of Transformation - posted ONLY by Brenda
6 Dec 2007 @ 21:15: Changing the Course of Human History: 2008 a most pivotal year
31 Oct 2007 @ 22:51: NEW ADDITION - Planetary Grid Activation on Mt. Zion
21 Oct 2007 @ 10:13: Questions for Al Gore




---