| | |
| --- | --- |
| Massive Earthquakes in Asia | |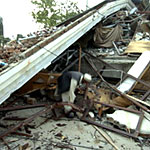 9 Oct 2005 @ 02:34, by Salama Shaquana

Yet again Mother Earth has unleashed her fury on the people of the earth with massive earthquakes in Pakistan, Kashmir and India. All reports indicate that the death toll will be in the thousands many young children.

By all reports this most recent earthquake was the biggest to ever hit the Asian region and I fear this will not be last.

Our cousins in Guatemala are also suffering with 1400 people reported killed in mudslides. We are still recovering from the recent hurricanes in the US where once again hundreds of people perished or are no left with nothing.

The questions am now asking myself are – are these events linked? Is this part of the wake-up call for mankind and will these events get even more relentless if we don't start changing our attitude. Are we manifesting these events ourselves as part of our ever-increasing behaviour of suspicion, hate and self-absorption? I'm OK stuff everyone else this goes for people and the earth. Or is this just part of the grand plan of self-destruction? .

[link]





Category: Environment, Ecology

---
9 comments

9 Oct 2005 @ 07:42 by gea : Pakistan and India feud...
Your link..."In a further sign of easing tensions between New Delhi and Islamabad, Indian Prime Minister Manmohan Singh called Pakistani President Pervez Musharraf to offer assistance."

...A ray of hope?


---
9 Oct 2005 @ 11:03 by jstarrs : Maybe, anyway...what we're experiencing.
...is the result of our previous group/global actions, that's for sure.
We've created our environment.
But as Gea points out, I believe there is also an equal energy pulling in a postive direction....maybe that's what we have to focus on?


---
9 Oct 2005 @ 12:28 by gea : What I mean is...
...that given the war between Pakistan and India, a war which goes to the point of contemplating nuclear weapons, it is a sort of miracle that the above mentioned offer of India to Pakistan should happen at all. What will it take for human beings to realize that we all live in the only Home we will ever know, Gaia? As a species, we have destroyed the environment. But maybe the destroyed environment has enough crude lessons for us, to learn that we actually depend on it.


---
9 Oct 2005 @ 13:30 by jstarrs : Yes, I get it...
...we all family, brothers & sisters on this spinning planet.
Sometimes some brothers & sisters go crazy and do crazy things to each other.
I'm wondering how many crude lessons we have to be given to realize this?


---
12 Oct 2005 @ 08:14 by : My take as well
Many of you who know me via this site know that I quote often - 'For every adversity there is the seed of equal benefit' - through significant events we grow. Blessed be the souls who are sacrificing themselves in an effort to help mankind wake-up. We should be enternally grateful for their courage. Let us pray that their deaths have not been in vain - in particular the children.


---
12 Oct 2005 @ 11:36 by ashanti : 81,000 dead (?), still counting
Massive. http://timesofindia.indiatimes.com/articleshow/1259952.cms
Spiritual shockwaves pulsing.


---
12 Oct 2005 @ 13:25 by : Kashmir is famous for its houseboats! th
I love to look at the blue sky hue


---
12 Oct 2005 @ 13:27 by :



---
12 Oct 2005 @ 14:10 by : loose connection here???
In its day, this was a happy poem:

I love to look at the blue sky hue
In distance paler and softly blue
The cupolas here and steeples there
Hold the sky drop hanging in stillness where

Rows of houses squeezed to the ground
As an igloo hugs its tiny mound
Narrow view along the street
Inward looking for retreat

Tall high-rises dotted about
Reaching out from the darkened street
Sun pours in from the sky of blue
Showing up the distant view

Pink in the sunset over the roofs
Reflecting in windows slowly to fade
Catching the last light, dwindles in sinking
Darkness upon the streets

Rising into the thin blue air
with cupolas here and steeples there.

by NSR September 1989

On the city underground network yesterday in a half crowded carriage was a small 8 year old boy of Pakistani origin with his Father. He asked for his travel food pack, he was not English environment looking. Everyone had left a large space around him and all eyes were on him gently, everyone who was strap hanging around watched, as he opened his small plastic box to see home made goodies of the Indian kind. He chose the biggest one, golden rich looking, and took an extremely satisfactory bite oblivious of his audience who all seemed to be thinking the same thing, the children in the shattered schools. The Father was also aware of the moment held around his son. A seat became free and the boy made a dash, cake and all, but it was taken by someone from the other end oblivious. The only thing to do was to leave one's own seat if he wanted to sit, so I did.


---
Other entries in Environment, Ecology
12 Jul 2010 @ 09:06: Human Energy Cap and Freeze 2010
27 Jun 2010 @ 09:37: Flood in Draguignan
31 May 2010 @ 09:12: The New Norm
29 May 2010 @ 10:27: The Transition Movie
28 May 2010 @ 01:03: Survival of the Enlightened
16 Apr 2010 @ 21:01: The Cloud - or Last call / Final Calling wake-up call ?
12 Mar 2010 @ 13:04: One photo and the memory it contained. . .
7 Mar 2010 @ 18:16: Sunday . . . at my computer
12 Nov 2008 @ 22:37: HAPPY SIXTH DAY - MAYAN CALENDAR CHANGE!
20 Apr 2008 @ 17:08: The Redemption Of Spring




---