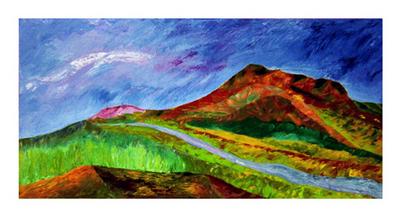 31 Aug 2004 @ 03:26, by John Ashbaugh

Monday morning, August thirtieth at the Red Rock Canyon campground. Long climb up the Red Rock Canyon trail late yesterday afternoon, to a turnaround point for the walk back to camp. Last twilight has turned into darkness as the rain clouds and lightning roll in and sparkle.

Monday morning, August thirtieth at the Red Rock Canyon campground. Long climb up the Red Rock Canyon trail late yesterday afternoon, to a turnaround point for the walk back to camp. Last twilight has turned into darkness as the rain clouds and lightning roll in and sparkle. Looks like no fire in the night tonight, as first sprinkles splatter. Raindrops patter through the forest onto the eggshell thin membrane of the tent, continuously and continuously, while gusts of wind whip the fabric around and overhead explosions of light punctuate the dark. Finally, a calm settles in, and the full moon shines through. Fire in the morning to warm up the coffee, and turn some old wood into smoke for return to the sky, in the neighborhood of a field of daisies surrounded by adolescent evergreens under the watchful sentinel of the rising peak nearby.
The trail last night was going on forever, level and rising and level and rising, with occasional picturesque rocky formations. This trail must lead to some peak or overlook with some majestic view, I think, and the closer I'm getting to it, the further it recedes. How far away, how far away, before it's time to return, unless I want to sleep out here with the skunks and the cougars and the bears? Finally, there is a turnaround point. A break in the canopy covering the trail, along a bend in the ridge, framing a vista from the edge of a ledge to a range of forest clad hills across the way. This is as far as this evening's trail goes for this walker. Rest for a while and drink the air, and retrace steps along the downward pathway. The parallel streamlet crisscrossing the descending slope flows in thimblefuls, and I'll dip my hand in an occasional pool to wipe my face with wherever this water has come from. Formations seen first on the upward trail are now reviewed from another approach. The bones have been loosened up and the heart given cause to flex is muscle. Walking across the terrain, inhaling the mountain air, rained on in the night under a full moon, fire in the morning with smoke for the sky. Hummingbird hovers in morning sunlight, sipping nectar from the profusion of little red tinkerbell blossoms foregrounding the field of daisies.
Getting time now to be getting on back to Circus City, where I can talk with some of the people I know about thoughts about where we would like to go, and how we are planning to get there.






Category: Recreation, Fun

---
3 comments

31 Aug 2004 @ 12:13 by swan : Beautiful descriptions, John.
I have camped many times during storms and it is actually my favorite time. Protected only by the "eggshell thin membrane of the tent", there is something quite thrilling about it. You can lay and be afraid of what might happen or surrender to nature and it power and beauty and sleep with God's blessing. I usually surrender and go to sleep because if I die during the night because of the weather it will have been an exciting exit. I love the painting.


---
1 Sep 2004 @ 18:06 by : Surrender to Nature
"Surrender to Nature and its power and beauty,
And sleep with God's blessing."
I'm sure this is very much a part of the reason why
I feel these occasional urges to vacate my domestic urban premises,
and hightail it out to some ground I've never seen before,
to find some trail I've never walked before,
to find some scene where a slightly new thought may begin to take shape,
and when the time comes to pass my last breath into the sky,
I wish that it will be in some such place.
Thanks for your thoughts, friend.


---
1 Sep 2004 @ 21:48 by : I concur as well...
with lady swans surmise. I've been in a tent on the side of a mountain, in a hellish storm of rain, thunder and lightning, and gone to sleep only to have a mountain of water wake me up with the sound of its' rushing just in time for me to get out with my life and the book of changes. It has happened to me on several occasions. Really exhilarating. No entheogen can possibly compare with those insights. thanks for this inspiration koravya. And thanks, swan, for your addition too.


---
Other entries in Recreation, Fun
1 Jul 2010 @ 22:02: The Utter Uselessness of Sports and the Purpose of Life
26 Jun 2010 @ 20:45: A game has 90 minutes, ehh, or 120, plus overtime...
6 Jan 2009 @ 06:58: GAMES POSTULATES
11 Dec 2008 @ 06:48: Divinity Rising: My (bra) cup runneth over...
11 Dec 2008 @ 01:14: Strong with the force, that one is...
7 Dec 2008 @ 16:23: An Open Letter to Enlil and Enki ("Sermon of the Holy Rock")
16 Jan 2008 @ 11:00: What Are You Like?
22 Nov 2007 @ 19:01: The purpose of the white rabbit...
30 Jul 2007 @ 14:52: The REAL purpose for the creation of pets
25 Apr 2007 @ 18:05: Git ve gör! Çok geç olmadan




---