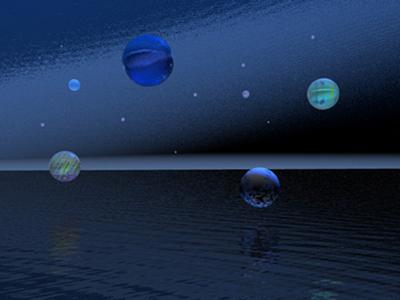 3 Sep 2004 @ 06:36, by John Ashbaugh

September second into the third, Thursday into Friday. The planetary consciousness is in telepathic communication with other galactic and intergalactic planets at a similar evolutionary stage of conscious development.

Here on planet Blue, individual humans at a similar level or frequency of mental integration are in telepathic communication and meet with one another at various points in timespace during our individual lifetimes to effect a purposeful development. Various individual humans have a muddied-up circuitry, of one type or another, to one degree or another, for whatever reason or another, and telepathic clarity is accordingly muddied and purposeful development is garbled, at best, and thwarted, sometimes. The mental telepathic capability of an integrated global population lies beyond the imagination of its individual components, although to the extent that each of us chooses to participate, both our individual realizations, and the planetary-inter-planetary auroral harmonic echo shall be heard. The planetary consciousness of planet Blue is currently infested with a life threatening pathogen. There may be genetic determination or influence. In any case, the predominately healthy component of the organism is currently engaged in what is essentially a life-threatening confrontation with the pathogenic component. In so far as the force of Life shall prevail and overcome with all of the powers at its disposal the embedded threat, planet Blue shall awaken from her long gestational slumber and get to know her sisters in the sky a little better.





Category: Altered States

---
8 comments

3 Sep 2004 @ 18:04 by : Planetary Consciousness

I've also had some awareness of the beginings of a new ascended planetary consciousness since yestarday ~ So apparently it is really happening ~ finally ~

I'd like to hear from any others who are experiencing this ~

Adi
http://earthstar.bravepages.com


---
3 Sep 2004 @ 18:14 by : Certainly...
As you may know by now: "We come back!"--Galac Patra


---
4 Sep 2004 @ 05:14 by Astrid @66.59.251.46 : Oh, absolutley......
....yes, yes, yes! Oh, gaaawd, this is os incredible!....Scotty and I have just been talking about this very thing that "some serious energy-vortexes are ( "must be")be in major fluctuation. We reflected upon this, based entirely how we felt!
And as far as the telepathy side of it all goes; listen to this: we are appr. 6000 miles apart, four times zones or so, and we sit down at the same moment each in our own little corner of the world, writing to eachother THE SAME THINGS!!!!.... and these are subjects that we have NEVER discussed prior!....and then our e-mail cross eachother over the Atlantic/Florida, sent by us simultaneously!
What a confirmation you've given us.THANK YOU!!!


---
5 Sep 2004 @ 04:14 by swanny : interesting
This seems to conincide with the synchonicity of the
Uranus size planet discoveries in other nearbye solar systems
They are larger than Earth apparently but indications are that
they would be more favorable to life as we know it.
As such I have felt no "connections" per sae.......
More so more comfort in the global now though
well a little more......
There is though I sense something "changing" or
"evolving" although I am not sure what.....
Of note I sense people are having some troubles
coping with their thoughts......
not realizing that they have some degree of "choice"


---
5 Sep 2004 @ 17:24 by : Always Like to Hear
Stories of synchronicous communication
between like-minded souls, from the other side of the globe,
from the other side of the room.
And love those magical meetings
in what we know as our physical timespace,
with those whom we know and recognize
as they come into our lives,
for a day, a week, a month, or for some years or longer,
to play the part of our realizations that we share.
./././././.
Growing pains,
as we shed the old skin
and emerge anew.
./././././././.


---
5 Sep 2004 @ 19:28 by : cosmic and personal
communications

I know about that a bit myself.


---
14 Jan 2005 @ 04:47 by @61.3.241.103 : Request


Dear Brother/Sister,

I visited your site via Google. I found your site informative and service-oriented. Please accept my congratulations!

I am G Kumar, the Editor of the Z Files, an informative Ezine and CEO of www.eastrovedica.com; www.astrologiavedica.com & www.astrognosis.com

I am a New Age exponent with more than 20 years experience in Yoga & Astrology & have written more than 100 intuitively inspired e-articles on New Age sciences like Yoga, Astrology, Numerology, Pranic Therapy, Tantra etc, which are published in more than 100 sites. Can I forward them to you so that you can publish it in your esteemed Site/Zine? Your visitors/readers will get good content and I will get good exposure. Win-win!

Our mission is to disseminate quality knowledge based on the principle " The Highest Donation is the Donation of Knowledge " Let us create a World Government and turn from Homo Sapiens to Homo Universalis. So let it be, and help us do our part.

All my articles are published online at the following links. You can have a look at my writing talent ! http://www.eastrovedica.com/html/articles.htm.

You have my permission to download any article from this site & publish it in your Zine or site.


As we are in the same field, connected by Universal Love, I wish you prosperity and the peace that passeth understanding.

Web Astrologer G Kumar

http://www.eastrovedica.com

http://www.astrologiavedica.com
http://www.astrognosis.com





---
20 Feb 2017 @ 07:17 by @185.182.81.37 : nice
This is very nice


---
Other entries in Altered States
13 Apr 2008 @ 10:06: Oblivions Dreamer
25 Jun 2007 @ 15:14: Your Dreams Miss You - 4
24 Apr 2007 @ 04:48: The Nine Unknown Men
17 Apr 2007 @ 15:43: The Ascended Masters
6 Aug 2006 @ 02:09: When GOD Speaks YOU write it down & share the vision!
23 Jun 2006 @ 16:49: Reoccurring Dream
14 Jun 2006 @ 06:21: My Odd Little Dream
27 May 2006 @ 11:39: REUNITING WITH SELF
2 Feb 2006 @ 01:15: A Dream in Time !!
6 Jan 2006 @ 14:31: Adjacent Energy Emanations and Stray Polarities




---