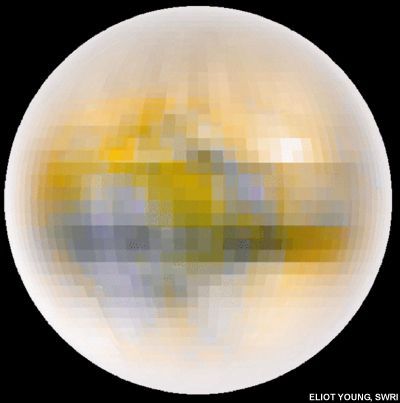 13 Sep 2005 @ 00:30, by Jose Overalles

The new Pluto map is here! The new Pluto map is here!

Yeah exciting stuff huh? I mean, just look at it. It doesn't really look like much. They worked from 5 years of hubble images, and came up with this, by measuring the brightness of the planet as Charon, it's moon, flew by it's face. Kind of hard to find your way around the planet with this kind of map, huh? I mean, you could have had a few rum and cokes and taken an out of focus picture of the disco ball at studio 54, and come up with the same results.

The "least understood planet", they call Pluto. Aww! Makes you fell sort of bad for it huh? Maybe they shouldn't have named it after a disney dog. I mean, who names their planet after a mutt? Pluto needs a name change. Like the Saturday Night Fever Planet.

Or something.

Also, they're saying that the atmosphere consists mostly of a frosty mixture of nitrogen, methane and carbon monoxide.

That's got to smell pretty bad.

Pluto.
The least understood, smelly planet that looks like a disco ball.
Yeah.