| | |
| --- | --- |
| Feedback for a New Copyright and Disclaimer Text | |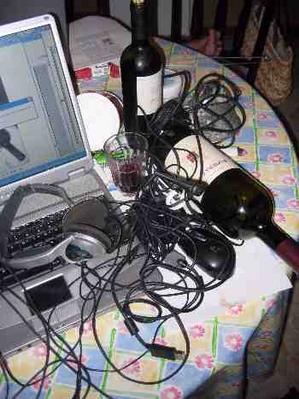 28 Aug 2005 @ 17:52, by Max Sandor

Going to publish some more books soon and look for a new copyright disclaimer.. Would be very interested to hear some feedback, more ideas.. etc

Copyright and Disclaimer

The concepts and ideas presented in this book are part or are given to the public domain.

It is the expressed intention of the author that the information given in all of his books may never be used to create any of the following:

- an organized religion or cult
- a system of healing, whether spiritual, emotional or physical
- any kind of financial advice
- methods or strategies to extract money from others without proper exchange
- any form of justification to intentionally inflict harm, whether spiritual, emotional or physical, to a creature, in whatever realm or body it may be dwelling
- any form of political movement or thought system.

Further...

...
This book itself may not be reproduced without written permission of the author, irregardless of the media used.

The main body of this book was transcribed from recorded conversations in the Italian language. The additional articles were translated in cooperation and authorization of the author from their English or German originals.

It is advised that:

- no translation from one language into another can ever reflect the full meaning of the original statement

- any statement, especially out of their original context or language, can be used to express a thought or concept contrary to its original intention

- it is unethical to claim any individual reflections, conclusions, or deductions that were made from statements in this book as being the opinion of the author, expressed or not, especially so in violation of the rules of intention formulated above






Category: Communication

---
8 comments

28 Aug 2005 @ 18:14 by jstarrs : Maybe you know..
..Creative Commons?
You can 'copyright' most things here and customize what you want to copyright.
Here's the 'text' section: {http://creativecommons.org/text/}


---
28 Aug 2005 @ 18:21 by @82.106.51.47 : they don't have the provisions I have..
I envision a different kind of copyright for quasi public domain texts..
mx


---
28 Aug 2005 @ 18:28 by mx @82.106.51.47 : for Ed!!
check out http://www.new-focus.com/archetypal_therapy.htm
seems to be a trend, hehe

will call later..


---
29 Aug 2005 @ 00:23 by @24.126.199.23 : what for
hmm, first thing that came to mind when you told what it is not for - as there is so much of it - is the idea: "You can't use it for anything!"

But beside this, you know that the negation is usually disregarded or not heard like in "do not think of a blue elephant" - so you might better word it in an affirmative way like "the info in this text is to be used for a, b, c".


---
29 Aug 2005 @ 00:54 by Ed Dawson @63.43.100.30 : Re: Link from Max
Interesting. Archetypes are indeed a powerful method of therapy. I've been thinking that perhaps one of the CoS processes could be incorporated into processing Ifa archetypes. For example the "who or what would oppose ____? could be used to lay out line plots of the players in an individual's archetypal scripts! Know what I mean, Max?

The people at that link are using traditional mediterranean (european/north african) systems, couched in terms of modern Jungian psychotherapy. And as with such, they are too intellectualized methinks. Without going into too many particulars, specifically I think that the enneagram is retarded.

And the Hebrew tree of life/tarot are incomplete. Not that they are bad, no, they are good, but just incomplete: as philosophical machines they do not cover all aspects of the universe. I realize that statement might send advocates of those systems howling for my blood, but reality is what is, not what someone wants it to be.


---
7 Sep 2005 @ 06:02 by al @217.18.144.6 : !?
Hi mx
The author of ideas and concepts stated in your new books is all mankind which will use it at own discretion


---
9 Sep 2005 @ 04:08 by al @217.18.144.6 : Mx-The-Pooh
Hi mx
Could you tell us the story about new conceptions and ideas in a form of New Adventures Mx-The-Pooh (Part 3).
http://www.machaon.ru/pooh/
I saw I have read it Once upon a time.


---
9 Sep 2005 @ 04:30 by al @217.18.144.6 : Sanders
Once upon a time, a very long time ago now, about last Friday, Winnie-the-Pooh lived in a forest all by himself under the name of Sanders.
("What does 'under the name' mean?" asked Christopher Robin. "It means he had the name over the door in gold letters, and lived under it."
"Winnie-the-Pooh wasn't quite sure," said Christopher Robin.
"Now I am," said a growly voice.
"Then I will go on," said I.)


---
Other entries in Communication
8 Jul 2010 @ 02:27: Truth: superconductivity for scalable networks
11 Mar 2010 @ 17:55: The CascoDuro Case and who laughs last..
27 May 2008 @ 14:45: Thoughts on Navigating the Paradigm Shift
19 May 2008 @ 14:49: Mind Enslavement
15 May 2008 @ 06:22: 1001 Dialogues - 100 001 Actions for Dialogues and Unity in Diversity
20 Apr 2008 @ 10:57: How we unconsciously resist becoming enlightened, and what to do about it!
8 Apr 2008 @ 06:31: An open Dialogue on the Nature of Reality.
22 Feb 2008 @ 16:36: Blogging or Logging
9 Jan 2008 @ 22:45: A Communication Model
26 Oct 2007 @ 08:09: Humanities new "Canon" ?? - a new German Bildungskanon ??




---