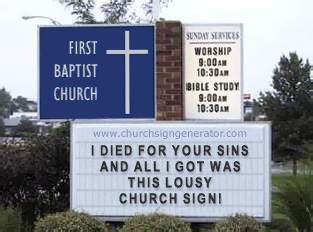 17 Dec 2008 @ 23:44, by Unknown


"He was a preacher... and never charged nothing for his preaching, and it was worth it, too."
--- Mark Twain (American Humorist)

Some people are funny, and some people are...er...unintendedly funny: Thanks, mostly, to the internet, we all are familiar with the kind of accidental drollery that ensues when some church puts up a message on its marquee like "Don't Let Worries Kill You. Let The Church Help."

Don't feel left out! Just like some guy and sir Marco, here (Now THAT'S a Sermon!), you too can make your own sign:

Pick a design, and make your own virtual church signs. Don't worry about the church name or denomination, the sign header too can be edited to your liking. And, Lo and behold, if that's not enough for you, a Church of Scientology sign generator is also available. And if that still is not enough, there is always the Ultimate Online Generator List.