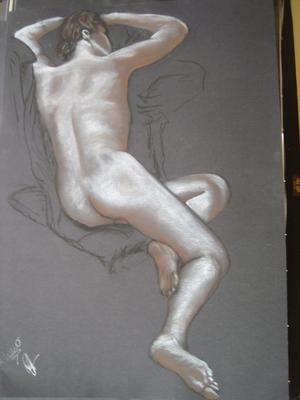 27 Jul 2006 @ 10:34, by jstarrs

There's an on-going auction (for charity) of original paintings by people with autism/Asberger's Syndrome which finishes on 17th September with an exhibition at The Autism Research Centre, Cambridge University, UK.
Anyone that would like to bid can do so over the net.
Click on Auction on the right menu to see the works available, if you're interested.
(my son Leo is exhibiting there and very excited about it, too!)

[link]

photo - "reclining nude" by leo.






Category: Visual Arts, Graphics

---
5 comments

27 Jul 2006 @ 11:23 by : image representing reality
forms of expression are selected to suit what we're trying to communicate. All artistic expression is a tool, but talent is talent.
Leo's work is beautiful.
off to check the link


---
27 Jul 2006 @ 15:29 by : Yes it is Poetry
of a sort because, drawing emits vibrations to which the mind responds while we are unaware but simply finds pleasing or otherwise. In poetry there is some sort of rythym which makes its own vibration, especially if spoken, if read the mind can recreate the rythum for itself (can't spell rytham at all, lost specs). This is the basis of my architecture thesis, in that the solidness in a shape emits a very specific vibration. The Skin is known as the third ear and feels these vibrations too, a noise bouncing off the wall carries the depth of the material sonically in its vibration, I am sure the brain is aware of the textures and sounds this way of materials. Some of these have a residual strength overriding less attractive vibrations or useful one, and so beauty is kind of born and a sort of truth because this is where beauty directly relates to the correctness of the human form. One who is less than complete in his body, can find relief in beautiful sounds, there is a sort of wholeness created for him by those sounds which his own body perhaps can't quite do, nevertheless the niceness of the feeling creates an extended feeling of wholeness for that person allowing him a vision of normality and relaxedness because, whenever something is RIGHT in the humane sense the Mind and body do instantly know it. This is the discovery made in my archetectural thesis by studying the prolific work of a disabled architect. Sorry to go on.

Most people are informed on the visual level only and do not stop to consider, so much passes them by. Hence silence is golden.


---
27 Jul 2006 @ 16:41 by jstarrs : Wonderful, thank you sisters...
..and then the world could be lead by a benevolent poet dictator, poetry could be taught instead of competitiveness, language could be dissected in biology classes, 7 year-old girl twins from Mongolia could give economic advice to Presidents and...


---
29 Apr 2016 @ 08:17 by @103.12.162.4 : brilliant! I would like to share this ar
Togel Online Singapore
Togel Online Hongkong
Bandar Togel Singapore
Bandar Togel
Togel Online Terpercaya
Bandar Togel Online Terpercaya
Togel Online
Agen Togel Online Terpercaya
Agen Togel Online


---
7 May 2016 @ 14:27 by @103.250.146.15 : RR

French open 2016 live stream


---
Other entries in Visual Arts, Graphics
28 Mar 2010 @ 14:20: Great Minds Think Alike
28 Mar 2010 @ 10:28: The Symbolism of The Circle
31 Dec 2008 @ 14:48: HAPPY NEW YEAR EVERYONE
28 Dec 2008 @ 10:10: Poster 4
17 Dec 2008 @ 23:44: Make your own sign ;-)
1 Nov 2008 @ 22:32: Dawn-Usha
23 Oct 2008 @ 00:05: We Are The New Civilization
10 Aug 2008 @ 18:52: Touched by his Noodly Appendage
28 Mar 2007 @ 07:27: Photography as art
25 Jul 2006 @ 00:53: War Games




---