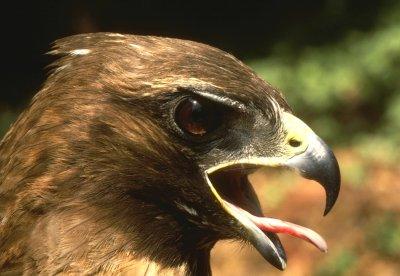 19 Jul 2007 @ 06:11, by Marissa A Spencer

totally true!


[link]

pic from this site

The Morning Visitor



I was in my garden the other morning, enjoying the cool soft breeze and the growing sunshine. The mad squirrel was in the walnut tree trying to bean me with green walnuts as I pulled the occasional errant weed. I looked up at that rascal and wondered why it had it out for me. He chattered and almost hit me that time.

I had the water going and the tomatoes and pumpkins were glad for it. I sat down to empty my mind and listen to the gurgling fountain in my small pond at the edge of the patio. The air was sweet and I closed my eyes to savor it. I looked up to see a large bird suddenly swoop six feet away from me under the patio roof. I realized in a flash that it was a young hawk.

He flew back to land in the walnut tree and I greeted him and suggested that if he was hungry I knew a certain squirrel that I wouldn't mind he ate. I did reiterate that I had nothing personal against the squirrel , but it wouldn't be a bad thing to happen. I believe fully in the balance of nature. The circle of life and all that stuff.

The hawk listened to me politely. They are polite if nothing else I have learned. He sat on the limb for a bit more pondering my idiotic ramblings, probably wondering how he managed to meet such a loony person. He then swooped again under the patio. My goodness, they are a rather large bird! He flew to the roof past the patio and gazed at the garden. He then flew out of sight past the corn that grew tall there. I didn't move for a bit of time.

I decided to get up and go carefully around the back of the garden to see what he was up to. I stood in the shade and watched him. He had found a lid of a pot I had put down that had filled with water when I sprinkled the garden that early morning. He was flipping and shaking the water off, and drinking every once in a while. My daughter joined me and we watched for a while. Then he flew back into the walnut tree and finally away. I am surprised none of my cats were around. I daresay they would think twice before trying to pounce on this bird. Alas, the squirrel didn't appear to appeal to the hawk, at least not this time around.

© July 18, 2007 Marissa A Spencer

PS UPDATE it was a Cooper's Hawk... too small to be Swainson's and Cooper's are much more plentiful around my area.