| | |
| --- | --- |
| A retreat in the mountains | |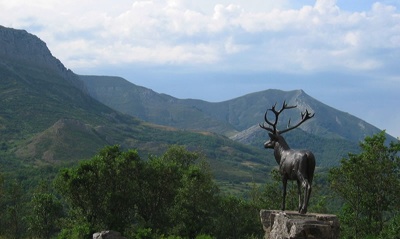 12 Jul 2005 @ 15:10, by Silvia M.S

How often do we have time to just stop and think about our life? We are deeply immersed in our daily routine, such as job, family, responsabilities, expectations... Are we really in the driver's seat of our life? It's easy to lose our identity and to forget about ourselves, our own path, our desires and fears. Free time to reflect on ourselves is a treasure that we don't have the opportunity to enjoy very often. My opportunity came without expecting it.

A few months after coming back to Spain I joined a Tai Chi group, and in the second class they encouraged me to attend a retreat that they were planning in a few weeks. I thought well, I don't know anybody, will be the newbie, don't still have any idea of Tai Chi... but ok, some days off to relax in the nature would be perfect for me, and I decided to join them. I'm so glad I did it!

It was springtime. A beautiful valley gave us a warm welcome and a gentle breeze whispered to us as soon as we got out of the car. It didn't matter in which direction you looked, only mountains and forests around embracing us. No tv, no news, no computer, no makeup nor nice clothes... and of course no watch, the time didn't matter, just ourselves and the nature. What a healing experience! Silence, meditation, Tai Chi at dawn, bird singing, the fresh aroma of the grass... There was time not only for quietness, but also for dancing and flowing freely, talking about any problem that crossed our minds, expressing our ideas in paintings, laughing... And especially we had a lot of time to be alone, to walk in the forest in intimate contact with the nature, time to find ourselves, the true self that we had forgotten at some point in our journey.

We had to share the bedroom with another person and I was very lucky, my roommate was a kind lady in her fifties, with a smile in her eyes. We were warned that the first night probably would be pretty agitated, not as relaxing as I had expected (I always sleep like a baby). That ended up to be completely true. When the night came, my mind was disturbed with tons of thoughts fighting to get attention, memories that I believed to be buried in the past, plus an annoying sound coming from a pipe on the ceiling. After a few hours the noise finally stopped, but then my roommate started to sleep and to snore so loudly that I couldn't cope with it. I took my sleeping bag (glad I had decided to bring it in the last minute!) and went outside to sleep. Ahhh the atmosphere was perfect! A starry sky and an outstanding quietness only broken by a light wind singing amidst the trees. I slept very deeply and was not tired at all when I got up early in the morning to do (or at least try to do) the Tai Chi form with the rest of the group.

Later in the day we did a special guided meditation, and afterwards we were asked to pour our thoughts and feelings in a drawing without thinking, just letting our hand to choose the colors and draw freely. After finishing the drawing we looked at the piece of paper and focused on our painting to reflect on its meaning. In my drawing, there was a green meadow and a huge tree in a corner, with its roots dispersed below the ground and its branches very high reaching the sky. There was also a yellow path in the sky with a rainbow at the end and a door behind it, with a strange triangular symbol at the top. And finally there was a blue and dense cloud in the midde of the path. I got many conclusions about my life journey from that drawing. Then we made a circle and showed our drawing to the rest of the group. I was asked to touch the cloud with my finger and as soon as I did it a strong sadness invaded me and I started to cry. The affliction was so deep that I almost couldn't breathe. Afterwards I was asked to touch the rainbow and then felt again the joy that I usually have every day, but much more intense. Two opposite sensations coming with no apparent reason one after the other just by touching my drawing, that was really amazing!. The energy in that circle of people was very especial and intense, I cannot find suitable words to describe it. Simply stunning! My teacher calls these drawings 'mandalas' and says that they reflect our inner direction and longings. Very interesting, don't you think?

In those days I reclaimed the connection with my inner self and solved a blockage that didn't let me to write poetry for a long time. Besides, I returned to my daily routine with renewed energy. Sometimes when I feel stressed or lost, I come back there to the valley with my imagination and close my eyes in the search of an intimate place where I can find my true self again.

If a similar opportunity comes to you, please get it and enjoy it! We all need some time to be on our own, to look inside ourselves and reflect on our journey. We all really need it.





Category: Recreation, Fun

---
14 comments

12 Jul 2005 @ 16:12 by swanny : Thanks
Yes we all should have retreats every now and then to
recharge our batteries. I know I don't seem to do to much
physically but still feel burned out quite often.
Good music and nature sounds, candles, incense and baths
seem to help with a good beer or wine from time to time.

Love that picture
excellant.

thanks

swanny


---
12 Jul 2005 @ 17:58 by : Ed,
nature sounds & candles looks a pretty nice combination! Will try it!.
In August I'm going to another short retreat, after coming back from a trip to Lisboa. Wow, vacations are getting closer and closer!


---
12 Jul 2005 @ 18:02 by scotty : beautiful pic !
reminds me of home !! :-)


---
12 Jul 2005 @ 18:10 by jstarrs : Great sharing....
...gracias.
A breath of fresh air.
When we strip away all the external stimulii & are confronted with our own mind, I think that's when the journey begins?


---
12 Jul 2005 @ 18:37 by : The pic
Thanks Scotty, when I saw that deer looking at the mountains I didn't have my camera with me, so I came back another day just to take the pic :-). Asturias is very green, some people call it "little Switzerland" because of that.
Yes Jeff, I agree with you. And we become dependent on so many artificial things, that we forget about what really matters in our journey.


---
12 Jul 2005 @ 21:23 by scotty : Some Deer !
Really nice of him to hang around untill you went back with your camera ! *wink*


---
12 Jul 2005 @ 21:27 by : good one ;-)
a smug deer, who liked to be photographed hehe.


---
29 Jan 2015 @ 07:36 by Rajesh @62.119.183.35 : ljdPtJgzlzUin
I admit, I have not been on this webpage in a long time hovewer it was another joy to see It is such an important topic and ignored by so many, even professionals. I thank you to help making people more aware of possible issues.


---
29 Jan 2015 @ 09:43 by Pagla @120.28.39.18 : rRLBTVKXswgaLw
I respect your well-written and tguuhhtfol content. You've really hit the mark with your original and bold views here. I agree with your views. Your readers are fortunate to have such interesting material to read.


---
29 Jan 2015 @ 14:24 by Masato @141.135.122.67 : tCfqCPnzmJ
Your article is both irmanfotive and interesting. You've made your points clear and I agree on most of them. Your content has given me reason to think and this is my favorite kind of material.


---
29 Jan 2015 @ 18:40 by Sam @190.204.101.186 : muatjTpvwMQMfmLaK
That is a great point to bring up. I offer the thoughts above as gerneal inspiration but clearly there are questions like the one you bring up where the most important thing will be working in honest good faith.


---
30 Jan 2015 @ 06:58 by Monica @200.189.104.194 : uTIZFNmUMdQn
The Zune concentrates on being a Portable Media Player. Not a web besowrr. Not a game machine. Maybe in the future it'll do even better in those areas, but for now it's a fantastic way to organize and listen to your music and videos, and is without peer in that regard. The iPod's strengths are its web browsing and apps. If those sound more compelling, perhaps it is your best choice.


---
30 Jan 2015 @ 07:34 by Kelly @166.154.163.225 : rPrZYabecyfahHzfeRwK
You might have composed a whiimscal article. You arranged an appealing standpoint for this content. Searching drew plenty surplus into this theme has permitted me to get truly a total entire ton even additional clues about this theme matter.


---
16 Mar 2015 @ 15:20 by @182.189.176.160 : You should comment on the competition co
You should comment on the competition comparison of the blog. You can highlight it's mind boggling. Your blog exploration/tour will broaden your conversions.


---
Other entries in Recreation, Fun
1 Jul 2010 @ 22:02: The Utter Uselessness of Sports and the Purpose of Life
26 Jun 2010 @ 20:45: A game has 90 minutes, ehh, or 120, plus overtime...
6 Jan 2009 @ 06:58: GAMES POSTULATES
11 Dec 2008 @ 06:48: Divinity Rising: My (bra) cup runneth over...
11 Dec 2008 @ 01:14: Strong with the force, that one is...
7 Dec 2008 @ 16:23: An Open Letter to Enlil and Enki ("Sermon of the Holy Rock")
16 Jan 2008 @ 11:00: What Are You Like?
22 Nov 2007 @ 19:01: The purpose of the white rabbit...
30 Jul 2007 @ 14:52: The REAL purpose for the creation of pets
25 Apr 2007 @ 18:05: Git ve gör! Çok geç olmadan




---