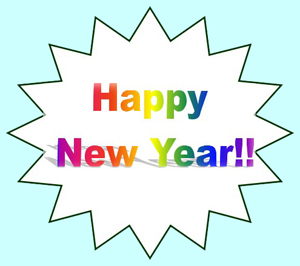 31 Dec 2005 @ 14:57, by Silvia M.S

Today is the last day of 2005. To me, like to many others, it's a wonderful time to reflect about how this year has been, and what I do expect for the next one. We're usually too busy living our routine (working, taking care of our families, enjoying our hobbies...) that we don't have time to stop and center ourselves. Today it's a great day for centering! What flavour has this year left in us? Positive, hard, normal, unforgettable? What have we received and what have we given? What do we expect for 2006? And regarding what we're expecting... is this thing or event necessary for us to live with more joy, or is it only an artificial veil to cover what we really need?

I wish everybody could take today at least some time to reflect on themselves and what they want to have next year, not only in terms of our own lives but also for the whole world. What kind of world would we like to live in? What can we do in order to have such a world? What are the problems and what are the solutions?

We may think that we cannot do anything big enough to change the whole world, but we can contribute with little acts, little things that all together would make a big difference. So let's all listen to our hearts and start the new year with this perspective in mind. There are for sure things that we don't like in our lives and in our world. We'll need to put aside those negative things one day, we need to start with one step... why not tomorrow?

I wish you all a beautiful and meaningful New Year!





Category: Recreation, Fun

---
11 comments

31 Dec 2005 @ 15:55 by scotty : A New Year !
a New Page !
a New Start !
a New Day !
a New Life !

Happy New Year Silvia and thankyou for all that you've shared with us since last year !

Namasté


---
31 Dec 2005 @ 16:47 by @84.43.30.11 : Little Things
I agree with you Silvia. It is the little things that matter. We should not underestimate the power in little things, like a smile or a helping hand. Big houses are often made from small bricks. A Very Happy New Year to you.


---
31 Dec 2005 @ 17:40 by : The best of 2006 to you, Silvia
Cheers! May you be filled with new energy and the best of fortune

judih


---
31 Dec 2005 @ 18:52 by gea : A Happy New Year, Silvia
May your dreams come true. :-)
And thanks for your wonderful contribution to NCN.


---
31 Dec 2005 @ 21:39 by : Yes, Happy New Year to you, Silvia...
and to all of our participants here. I think you will appreciate this comment by my granddaughter (Ari)about the meaning of New Year's Resolutions. She responds "...we make a commitment and ...we start a new life." And, "...we should clean up our environment as it is killing people." Additionally, she gave me a list of good intentions that include helping others who are in need. Ari also thought that we all must learn to care about others, love one another and be honest.

Hmm, I might just adopt these goals as well.


---
1 Jan 2006 @ 00:51 by : thank you all!!
I'm so glad to have found this site!. May all your wishes and intentions become a reality, especially Ari's ones... children really are very wise, so let's all listen to our inner child this year, our life would be much easier and beautiful :-)


---
1 Jan 2006 @ 22:10 by Annemieke @82.171.236.115 : Have a 'different' New Year!
Well today is tomorrow (yesterday's tomorrow became today when I woke up this morning) and the first step has to be taken for the next ones can not follow without.....

I wish everyone to be the change you want to see in this world in 2006 and that you all may be a difference for you and your environment!

HAPPY NEWYEAR!


---
2 Jan 2006 @ 12:27 by : thank you Annemieke!
I wish you a happy new year!! I wish it will be a 'different' year for you too! :-)


---
2 Jan 2006 @ 14:02 by jstarrs : I'd like to join Gea & Scotty in..
..thanking you for the lovely, simple & meaning full contributions you've made since being here and while I'm at it, to all the other great people here, upon whom NCN depends.


---
2 Jan 2006 @ 16:32 by : Jeff, thanks! ;-)
I also want to thank all those NCN members, who contribute to make this site a great place.


---
13 May 2009 @ 19:09 by @193.227.170.13 : adobe photoshop cs2 9.0 uroki
Good evening. I don't own a cell phone or a pager. I just hang around everyone I know, all the time. If someone wants to get a hold of me, they just say 'Mitch,' and I say 'what?' and turn my head slightly. Help me! Looking for sites on: adobe photoshop cs2 9.0 uroki. I found only this - photoshop cs2 kisti resnicy. The picture was of a pocket sized pc we developed about. Download free website design templates, sample for personal and business web design. With best wishes :-(, Brie from Zaire.


---
Other entries in Recreation, Fun
1 Jul 2010 @ 22:02: The Utter Uselessness of Sports and the Purpose of Life
26 Jun 2010 @ 20:45: A game has 90 minutes, ehh, or 120, plus overtime...
6 Jan 2009 @ 06:58: GAMES POSTULATES
11 Dec 2008 @ 06:48: Divinity Rising: My (bra) cup runneth over...
11 Dec 2008 @ 01:14: Strong with the force, that one is...
7 Dec 2008 @ 16:23: An Open Letter to Enlil and Enki ("Sermon of the Holy Rock")
16 Jan 2008 @ 11:00: What Are You Like?
22 Nov 2007 @ 19:01: The purpose of the white rabbit...
30 Jul 2007 @ 14:52: The REAL purpose for the creation of pets
25 Apr 2007 @ 18:05: Git ve gör! Çok geç olmadan




---