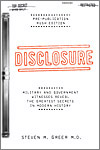 27 Mar 2002 @ 14:57, by Flemming Funch

Below is a message from Steven Greer of the Disclosure Project about the black projects in the U.S. funded to the tune of around $100 billion per year, focusing on many activities that officially are ridiculed, such as extra-terrestrial propulsion systems and free energy devices. Nothing particularly new there, but I think it is an important project - to try to pressure the U.S. government into pulling these projects out into the open. Sure, the U.S. government don't really control them, but they would be the closest to make this change.


---


Since 9/11, much has been said and written about US National Security and world peace, and the various threats to both.

Missing from this analysis is a frank discussion about illegal, so - called 'black' projects that escape constitutionally required oversight of the Congress and the President.

As the senior counsel for the Senate Appropriations Committee told me in 1994, the varsity team of illegal black projects - projects that he could not penetrate with a subpoena or a top-secret clearance- deal with the UFO subject.

The reasons such operations are a threat to the national security are not obvious at first glance. Indeed, the entire subject is generally brushed aside as irrelevant, silly and fringe. Or so those controlling such projects would like our policy-makers to believe. The reality is quite different: Tens of billions of dollars are siphoned off illegally into black projects and corporate special programs that impoverish conventional military and intelligence operations. Operational readiness, as it is called, has been eroded for years by the extravagant and wasteful spending in unsupervised and illegal black projects dealing with UFOs, Extraterrestrial - connected projects and advanced energy and propulsion research related thereto.

Back in 1994, this senior official with the Senate Appropriations Committee admitted that, conservatively, such black, illegal projects were in the $40 billion to $80 billion range annually! God only knows what they are today - maybe double that.

This means that conventional reconnaissance, interception, security screening, intelligence analysis, border security, etc, have been robbed for years by such large sums being illegally shunted into these illegal operations. As we discovered on 9/11, the cost has been unacceptably high.

But all of this is the least of the problem. The real threat of such projects arises from the unseen consequences of illegal secrecy: The ruthless suppression of energy, propulsion and other technologies that could have replaced fossil fuels, oil, coal, public utilities and the like many decades ago. The result is the world we have: environmentally ravaged, increasing poverty that destabilizes societies and breeds resentment and an avoidable, tragic growing hatred of the West.

We can and must do better.

The Disclosure Project is dedicated to bringing forward the information, government insider testimony, government documents and related evidence that will focus world attention on this overlooked matter.

We have also formed a company to identify, test, prove and build so-called over-unity energy generation systems and disclose these to the public so that the people can choose to move away from global destruction and embrace a sustainable future. This company, Space Energy Access Systems, Inc., or SEAS (www.SEASPower.com) is already working to practically solve these problems. (If you or someone you know has such a technology and wants help in bringing it quickly to the public, please contact us at the above website address.)

We, the people, should not wait another moment for the government to solve these problems. Big Brother is too slow and hidebound on these issues for us to passively wait for action from those quarters. It is clear that we must act to bring clarity to the real threats facing the world and to promulgate the solutions.

Will you join us?

Steven M. Greer MD
Director, The Disclosure Project
Albemarle County Virginia
26 March 2002

--------------------------------------------------------------

UPCOMING EVENT SCHEDULE: [link]

March 29, 2002 Dr. Greer lecture at the Christ Light Festival in Colorado (Hosted by Sarayon)
April 24, 2002 Disclosure Project Event in Portland, Oregon
April 25, 2002 Disclosure Project Event in Eugene, Oregon
April 26, 2002 Disclosure Project Event in Ashland, Oregon
April 27, 2002 Dr. Greer lecture at the WESAK conference in Mt.Shasta
April 28, 2002 Dr. Greer lecture at the San Francisco New Age Expo
May 3-5, 2002 Dr. Greer lecture at the IIIHS conference in Montreal
Oct-Nov 2002 Disclosure Project Annual conference in San Mateo, CA --------------------------------------------------------------

EDUCATIONAL BOOKS AND VIDEOS:
[link]

We have the following book, video, CD and DVD educational materials available for purchase;

Disclosure (the book): 573 pages of witness testimony, in-depth background research of UFO sightings and landings, documents proving government knowledge and involvement, and more.

Extraterrestrial Contact - The Evidence and Implications: 526 pages exploring why ETs are here, the physics of ET travel, the best Government documents related to UFOs, who is maintaining the secrecy and why, what are the implications of disclosing this information, and more.

National Press Club Conference Video (2 hours): Documentary of the historic May 9, 2001 press conference that introduced the Disclosure Project's "Smoking Gun" witnesses to the WorldÂ's press.

Disclosure Witness Video (2 hours): A distillation of over 120 hours of videotaped testimony of dozens of highly credible military, government, and intelligence community witnesses telling of their first hand experience and knowledge of this subject.

Special Congressional Briefing Video (4 hours): Similar to the above, this video was specially edited for and hand delivered to members of congress, the executive branch, Pentagon officials, NASA officials, etc. prior to and following the May 9 press conference. It contains 4 hrs of explosive witness testimony.

Disclosure DVD Vol. 1: 2 hours of witness testimony with witness bios, our executive summary, briefing documents, and info on how you can help kick open the door to the biggest story in modern times. (Region Free encoding - Will play in all countries)

Disclosure Summary CD: Executive summary and briefing documents designed to educate the leaders of society on all aspects of this issue.