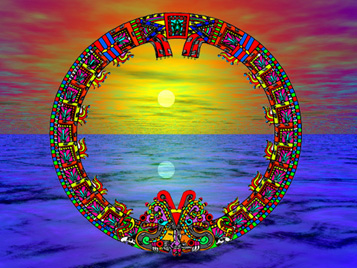 18 Nov 2002 @ 10:51, by swan



Photocollage and writing by John Ashbaugh koravya

12 Nov 2002 @ 23:20
The New Civilization is as ancient as you can imagine.
Rooted in our expression of Love without Fear.
The flowering of civilization issues from this Source.
*
The journey to Venus – Quetzalcoatl is close to our Heart.
Quetzalcoatl is the Wind
With all of its unpredictability
And the planet Venus
As She travels through the regularity of her synodic period.
She is the force which binds two hearts together
Regardless of their distance.
*
The New Civilization is a labyrinth
Of aesthetically intertwined
Expressions of creativity, insight, and sharing.
In sharing my fragment,
Throwing it into the swirling, cascading waters
Flowing through this blossoming labyrinth,
My creative instinct is nurtured
As the past disappears and the future emerges.