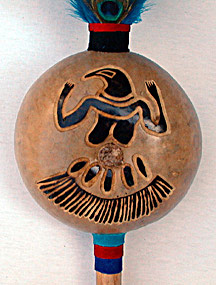 16 Apr 2003 @ 23:13, by Raymond Powers

You may know that I have a fascination with gourdcraft and their history. I have been gourdcrafting for a few years now. Check it out.

Recently I was honored to be featured on HGTV (Home Garden Network) as part of the Carol Duvall Show. Here is a synopsis and...

Last year the American Gourd Society did a print feature in their national newsletter. I am grateful for that communities enthusiasm and support.
Here is a reprint of the article they did on my work..

CEREMONIAL GOURD RATTLES

Inspired by research of ancient cultures throughout Europe and the Americas, these ceremonial gourd rattles are hand drawn, carved and woodburned with pottery images dating from 5000 - 1500 BC. It is my hope that I have captured the beauty and detail of the original.

The rattles are custom crafted from organically grown canteen gourds, approximately 5-6 inches in diameter. The handles are fitted from branches of poplar, oak, rose, redwood or yucca. The feathers, some of which are color dyed, are pheasant and peacock. The leather is dyed cowhide. Inside, a combination of elements: rice, corn, beans, river stone, even crystal is used to give each rattle its' unique voice. I also include sage, sweetgrass and other elements to enhance the gourd. The average height of each rattle is 15 inches.

Each Ceremonial Gourd Rattle is made to personal specifications. In this way you can choose the patterns, image and color combination that you desire. Using the information from your birth date, we also fill the gourd with a precise number of ingredients to enhance your experience.

There are many styles and explorations in my approach to art, writing, music and sound, yet the core is always my experience of what I call Spirit or Source in my life. Nature has always been an inspiration to me and a great teacher. Thus, all of my artistic endeavors express the relationship I have with Her.

I am located in Ojai, California. It is just south of Santa Barbara and inland from Ventura. I live 5 miles back in a secluded canyon with the Los Padres National Forest as my backyard. I live with my beautiful partner Letecia, who is the person that initially taught me to make gourd rattles and who has been filling in my knowledge base about Old European culture; the thematic designs on the rattles. We have a life dedicated to self-sustaining practices, which encompasses permaculture (we grow our own food, use well water, will soon have solar energy), and activism.

I knew right away that I wanted to focus some attention on making gourd rattles and because I have a distaste for co-opting others traditions, I looked towards my own lineage (Polish and Ukrainian) and discovered a wealth of information on the culture, as expressed in their artwork, and Spiritual traditions. The patterns I use, come from all parts of Old Europe dating from 5000 -1500 B.C. and some older. These are pre-patriarchal cultures whose beliefs centered around the Goddess, meaning a focus on seasonal cycles, moon cycles, birth/death/regeneration cycles, life passages etc. (See my website www.goddessrattles.com for the sources of my information, particularly Marija Gimbutas.) Women were much more empowered to participate in leadership roles and as the author Riane Eisler states, they were cultures that were based on partnership rather than dominance models. So the ancient pottery designs I use on my rattles represent the symbolic language that reflects the values of the Neolithic cultures of Europe. Because this is my personal lineage, I feel particularly drawn to these images. Therefore, these rattles serve several functions, personal tools for ceremony, fine art and an educational resource about Old Europe.

I was first attracted to canteen gourds because of the simplicity of their form, which lent themselves perfectly to the mandala type pottery patterns that I am working with. As I have begun to sprout and grow my own gourd patch, I am gaining a deeper appreciation of the Spirit of the plant as well. The rattles I am making cannot only be perceived as three dimensional art, but personal ceremonial or ritual tools as well. The patterns themselves are teachers and through delving deeper into their lineage, those of us with European genealogy, can come to know a more complete picture of our Old European his/herstory.

I give special thanks to Letecia Layson for sharing her knowledge of gourd crafting and wisdom of the Goddess culture. Her support is and has been invaluable. I also owe a great debt to Marija Gimbutas for her breakthrough research and generosity in sharing her discoveries and conclusions." Other than the fact that Letecia introduced me to gourd craft, there are many factors that keep me exploring this medium; the variant textures and colors of each gourd, the longevity of gourds themselves (there have been Egyptian gourd vases found upwards to 10,000 years old, in perfect condition), the wonderful smell during the wood burning process and now the relationship I have with the plants themselves as the new seedlings begin to grow.

The challenge now is to share the work as much as possible and have that aspect be a creative outlet as well. It's been exciting to see the international interest in this subject and my craft. My gourds have found homes in Canada, Germany and West Africa thus far. Letecia and I would like to have gallery showings and have them be classes about Old European Goddess culture. She is a scholar, researcher and facilitator for events and conferences on this subject matter.

Raymond's love of music and lyric writing began in his early teens. At age, fifteen he had begun his recording endeavors leading to the culmination of several releases on his own independent label, Paradise Boutique Records. He completed his studies in voice and composition at California State University at Northridge. His love of world culture and music inspired him to create two global compilations for K-Tel Records and to include a myriad of ethnic instruments in his own compositions. He has developed a unique musical style with Native American Flute, voice, world percussion and technology. Raymond has produced many artists and composed for film, video, and television.

Throughout the years, his endeavors have included a staff journalist position for Better World and Meditation magazine, business/life coach and consultant for entertainment companies such as A&M and Sonic Images, self-improvement workshop facilitator, and multimedia producer. He is also a gifted healer, studying and practicing modalities from the East, indigenous American culture, sound healing, bio-energetics, and spiritual counseling. His breakthrough approach in this field has led to interviews with GQ and Maxim magazines, as well as television, radio and Internet based media.