| | |
| --- | --- |
| Ghosts, and other Things, part 2 | |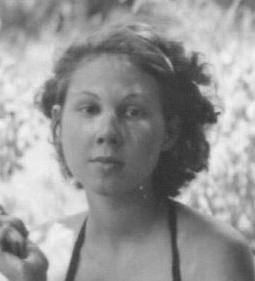 8 Feb 2005 @ 07:14, by Marissa A Spencer

Pic of my mother...probably late 1930s

The Fire

Let me tell you what I recall of the story told to me by my mother. When I was a baby, our ranch house we lived in caught fire. The electrical system in the house was faulty. My understanding is most everything we owned went up in flames.

My brother Clark, being of wise and quick mind, did grab his stamp collection. I still have it to this day, a treasure to be sure. My sister Janis, I believe grabbed me, for which I am very grateful. The most precious things for the most part escaped, meaning the family. Heirlooms, treasures, all those things that we call our connection to the past were gone. My mother stood a distance from one of the windows. I can almost see the flames tickling parts of the building. She was in obvious distress, partly due to the fact some very important papers were still inside. They were kept in some kind of box, probably with some clasp, maybe even locked. Insurance papers and such I imagine.

Two farm hands stood with my mother as she watched what was left of her home go up in flames. The room of window before them had a desk in it or something like that. In the room was the box. She was going to go in the house and get that box. She was a strong willed woman with a lot of courage. She told me those two men held her, prevented her from such a folly. What a look of anguish and despair must have been on her face. What was she to do? She was not a big woman, they were too strong, there was no way she was going back in there.

You can argue that what happened next was some freak of natural forces. Perhaps it was, but I surely cannot fathom how it could have been. Before them, in the open window, appeared that same box. Miraculously suspended for just a moment, before some force unseen sent that box flying toward her. The two men as witness saw the impossible with their own eyes. There before her on the ground was the box. Sure you say, could have been some kind of heat related gust that blew it out. Sure, must have been right?

The one problem with that idea is, the box was under the desk.

© February 7, 2005 Marissa A Spencer






Category: Paranormal

---
5 comments

8 Feb 2005 @ 10:16 by jstarrs : Maybe there was..
...something more important to your mother than just insurance papers in the box, something only she knew about.
I wonder what that could've been?


---
9 Feb 2005 @ 08:11 by : It is hard to know
I always had a feeling my mother didn't tell me a lot of things she knew. I think my sister knew things, but they weren't about to tell me. When my abilities surfaced in my twenties, they made enigmatic remarks as if they knew exactly what was going on. They never let me in on the information. Now my mother is passed and my sister would rather not talk about such things. I respect that, and have to find other mentors to guide me along.


---
13 Feb 2005 @ 03:56 by : The mystery
of why certain things happen
will always be a mystery.


---
13 Feb 2005 @ 04:28 by : We would
stop seeking then wouldn't we? If all was told us from the beginning.


---
2 Jan 2016 @ 14:05 by @105.158.102.110 : juegos online
Diviértete con los mejores juegos de Disney Channel, Disney XD, películas Disney y mucho más!


---
Other entries in Paranormal
16 Mar 2005 @ 05:22: More Strange and Amazing tales
3 Mar 2005 @ 04:49: Ghosts, and other Things, part 5
1 Mar 2005 @ 07:15: Ghosts, and other Things, part 4
6 Feb 2005 @ 03:49: Ghosts, and other Things, part 1
15 Oct 2004 @ 17:59: Life, the PSI Room and Everything
9 Sep 2004 @ 07:33: The BABALON Working
15 Feb 2004 @ 23:11: Brodgar's Ring
19 Feb 2003 @ 13:47: CROP CIRCLE FORMATIONS
31 Oct 2002 @ 10:30: Crop Circles: Quest For Truth
9 Mar 2002 @ 10:21: World Mysteries




---