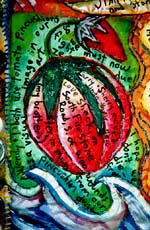 27 Feb 2005 @ 05:06, by Tlingel


Piecing the world together, stitch by stitch.


Susan Shie and James Acord are artists who have been focusing on painting on fabric, hand sewing, and beadwork on wholecloth art quilts. They use a wide array of eclectic mediums and materials, such as airbrush painting on a variety of fabrics, patchwork base, hand appliqué, batting, embroidery floss and other threads, glass and beads, buttons, doilies, found objects, plastic silverware, ceramic figures, glass floral marbles, satin yoyos, and polymer clay objects made by the artists.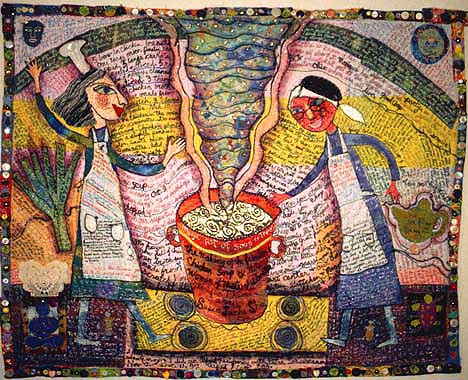 The piece, above, is called "Treacle Soup"

Treacle is a taffy made with molasses and pulled, like regular taffy. Now, "There is no such thing as Treacle Soup" Susan Shie explains on her website, Turtle Moon Studios, "except you could call the goop which will eventually become treacle, 'soup,' as it's slowly boiling down to the hard ball stage!!!!! (With the molasses, it takes FOREVER!!) You know, you mustn't stir it very much, even though it's boiling, or the sugar will crystallize, and then what are you going to do?

As for the quilt,"it's a picture of what the cooking scene felt like: a big bubbling pot on the stove, and us dancing around it, chopping food and talking. Big whorls of steam rising up with our laughter! The writing on the quilt reflects all the conversation."

To susan, Quilting is very much like our lives "...there are many layers of built up painting and sewing, corresponding with the many layers of living experienced all the time."

Hehehe, as our own NCN-resident quil-artist, Martha Borders, Borderless, likes to say, "We are all connected but sometimes forget this simple truth in everyday life."