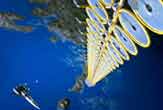 16 Nov 2001 @ 00:30, by Flemming Funch

studies indicate that new technology makes solar power satellites practical.

Space.com has an article


"...Two new studies looking at the feasibility of space-based solar power - orbiting satellites that would serve as high-tech space dams - suggest the concept shouldn't be readily dismissed and could generate both Earth-bound and space-based benefits.

These "powersats" would catch the flood of energy flowing from the Sun and then pump it to Earth via laser or microwave beam. On earth it would be converted to electricity and fed into power grids to be tapped by terrestrial customers. "