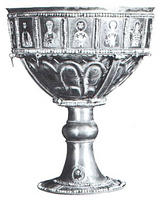 2 May 2003 @ 23:59, by Flemming Funch

One of the reasons I initially connected with Britt's talk of Xpertweb is that a few years ago I was also working on figuring out how to make a new kind of infrastructure that might help ordinary folks interact economically in a generative way. Julie Solheim and I were working on what we called the Chalice Network. Some of the positioning we used makes me cringe a bit today, and some of the explanations are a bit naive, but, hey, it was directed at an L.A. new agey crowd. Not to try to insult anybody. Anyway, one of the reasons it didn't happen is probably that I didn't quite succeed in getting the formulas worked out right. Another reason is that it wasn't peer-to-peer. It was a centralized thing one had to sign up for. As opposed to something that could spread pretty much by itself. Regardless, there were some key points made in the Chalice Network, which would be useful to bring up here.

People operate economically in many different modes and have different motivations. Some people are focusing on making money. Some people have certain goods, and want different goods, and are looking to trade. Some people focus mainly on choosing where they can best provide their services freely, to achive the best possible result. Which mode people are in might have something to do with how abundant they feel, but not necessarily with how wealthy they are. Rich people might well be very focused on making more money, and poor people might very well be focused on giving things away.

To serve several kinds of economic needs, the Chalice Network was envisioned to have three levels, or three entirely different ways of interacting economically. Anybody could exist in all three, but it is quite likely that a given person would find one of them to be the best fit. We gave each of these realms a romantic name, as follows:

Realm 1 - The "Avalon" Level - Free giving and receiving. You can choose what services and resources you would be willing to give freely to others, to what extent, and under what circumstances.

Realm 2 - The "Round Table" Level - Local Exchange System. You can exchange services and resources with others without any need for involving money. An accounting system allows you to use services that you need and to provide services where they are required, as long as the inflow and outflow remains fairly balanced.

Realm 3 - The "Castle" Level - Network Representation System. You can list services or resources you will provide for monetary exchange. You can also choose to act as an agent representing the services of others in the network, in exchange for monetary compensation. In other words, you can promote the services of others in the network to anyone you choose, and you will receive percentages of sales. In addition you will receive Local Exchange credit for using this system, whether it be as a provider or as a representative.

It would all be a directory of people offering certain services. They could take three drastically different kinds of payment. In Realm 3, the "lowest" level, we're talking about regular dollars, yen, euros, etc. People sell stuff to each other. And there's a system of pre-negotiated percentages that can be given as commission to others who help make exchanges happen. There was a bit of a multi-level thing there, to motivate people who are money-motivated.

Realm 2 would be a LETS system, i.e. exchanges would happen in an invented local currency, acting as a medium in barter exchanges. If you need something, you would be able to buy it, even if you don't have any dollars, as long as your account stays fairly balanced.

Realm 1 would be a gift economy. There would be a directory of services or goods available for free, and under what terms and conditions.

The hidden agenda was that people would be gradually magnetized towards Level 1. They might start by just wanting to sell stuff, but if they do well and the economic velocity increases, the dollars will matter less, but they still want some accounting, and some assurances that participants have balanced accounts. And if everybody gets used to easily and rapidly providing or consuming a greater and greater variety of services, eventually we might not even bother to count, but might just focus on most efficiently making useful services available as widely as possible.

Where I got stuck in the design was in how to build in an incentive for people in the money level to move on to the more ethereal accounting methods. I had some kind of bonus points in mind, but then it is a tricky problem how to make the accounting in each of the levels balance in and of themselves.

Anyway, back to what this has to do with Xpertweb. Xpertweb is at first glance like the third level described above. People offer stuff for sale, and there are various opportunities for building a business on brokering the information in the network. E.g. bring together some people who couldn't find each other before, or arrange cheap health insurance for everybody.

But, potentially, if the infrastructure building blocks are done well enough, the data structures and protocols are flexible enough, and the whole thing is distributed enough so that nobody controls it - these various economic approaches might simply be ways that people use the same basic pieces. Nothing would have to be inherently different if you want to pay your bill in Ithaca Hours or in Coconuts. You'd still want to be sure you're getting what you were looking for. Nothing would be inherently different if you were giving your service or your goods away. If your goods were scarce you would probably want to carefully compare the prospective recipients, and give your goods either to those who, according to their history, would make the most of it, or at least to those whom it would do the most good.

In other words, you can always make better choices if you have a good picture of the reputation and past history of everybody involved. No matter if it is dollars or good will that is flowing through the system, it will flow much better when it is no longer directed blindly.





Category: Alternative Money Systems

---
9 comments

3 May 2003 @ 16:00 by @209.52.174.145 : Xpertweb connections
This sounds like a wonderful idea.

I am currently GIVING instructions on how to give water a negative electrical charge which will help with almost any illness.

I would like to RECEIVE legal help on a pro bono basis or on contingency to sue the Canadian Govt. for discrimination against people under 65. My ultimate goal is a guaranteed basic income for all Canadians.

Can anyone Help?


---
1 Feb 2006 @ 08:39 by zona : Images of Exchange
I am an digital artist, if you provide a high quality photo of yourself or someone you love, I can make it into an highly original artwork to immortalize your moments/loved ones.

Provideing a photo allows me much artistic oppertunity and alone is enough. But ultimately gifts of Networking/Infromation are also acceptable, to ultimately get my art "out there", finding the right channels and people to conduct through.

- Zona dawnofantagon@yahoo.ca


---
29 Jan 2015 @ 08:53 by Mari @77.174.235.19 : gEQfrybtjJ
agar aap aisa soochte ha ki pvaairrta aaye aur aisa dubara kisi aur ke saath na ho to yaha ghatna sambandhit railway adhikari ko bhi likhe saath me copy to uske reporting ko likhe fir dekhe ki iska kya nateeja nikalta ha.aisi sambhavna kafi kam ha ki waha ke railway officers ko pata nahi hoga.. lekin unko ek bar apni taraf se bata kar aap apna farz to pura kare. let us hope for the best. pura railway mahakama bharast nahi ha TT bhai ko chod ke kyo ki unka job hi aisa ha.aap agar waha ke railway office hote to kya karte ?A. US aadami ka pata laga kar apna hafta bandh lete ya firB. us aadami ko ander karva dete aur aap apna ek alag se private aadami waha niyukt kar dete taki us aadami per depend na rahana pade hafte ke liye C. Aisa hi ek lekh likhte aur apni mazboori bata dete ki railway ke pas abhi staff ki kami ha varna do- ek aadami aur extra ticket window per lagakar ticket ki kalabazari ko rok sakteD. Khud us ticket window per khade hoker usi adami se jaldi jaldi kam niklwane kei koshish karte jo ki dheere dheere ticket nikla kar bhrastachar ko janam de raha haAnswer A b Bhrastachar ko janam deta ha C kamchori ko aur D vyavharik to nahi lagta lekin aisa aapne kiya to dusaro ko ek misal ke roop me jana jayega aur bharastchar ka ant usi taraha sambhav ha.


---
29 Jan 2015 @ 14:02 by Shinichi @141.135.122.67 : uzldWImRFebegPP
aap log itna jhagda kaahe karte hain bhai.. apna apna bgligong kijiye.. khel bhawna ke sath khel kheliye, khel bhawna ke sath hi khelne lage aap log to..


---
28 Jun 2016 @ 14:34 by @182.186.35.213 : Health
www.dailyphysicalhealth.com


---
27 Sep 2016 @ 14:08 by Black Magic Specialist @115.252.120.218 : Black Magic Specialist
nice post


---
28 Sep 2016 @ 09:25 by Black Magic Specialist Baba Ji @115.252.123.86 : Black Magic Specialist Baba Ji
awesome post


---
23 Nov 2016 @ 08:33 by @103.238.68.81 : nice
Your blog is really exciting and inspiration to several. It reveals how nicely you understand this subject.


---
23 Nov 2016 @ 08:34 by @103.238.68.81 : good
Your website is so cool. I am impressed by the info that you have on this site. I will be wanting ahead for additional of your respective posts. Stick with it!


---
Other entries in Alternative Money Systems
15 Jun 2016 @ 07:58: USA'S LEADERSHIP HAD EVAPORATED, WHY OUGHT STOCK MARKETS FOLLOW?
27 Mar 2010 @ 21:32: Alternative Monetary System
22 Sep 2008 @ 20:16: 700 000 000 000 Dollar ?
13 Aug 2006 @ 17:56: You want to be healthy? Become the Missionary!
1 Aug 2006 @ 11:06: MetaMoney as the MetaTool of Creation of the New Civilization
8 Jul 2006 @ 14:24: Paper Clip to House
26 Apr 2006 @ 20:27: Gold, Money for Members
13 May 2005 @ 23:53: Conscious Creation
13 Oct 2004 @ 16:58: Survival Debt
11 Jul 2004 @ 20:57: Freecycle - A world-wide Network to Recycle Stuff!!!




---