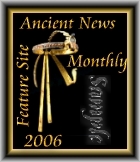 8 May 2006 @ 17:27, by Roni Gemma
Ancient News Monthly
     We are pleased to announce Ancient News Monthly! The A&AC monthly Archaeological Newsletter! You, our readers, have requested and we have answered!
     Our first newsletter will be available in June, 2006, on-line here or delivered to your email. Subscriptions are available now for email delivery. Signing up is free and only takes a few minutes.
Features:


Highlights of the major Archaeological News
for the month.


A featured archaeological web site for your enjoyment!


Editorials from Sea and readers.


Information about current, on-going research and projects.


The latest web news here at A&AC.


Each month the older editions will be available here if you missed one or just want to look something up.


And anything more we can think of, send your ideas and suggestions!


Submissions:



     We encourage any news, original editorials, pictures, ideas and suggestions!


   Have a favorite web site about archaeology, Atlantis or ancient cultures? Own a web site of your own and feel it's special? Submit it for review and it just might be featured here on Ancient News Monthly!



     *Featured web sites MUST be child safe and viewable by all ages! No violence, pornography, illegal or illicit materials!